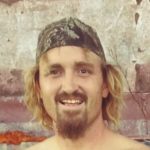 John Alan Franklin, 29 of Early, Texas passed away on Friday, June 26, 2020.
A Celebration of Life service with viewing and visitation will be Tuesday, June 30, 2020 from 6:00 to 8:00 PM at Heartland Funeral Home.
John was born September 4, 1990 in Brownwood, Texas to Gary and Jerrie Franklin.  He Graduated High school at the Paradigm Charter School in Early.  He met his beloved Mayra Franklin and on October 17, 2016 they began a life together that blessed them with three children.  John loved to fish whenever he could.  He enjoyed animals of all kinds, but dogs were his favorite.  He liked to work on engines and equipment.  John never met a stranger and could get along with anyone.  He believed in treating everyone right.  John loved his wife and kids, they were his life.  He worked hard to make sure that they were taken care of.  He will be missed.
John is survived by his wife, Mayra Franklin of Early; sons, Victor Franklin, Gary Franklin and Benjamin Franklin all of Early; mother, Jerrie Franklin; grandpa John Franklin Jr.; sisters, Christina Hubbard and husband Perry of Gainesville, Ashley Franklin and husband Leonel Coronado of Early; nephew, Alonzo Coronado of Early; and brother, Kurt Sinyard of Levelland and many friends.
John was preceded in death by his father, Gary Franklin; grandmother, Jo Ann Franklin, grandparents, Birdie James Cragett & Annie Ruth Cragett; aunt, Carol Ann Franklin.
In lieu of flowers the family requests that donations be made to Mayra Franklin to help with expenses for her and their children.
Condolences, tributes and memorials can be shared with the family at www.heartlandfuneralhome.net