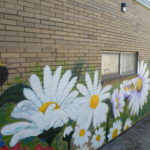 Brownwood News – The Brown County Health Department building on East Lee Street in downtown Brownwood is being spruced up with murals.  The art work is being done by Amanda Coers and Jeremy Serna, who did the mural on the storefront of the upcoming book store on Center Ave.
Coers said that Lisa Dick, director of the Health Department, requested flowers and birds, to match the interior décor of the building.  The goal is for clients, and children especially, not to feel intimidated as they approach the Health Department building, but rather to feel welcomed and comforted.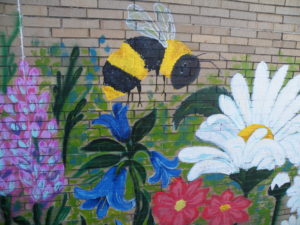 All four sides of the building will be painted with murals.  As of Wednesday morning one side was complete.  Coers said she hopes to complete the project by early next week.