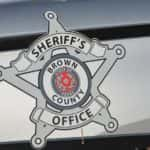 The following calls for service were responded to by the Brown County Sheriff's Department.
On June 19, Sgt. Taylor Fletcher responded to a trespassing call at a creek in a block of County Road 354.  Sgt. Fletcher spoke with two alleged trespassers as they returned to their truck.  Upon further investigation, Sgt. Fletcher located a small plastic case containing approximately 1.2 grams of methamphetamine and a glass pipe which had been hidden by one of the subjects in the creek below the bridge.  One was arrested for Possession of Controlled Substance and Tampering with Evidence.
On Saturday, June 20, a Criminal Mischief report was taken at Salem Cemetery.
On June 20, at around 02:43 hours, Sgt. Taylor Fletcher found a debit card on the ground.