VIDEO: Ike Hall rushed for a 6-yard touchdown and threw a 28-yard scoring toss to Jordan Leach for the Lions' two trips to the end zone Friday night.
When opportunity knocked on the Brownwood Lions' door in the season opener against Abilene Wylie, they were unable to capitalize. Faced with another advantageous situation in the second home game of the season at Gordon Wood Stadium Friday, the Lions were eventually able to finish the job.
The Class 4A Division I No. 12 Lions notched their third consecutive victory, and first at home, with a 17-3 triumph over the Class 4A Division II No. 6 Glen Rose Tigers.
Knotted at 3 at halftime, the Lions (3-1) tallied both of their touchdowns in the second half and for the second time this season – both at home – did not yield a point in the final two quarters. Through four games, Brownwood has given up just 69 points, and only 14 of those have been scored after halftime.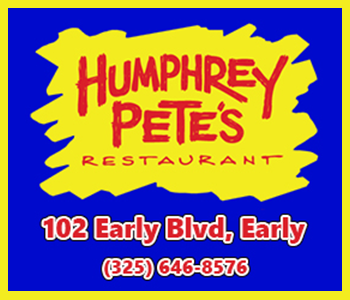 "My message to them was just don't be a second-half team," Lions fifth-year head coach Sammy Burnett said after the victory. "Let's don't get our ourselves in a position where we have to fight in the second half. It'd be nice to enjoy the second half and we've only done that once. To be an elite team, you have to play at an elite level all four quarters."
Glen Rose (3-1) – which entered the contest averaging 47 points and 459 yards per game – was without starting quarterback Hudson White, who missed the game with a leg injury. White had thrown for 594 yards with four touchdowns and one interception, while rushing for another 494 yards – a team-high – with seven scores.
The Tigers finished with just 275 yards of total offense – 207 rushing on 46 carries to go along with 68 through the air on 7 of 15 passing by back-up quarterback Canyon Costello.
"Going into the game, we had a game plan for a dual threat," Burnett said. "I know their starting quarterback wasn't in the game, but the kid that came in did a great job. We just covered them up other than a10-yard out route then completed twice. They came back to it late and we defended it. Making the other team do something they don't want to do is important to us defensively. We're going to find out what they do well, try and stop that and make them beat us with something they're not as comfortable doing."
Also, for the first time this season, Brownwood won the turnover battle as the Lions did not commit a turnover – another first in 2022 – while forcing three. Morsello Hooker intercepted his second pass of the season in the first quarter, while Cole Miller and Jordan Leach both recovered Glen Rose fumbles after the Tigers had crossed the midfield stripe.
"Those were momentum swings in a big way," Burnett said of the turnovers, as Brownwood has now forced seven through four games. "We really focused on protecting the football offensively and defensively we forced them to make mistakes and that's what we're all about. Play the next play, they're going to make plays throughout the game, but make the drive the field to score. Don't give them big plays and any time you have an opportunity to create turnovers do so."
Miller led the way for Brownwood with 15 tackles trailed by Quiten McCarty with 11; Sam Kallman with 10; Chance Jones and Hayden Noe with seven each; Jaylan Brown with six; Leach, Noah Barron and Jordyn Nickerson with five apiece; Stevie Ramirez and Davis Le with four each; Hooker, Brayden Daub, and Logan Knight with two apiece; and Jake Jetton with one takedown. Jones, Ramirez, Kallman and Miller each tallied a sack.
Offensively, the Lions overcame a shaky first half in which they produced just 90 yards and ended the night with 278 yards of total offense.

Quarterback Ike Hall completed 7 of 18 passes for 94 yards and a 28-yard touchdown to Leach, who hauled in two receptions for 43 yards. Taylor Bessent led Brownwood with his first three receptions of the season for 25 yards, Konlyn Anderson caught a 15-yard screen pass, and Thad Hinds – the focal point of Glen Rose's defense – made one catch for 1 yard.
On the ground, Anderson churned out 129 yards on 29 carries, Hall added 53 yards and a score on five rushes, and Logan McKibben carried twice for 3 yards.
"Offensively we weren't clicking early," Burnett said. "We had multiple opportunities to score on big balls and we didn't connect. Ike was just amped up a little bit, but he settled down in the second half and was better. We imposed our will in the second half with our offensive line and started knocking off big chunks, and that's what we've done all year."
Though Brownwood committed eight penalties for 87 yards, the Lions were also aided by Glen Rose's nine penalties for 92 yards – most importantly, two flags that negated Tiger touchdowns.
The first occurred with just over four minutes left in the third period when it appeared Tristan Black had scored on a 4-yard carry to pull the Tigers within 10-9, but Glen Rose was whistled for holding. One second-and-goal from the 14, Costello fired an incomplete pass, on third down he was sacked by Kallman and Ramirez, and on fourth-and-goal at the 26 he was harassed into an incompletion by Jones.
Then, after the Lions took a 17-3 lead with 11:54 left in the contest, Josiah Groneweg raced 95 yards on a reverse on the ensuing kickoff, but the Glen Rose touchdown was wiped off the board due to an illegal block call.
"They didn't make many big plays," Burnett said. "We wanted to make them drive the field to score because we felt they're going to make a mistake. I thought we won the field position game for the most part until late in the game."
The Lions grabbed a 3-0 lead on their second possession of the game – an eight-play, 42-yard march that ended in a season-long 41-yard field goal by Junior Martinez with 2:13 left in the first quarter.
Hooker recorded his interception on the next Glen Rose drive, and the Lions marched to the Tiger 2 in nine snaps but were unable to score on a fourth-and-goal run play with 8:36 left in the first half.
"I thought we left 21 points on the board in the first half and that's on us, from holding penalties to getting down to the goal line and not executing a play that we worked on all week," Burnett said.

At the 5:02 juncture of the second period, with Glen Rose leading rusher Braulio Silva – who gained 122 yards – taking a breather, the Tigers coughed up a fumble, which Miller dove on at the Brownwood 42 to extinguish a threat.
But the Lions went three-and-out, which allowed Glen Rose to use a 16-play drive, throwing for 45 of its 68 passing yards in the game, to set up a 39-yard Jorge Mendoza field goal as time expired in the second period.
Brownwood received the opening kick of the second half and, after missing some big play opportunities in the first half, a long run and pass carried the Lions to the end zone. Facing a second-and-10 from the Lions 26, Hall broke free for a 41-yard gain on an option keeper. Two snaps later, Hall connected with Leach for a 28-yard touchdown just 60 seconds into the third period, staking Brownwood to a 10-3 cushion.
"Coach was telling me to stay in the pocket, buy some time, get the ball out and put it on them so they can catch it, and that's exactly what we did that play," Hall said. "We had good blocking, and everything worked out perfectly. We thought were going to attack them and get the ball in the end zone early, but it didn't go as planned. We came around in the second half and started getting everything going."
Glen Rose answered with its 7:02 drive that appeared to bring the Tigers within a point prior to the holding penalty and subsequent goal-to-go stand by the Lions.
"We really trust each other and that we're going to do our jobs and fill each other gaps and try and get our timing right," Miller said of the defense. "We like swarming to the ball. We've been watching film of the 2010 Lions and Coach (Marvin) Wilson coached on that team and they swarmed to the ball and were nasty and we want to be just like them. We like hitting running backs and causing pain."
Following the turnover on downs, the Lions orchestrated a 12-play, 76-trek of their own that chewed 4:06 off the clock and resulted in a two-touchdown advantage on Hall's 6-yard dart into the end zone on the first snap of the fourth period.
Twice on the clinching scoring drive the Lions converted third-and-long situations – a 14-yard screen pass from Hall to Bessent on third-and-12 from the Lion 22, and a 10-yard carry by Anderson on third-and-8 at the Glen Rose 31.
Next week, the Lions are back on the road at Class 4A Division II No. 10 Waco Connally (3-1), which dropped a 51-21 home decision to 4A Division I No. 2 China Spring (4-0) Friday night.
"We've already watched film on them and they're a very good football team," Burnett said. "They have a DI quarterback that's phenomenal and two defensive tackles that are huge. They're coming off a big win over La Vega and I know they played China Spring tonight. But we'll be ready to fight and come with a game plan to be successful."
***
Lions 17, Glen Rose 3
SCORE BY QUARTERS
| | | | | | |
| --- | --- | --- | --- | --- | --- |
| Glen Rose | 0 | 3 | 0 | 0 | – 3 |
| Brownwood | 3 | 0 | 7 | 7 | – 17 |
SCORING SUMMARY
B: Junior Martinez 41 FG, 2:13, 1st
G: Jorge Mendoza 39 FG, 0:00, 2nd
B: Jordan Leach 28 pass from Ike Hall (Martinez kick), 11:00
B: Hall 6 run (Martinez kick), 11:54, 4th
***
| | | |
| --- | --- | --- |
| TEAM STATS | G | B |
| First Downs | 16 | 15 |
| Total Offense | 275 | 278 |
| Rushes-Yards | 46-207 | 37-184 |
| Passing Yards | 68 | 94 |
| Comp-Att-Int | 7-15-1 | 7-18-0 |
| Penalties-Yards | 9-92 | 8-87 |
| Fumbles Lost | 2 | 0 |
| Punts-Average | 2-30.0 | 3-39.0 |
***
PLAYER STATS
RUSHING: Glen Rose – Braulio Silva 26-122; Canyon Costello 12-45; Braydon Brewton 3-15; Tristan Black 4-14; Josiah Groeneweg 1-11. Brownwood – Konlyn Anderson 29-129; Ike Hall 5-53, TD; Logan McKibben 2-3; Jordan Leach 1-(-5).
PASSING: Glen Rose – Costello 7-15-1-68. Brownwood – Hall 7-18-0-94, TD.
RECEIVING: Glen Rose – Camden Raymond 5-48; Silva 1-15; Brodey Bowman 1-5. Brownwood – Taylor Bessent 3-25; Leach 2-43, TD; Anderson 1-15; Thad Hinds 1-1.
###
KICKING – Brownwood – Junior Martinez 1 of 1 FG: Made 41. 2 of 2 PATs.
3 punts, 117 yards, 39.0 average.