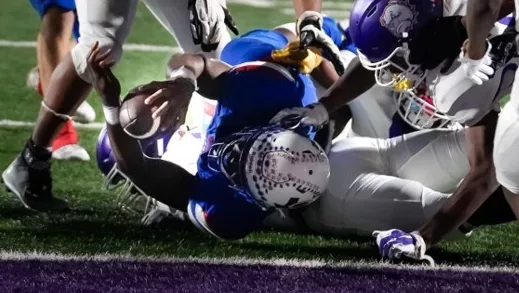 STEPHENVILLE – The Coleman Bluecats almost erased a 24-point second-half deficit in their Region II-A Division I area playoff game against the Marlin Bulldogs Thursday night at Tarleton Memorial Stadium, but came up just short in a 30-28 loss.
Trailing Marlin (10-2) by a 30-6 count midway through the third quarter after a 3-yard touchdown run by Ja'Marien Womack, the Bluecats (9-3) answered with a 5-yard touchdown run by Brent Bouldin and a two-point conversion to close the gap to 30-14 by the end of the third period.
Coleman scored all the points in the fourth period on a 1-yard carry by Jadin Jackson, and a two-point conversion that brought the Bluecats within 30-22. Then, midway through the fourth period, Hunter Lackey scored on a 32-yard end around, but the two-point conversion run was denied.
The Bluecats got the ball again inside their 20 with less than two minutes left, but were unable to march the length of the field and complete the comeback.
Marlin scored on touchdown passes of 85, 95 and 57 yards, and also booted a 20-yard field goal to open a 23-6 halftime edge.
Coleman finished with 332 yards of total offense – 264 rushing and 68 passing – but turned over the ball four times on interceptions. Marlin generated 361 yards, with 295 coming the air compared to 76 on the ground.
Jackson rushed for 129 yards and two touchdowns, passed for 24 yards, and caught four passes for 15 yards. Lackey added 93 yards and a touchdown on the ground and caught two passes for 13 yards. Brayden Torres completed 8 of 17 passes for 44 yards and rushed for 4 yards, but did not play in the second half. Bouldin tacked on 34 yards rushing and scored once, and also grabbed three receptions for 19 yards.