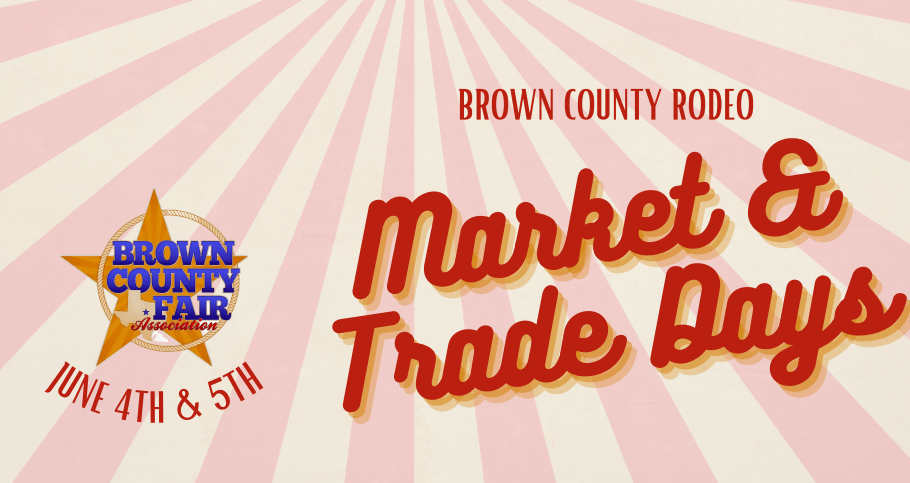 The Brown County Fair Association proudly presents the 3rd Annual Brown County Rodeo Market & Trade Days on June 4th from 4pm-8pm and June 5th from 11am to 6pm.
Located at the Brown County Fair Grounds at 4206 HWY 377 S Brownwood, TX 76801
This event will be set up next to Wagner's Carnival!
Enjoy wine tasting, shop unique home decor, stunning boutique clothing and handmade jewelry, and dine with a variety of food vendors.
Vendors include:
Blue Duck Winery
The Midnight Munch
Heirlooms Handmade Jewelry
Retired Leather Cowboy
Brazos Farm & Mercantile
Designs by Shawnell
The Rustic Leopard Gift Shop
Little Bits O' Love
Spirit of Texas Winery
Grit & Grace Boutique
Hollylock's Decor & Gifts
Eagle Shadow Trading Post
Bling Queen Boutique
Cowhide & Canvas
Brittle Twins Candies
Texas Sawdust & Paint
Junkettes
Happy Camper Creations
Blossom at the Seams
Scentsy
Mica's Nail Addiction & Sweet Southern Nails
Visit Brown County Fair Association on Facebook as they continue to announce more vendors!