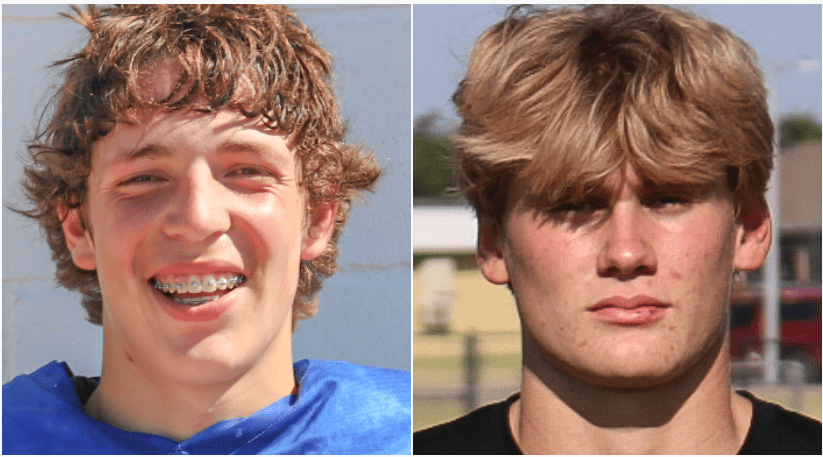 ***
Richland Springs 46, Bronte 0
MERTZON – The Class A Division II No. 4 Richland Springs Coyotes coasted into the Region IV championship game with a 46-0 victory over the Bronte Longhorns Friday night.
Richland Springs (12-0) produced 335 total yards against the Bronte (4-8) defense with 310 coming on the ground.
Billy Perry anchored the rushing attack with 202 yards and four touchdowns on 13 carries while Gage Behrens tacked on 91 yards and scored twice on six rushes. Cohen Ethridge contributed 17 yards rushing and Jayden Sutherland caught a 25-yard pass from Perry.
Defensively for head coach Shawn Rogers' troops, the Coyotes were led by Sutherland, Perry and Connor Womack with 6.5 tackles apiece. Hudson Tharp added 3.5 tackles, including a safety, Hutton Rogers finished with 2 tackles and Behrens was credited with 1.
Next week, Richland Springs will tangle with Cherokee – a 78-54 winner over Loraine Friday night – in the Class A Division II Region IV championship game, set for 6 p.m. Friday in San Saba. Richland Springs knocked off Cherokee, 40-32, on the Indians' (10-1) home turf to capture the District 16 championship back on Oct. 6.
***
Comanche 41, Scurry-Rosser 21
BURLESON – The Comanche Indians ended the season of the previously-undefeated Scurry-Rosser Wildcats, 41-21, Friday night in the Region II-3A Division II area round of the playoffs, as head Jake Escobar's squad reached the third round of the postseason for the second year in a row.
Tied at 14 at halftime, Comanche (8-4) dominated over the final two quarters by tacking one four consecutive touchdowns and limiting Scurry-Rosser (11-1) to one in the closing moments of the fourth period.
The Indians took their first lead in the third period on an 11-yard touchdown pass from Layden Welch to CT Buford. Later in the quarter, Welch and Buford connected again on a 54-yard scoring toss, staking the Indians to a 27-14 lead heading into the fourth quarter.
There, a 5-yard touchdown run by Welch boosted the lead to 34-14 and, after Comanche intercepted a Scurry-Rosser pass, Sawyer Wilkerson scored on a 7-yard carry to extend the advantage to 41-14.
In the first half, Comanche scored on a pair of 1-yard runs by Welch and Wilkerson.
The Indians finished with 422 yards of total offense – 293 rushing and 129 passing. Wilkerson led the way on the ground with 203 yards and two scores on 27 carries and Welch chipped in 68 yards on 11 carries and two trips to the end zone.
Welch was 9 of 15 through the air for 129 yards and a pair of scoring tosses. Buford grabbed four receptions for 82 yards and scored twice, Kyler Beaty added three catches for 22 yards, and Cayden Davis and Easton Gillette hauled in receptions and 14 and 11 yards, respectively.
Next week, Comanche squares off against defending state champion Gunter (12-0) – an 83-6 winner over Wichita Falls City View Thursday night – in the Class 3A Division II Region II semifinals at noon Friday at Choctaw Stadium in Arlington, the former Ballpark in Arlington home of the Texas Rangers.