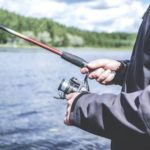 The following fishing reports are provided by the Texas Parks and Wildlife Department for the week of November 15:
LAKE BROWNWOOD
GOOD. Water stained; 62-68 degrees; 8.41 feet below pool. Black bass are in an early fall pattern. Catches up to 5.48 pounds are fair on jigs, and on crankbaits in 1-12 feet of water. Crappie are fair to 1.00 pound on brush piles and around the docks on minnows in 10-12 feet of water. White bass are slow to 1.25 pounds on crankbaits and small jigs. Catfish are good to 4 pounds on baited holes using prepared and cut bait.
LAKE CISCO
FAIR. Water slightly stained; 60 degrees; 11.35 feet below pool. The water clarity is muddy. Crappie are good on minnows in 7 feet of water. Catfishand bass are hitting perch and minnows. Report by Lake Cisco Rentals.
LAKE COLEMAN
SLOW. Water stained; 63-68 degrees; 8.80 feet below pool. Bass are fair to 3 pounds on F6 Hags in golden cherry, black/blue chatterbaits and jigs tipped with a green pumpkin Hags Undertaker Jr. Crappie are fair to 1.00 pound suspended in 10-12 feet of water around trees and docks on minnows. White and hybrid bass are slow.
LAKE O.H. IVIE
FAIR. Water stained; 60 degrees; 29.61 feet below pool. White bass are fair live baits and plastic baits. Crappie, good live bait or jigs. Largemouth are good in shallow water and the cooler water temperatures have fish on the move. As the lake level drops, be cautious of the trees. Report by Concho Park and Marina.
LAKE PROCTOR
FAIR. Water stained; 60 degrees; 12.59 feet below pool. Weather is consistent through the weekend, but check the wind forecast before heading out. Bass should be biting rattletraps and crankbaits along deeper edges, with some topwater action as fish chase bait. Catfish can be caught on stinkbait or cutbait. Hybrid and sand bass are schooling biting slabs. Crappie are hitting minnows and jigs around rock structures.