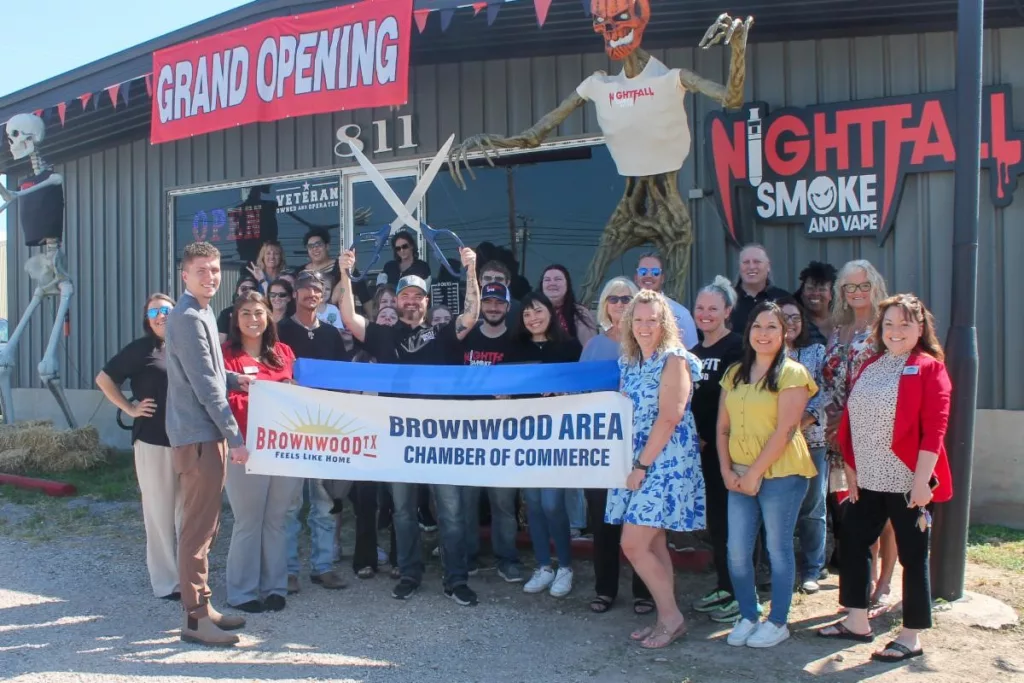 The Brownwood Area Chamber of Commerce held a double ribbon cutting ceremony for the newest chamber members, Nightfall Smoke and Vape and Hustle House on Thursday, September 28th. They are located at 811 Riverside Drive, Suites #1 and #2.

Opened this summer by Brownwood local and veteran, Hunter Jones, Nightfall Smoke and Vape is not your typical retail shop. He drew inspiration from his travels to tap into a themed market that Brownwood had not yet seen. Enter Nightfall, Brownwood's first Horror themed smoke and vape retail store. From CBD, e-cigarettes, and specialty items like pins, air freshners, and keychains with classic horror movie villains, this shop has a vibe as unique as its name.

Nightfall Smoke and Vape also sells merchandise that you can check out on their 8 ft tall skeletons that greet you as you walk into the store. An exciting seller has been the specialty tumblers with horror movie characters that have been crafted for the store. In each tumbler comes with a straw, a cleaner, and a special horror themed sticker. Hunter has carefully crafted each display case with classic horror themed posters that speak to fans of any generation.

Hustle House is the second half of the 2-part business. Wanting to do something creative coming back to his hometown, Hunter worked with lawyers and officials to create a safe space that would be legal and have a unique flair for Brownwood. After diligently working for over a year, Hustle House was created and is the first City of Brownwood and the State of Texas' sanctioned game room. There is no smoking indoors and the membership is 21 years of age and older. ID is required.

Offering karaoke during the week and a successful Grand Opening night on Thursday, September 28th with live music with Tommy Kaufmann, Hunter has major plans for the outdoor space. With a projector screen on the way, Hustle House will be playing movies outdoors during the month of October leading up to Halloween. There is also future plans to have a haunted house in the future!

For more information, follow Nightfall Smoke and Vape and Hustle House on Facebook to stay up to date for merchandise and sales and upcoming community events.