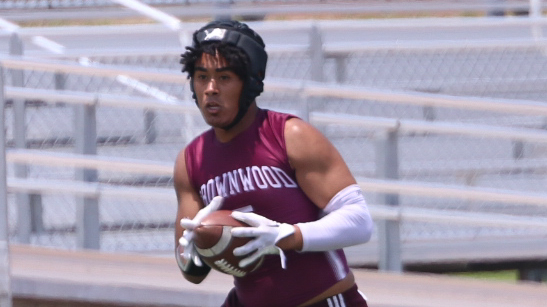 The Brownwood Lions will take their second crack at qualifying for their 23rd consecutive 7-on-7 State Tournament as they venture to the Burnet qualifier on Saturday.
With just eight teams in the field, only one team from the tournament will qualify to the 7-on-7 Division II State Tournament in College Station June 22-23.
The Lions will compete in Pool A against Llano, Somerset and Little River-Academy. The winner of Pool A will face the winner of Pool B – which features Burnet, Gatesville, Rockdale and Taylor – for the right to move on to state.
The first game is slated for 9 a.m. Saturday.
Brownwood is coming off a 1-2 performance at the Ponder qualifier, hosted by Justin Northwest, this past Saturday.
After opening the Ponder qualifier with a 13-6 victory over the Justin Northwest JV, the Lions fell to Graham, 21-18, and dropped a 25-6 decision to Wichita Falls – the team that knocked Brownwood out of the playoffs this past fall – to end their day shy of the state-qualifying semifinal round.
The Lions scored on just six of 18 possessions and committed four turnovers. Defensively, Brownwood intercepted three passes – two to end possessions and one on an extra-point attempt – but yielded touchdowns on eight of 18 opposing drives.
Quarterback Ike Hall connected on 44 of 77 passes with six scoring tosses and four interceptions. Hall was plagued by seven dropped passes from the receiving corps and was whistled for four seconds 10 times – including one on the go-ahead touchdown against Graham with 49 seconds left that ultimately decided the contest.
Leading receivers were Jaylon Brown with 13 catches and three touchdowns out of the backfield; Morsello Hooker with seven grabs and two trips to the end zone; Jake Jetton with seven catches as well; Hayden Noe with six grabs; Jordyn Nickerson with five and a touchdown; Carson Noe with five; and Ross Strasner with one catch.
Defensively, Nickerson and Strasner picked off passes near the goal line to foil scoring attempts against Northwest, while Gray Stewardson stopped a two-point try with his interception in the finale against Wichita Falls.