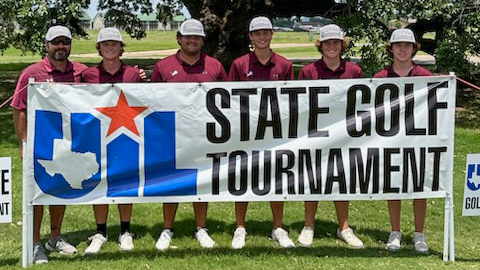 KINGSLAND – The Brownwood Lions' first trip as a team to the Class 4A Boys Golf State Tournament in more than 30 years concluded Tuesday with a sixth-place finish at Legends Golf Course.
The Lions followed their first-round 311 team score Monday with a 310 Tuesday to finish with a 22-over par total of 621. Brownwood's tally trailed state champion Canyon Randall (603), runner-up Andrews (607), bronze medalist Sulphur Springs (615), fourth-place Wimberley (618), and fifth-place Boerne (620).
The rest of the team scores included seventh-place Bullard (624) trailed by Bellville (639), Lampasas (640), Marble Falls (648), Celina (693), and Pleasant Grove (713).
"It was a great experience for our kids," said Lions golf coach David Jones. "They went in there and fought like crazy. They were grinding, every one of them, every single shot, we just came up a little bit short. It was an invaluable experience for our kids. We had to get to regionals a few times before we got over that hump and I almost feel the same way about the state tournament. There was a lot of lessons learned and a lot of growing happened during the course of the tournament. It's the first group from Brownwood to be at the state tournament in almost 40 years, and there's a lot to be said for that. It's hard to get there and this is something they can look back on and always say they were in the state tournament and performed well. It didn't end as we hoped but I think we'll have opportunities in the future to get back."
Hudson Reagan led the charge for the Lions with rounds of 75 Monday and 76 Tuesday for a 7-over par total of 151. Sir Bubba Jones followed with a 79 Monday and 73 Tuesday for an 8-over par score of 152. Caleb Modawell chipped in an opening 75 and a closing 80 for an 11-over tally of 155. Cobe Walker started with an 82 and closed with an 81 for a 19-over total of 163, and Slayde Espinoza added a Monday 82 and a Tuesday 83 for a 21-over score of 165.
Individually, Wimberley's Jaxon Donaldson again won the state championship with rounds of 70 and 66 for an 8-under par tally of 136, followed by silver medalist Colin Price of Godley (73-67=140, -4) and Jack Burgen of Andrews (74-67=141, -3) and Price Hill of Boerne (70-71=141, -3), who tied for third place.
The Lions opened the tournament with a round of 311 on Monday, which left them 11 shots off the lead and two shots back of third place. Brownwood was tied with Bullard in fifth place, trailing Canyon Randall (300), Sulphur Springs (303), Andrews (308) and Wimberley (309).
Brownwood advanced to state by finishing third at the Region I-4A tournament in Lubbock in April behind champion Andrews and runner-up Canyon Randall. At the State Preview tournament at Legends Golf Course in March, the Lions came in sixth as a team.
Reagan, Jones, Modawell and Walker all return for the Lions next year. 
"I expect us to be back next year, and that's certainly our intention, but our region is the toughest in the state," Jones said. "You can see that by the results this week with the top two teams in the state tournament coming from our region. There's never a guarantee but the guys coming back have a ton of experience, have played a ton of golf and will be more motivated than they've ever been to get back and have another crack at it."