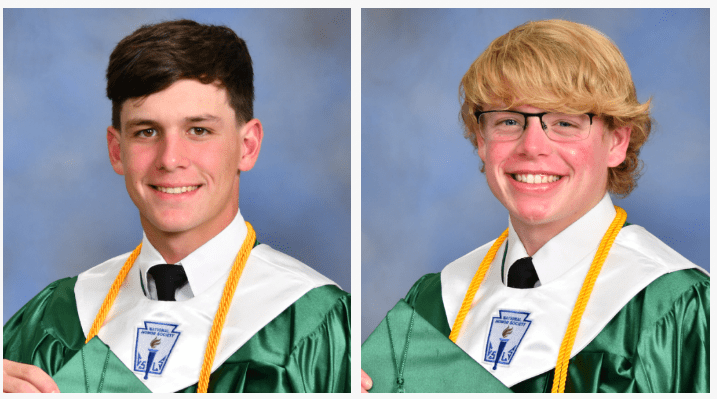 BANGS – The Bangs High School Class of 2023 will graduate at 8 p.m. Friday, May 26 at Dragon Memorial Stadium, where valedictorian Keygan Pitts and salutatorian Caedmon Tidwell will be recognized as the top two graduates.
Pitts, the son of Miles and Carissa Troyer, said of attaining the status of valedictorian, "A while back I didn't think it would be possible to get there. I worked pretty hard the last two years. I guess we focused a lot more on our dual credit classes. We did a better job balancing sports and academics. I focused and didn't slack, but it was still a shock. Two years ago I wasn't too far down, I was eighth and didn't know if I would make the top 10 percent. I realized we could, so that pushed me to keep going."
Tidwell, the son of Blu and Darbi Tidwell, said of being named salutatorian, "For me it was super awesome because it's always been a dream of mine to get top two in the class. It's a big accomplishment and I'm super grateful, super excited."
Pitts intends to attend Tarleton after high school and pursue a career as an electrical engineer.
"My grandpa is a plumber and he works with a bunch of electricians and engineers," Pitts said. "I was thinking about doing mechanical engineering first, but he said there was a big demand for electrical engineers. That's what I decided to do."
Tidwell is bound for Texas A&M where he will pursue a degree in Construction Science.
"I hope to go to Africa and start an orphanage," Tidwell said. "I grew up in missions and spent eight to 10 years over there. My parents started an orphanage there so it means a lot to me. That feel likes home and feels like something God's called me to do."
Reflecting on Bangs High School and how it helped prepare him for college, Pitts said, "It's nice being here in a small school where we can get an education and teachers can focus on us more in a bigger school where they have to focus on so many kids. Being here we get a lot of help on all our assignments, and a lot of people support you."
Tidwell added, "The small school aspect of it is really great, but they also give the bigger school aspect with the dual credit stuff to prepare us for college. We've both spent some many hours in dual credit and that just prepares us for college in that way. It's a way we can do that and still take college classes and still talk to our teachers and principal because we are that small school."
Pitts said his fondest memories of high school revolve around Ag.
"A couple years ago we won state and went to nationals in Ag Mechanics," Pitts said. "This year we won state in the Tractor Technician Contest. I've always done Ag ever since eighth grade, tons of competitions like home site evaluations. I also enjoyed sports of course like football, and we went to state in track this year."
Tidwell spoke fondly of his time in theater during high school.
"I'm a big theater guy, I did theater all four years and we just got back from state," Tidwell said. "I'd say that was probably one of the best things I've done here. I've also done all sports, this year was my first year playing tennis and we went to regionals. Being in a small school we do everything. I enjoyed it all, senior year especially, I enjoyed it more."
Both graduates also extended thanks to those who helped them reach their achievements.
"My mom helped out a bunch," Pitts said. "We didn't think it was going to happen but she really kept up with it. Regular classes, before dual credit classes even started, she was on me to get my stuff done. She never let off on that and that pushed me to be where I am now."
Tidwell added, "I'd like to thank my parents. My mom and my dad have pushed me and really encouraged me to be the man that I am today. None of this would be possible without them pushing me to be the best that I can. I thankful for them and the school."
***
CLICK HERE for the entire BANGS High School Class
***
VALS AND SALS/GRADUATION SCHEDULE
Monday, May 15– BCCS
Tuesday, May 16 – Early
Wednesday, May 17 – Zephyr
Thursday, May 18 – Brookesmith
Friday, May 19 – Blanket
Monday, May 22 – Brownwood
Tuesday, May 23– Bangs
Wednesday, May 24 – May
Thursday, May 25 – Premier
Friday, May 26 – Coleman