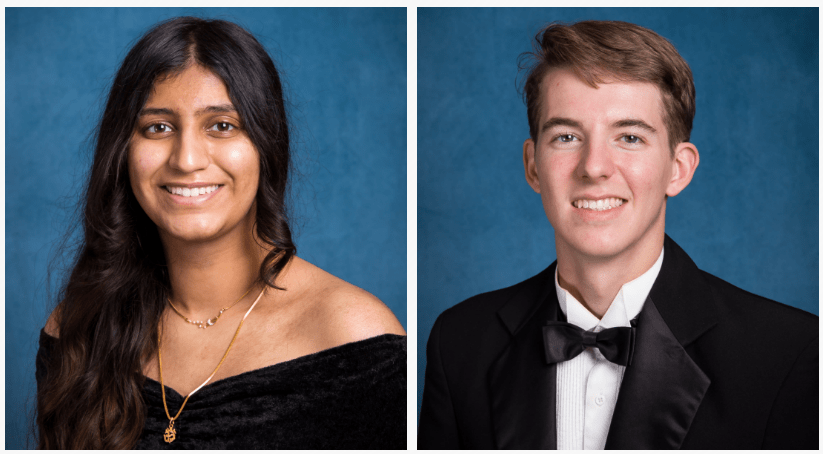 The Brownwood High School Class of 2023 will graduate at 7 p.m. Friday, June 2 at Gordon Wood Stadium, as valedictorian Aishwarya Nigalye and salutatorian Andrew Boren lead the way as the top two graduates.
Nigalye, the daughter of Drs. Narendra and Ranjana Nigalye, said of the valedictorian honor, "It's surreal for me because Andrew and I have been in this race since elementary school. I've met a lot of great teachers in advanced classes like Physics and AP English. I feel like I got a great depth of learning in these classes and that's part of the reason why I'm valedictorian, because those teachers pushed me to learn and do my best."
Boren, the son of Drs. Rance and Carol Boren, said of the salutatorian accolade, "It feels like a relief. The work that we've put in during our high school career is paying off in the form of this recognition. I got to take fun classes with great teachers and got to have great friends in my classes. It was a great experience."
Nigalye has opted to continue her education at Rice University and follow in her family's footsteps.
"My plan is to double major or get a dual degree in one of the Natural Sciences, maybe Bio-Science or Chemistry, and also Spanish," she said. "I want to get my prerequisites and go on to medical school and I also want to be bi-lingual. We live in Texas and a large need for patients here is a bi-lingual provider that can understand them and make them feel more welcome and safe. In Texas we have so many non-English speakers who are much more comfortable speaking Spanish. As someone who wants to stay in Texas and serve Texas patients as a physician, that will really help me with my career."
Boren will has chosen Texas A&M University with a pair of degrees in mind.
"I plan to pursue a dual degree in Mathematics and History," he said. "I want to pursue Mathematics because I want to get a job hopefully at the National Security Agency and hopefully break codes and make codes and keep our defense systems from getting hacked. I want to study History because it's my favorite subject and I want to learn as much as I can. That's my other passion."
Regarding how they feel Brownwood High School has prepared them for college, Nigalye said, "I feel like I heard the phrase 'you'll be doing this in college' a million times from my teachers. I took On-Ramp Physics which is a dual credit program with UT and I feel like the pace of that class and the rigor of that class will definitely prepare me for college. I found myself studying way more for that class than I ever had for any other. That level of self sufficiency in that class, and other classes like AP English or dual credit classes with Ranger, will help me a lot in college because that's a big change for students, transitioning from high school to college, because they don't know how to be self sufficient and maintain their own study habits."
Boren added, "I have taken a bunch of courses that are intellectually challenging so I'm not going to be outside of my element when I get to college. I've taken classes like Physics, Chemistry, and Calculus since I'm going after a Math degree at A&M. I have a good background of all these challenging courses so when I get to A&M I'm going to be prepared."
Reflecting on their fondest memories at Brownwood High, Nigalye pointed to her time on the tennis team.
"For me, I was on the varsity tennis team for three years and those bus rides back home when we're tired and exhausted but we had a good day and we worked hard, the conversations on the bus on the long hours we spent together building team spirit, those are some of my favorite memories in high school," she said. "Some of my best friends are on the tennis team."
Boren spoke highly of his time in the Mighty Maroon Marching Band and the friendships made.
"For me it's going to the Friday night football games," he said. "I was in the band and when we traveled anywhere, win or lose, we still kept our spirits high and always had a good time. I have a bunch of friends that I got to share a lot of time with every football season from my freshman to senior year."
Asked what advice they would impart to younger students hoping to follow in their footsteps as either valedictorian or salutatorian, Nigalye said, "You have to put the work in during after school hours. You're going to have to take the advanced classes because that gives you the GPA boost, and those classes are rigorous, You're going to have to put in more work than you do for an on level class. For me that meant reading my Physics textbook a lot out of school, studying an AP Calculus prep book so I could do better on the exam, that kind of thing. I think a lot of students prioritize their social life and that's very important, but if you want to be a valedictorian or salutatorian you may have to sacrifice a little bit of that to build your study habits to get to where you want to be."
Boren added, "From my experience, time management is important. You can do all that you want in high school, you can succeed in everything, if you put the time and the effort in. You have to know how much time you need to spend studying or on a sport. For people coming into high school it's important to find what you like, stick with it and you'll go far."
Both graduates wanted to express thanks to those who helped them reach the status of top graduates in the Class of 2023.
"I'd like to thank my parents," Nigalye said. "They are for sure a huge part of the reason why I'm here. My mom would sit me down when I was 5 years old and teach me my multiplication tables and read with me and that builds a very strong foundation so I was ahead in school. I could focus on higher level things like reading chapter books at an earlier age, doing more advanced math at an earlier age. My mom and dad were some of my biggest supporters and pushed me to do my best and never settle for anything less than that."
Boren said, "I started taking piano when I was 5, and I had a couple of piano teachers that both taught me to work hard. Practicing piano, you can play a piece 100 times through and it might not get any better. You have to break it down, piece by piece, measure by measure, note by note, and work diligently and intelligently through a piece. That applies to a lot of things in life like school and work. They've spent a lot of hours over the years with me. Ms. Diane Owens and Dr. Elizabeth Wallace at Howard Payne, they made me who I am today."
***
CLICK HERE for the Brownwood High School Graduation Class page
***
VALS AND SALS/GRADUATION PAGE SCHEDULE
Monday, May 15– BCCS
Tuesday, May 16 – Early
Wednesday, May 17 – Zephyr
Thursday, May 18 – Brookesmith
Friday, May 19 – Blanket
Monday, May 22 – Brownwood
Tuesday, May 23– Bangs
Wednesday, May 24 – May
Thursday, May 25 – Premier
Friday, May 26 – Coleman