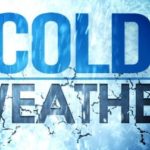 We double-checked the calendar.  Spring officially begins this coming Monday, March 20, but the forecast has winter temperatures to welcome Spring.  In fact, a strong cold front is due tomorrow night (Thursday) to usher in several days of temperatures being well below normal with a freeze possible Friday night into Saturday morning.  Keep your coats handy.
"The average high for Brownwood this time of year is 70 degrees.  The average low is 42," said KOXE Meteorologist Randy Turner.  The forecast indicates high temperatures in the low 50's Friday and Saturday and highs in the upper 40's Sunday and Monday, which is 20 to 25 degrees below normal.  Low temperatures are forecast to be near 32 by early Saturday morning then dip into the middle 30's both Saturday night and Sunday night," Turner said.  "If you have already started gardening or put out some flowering plants, make sure they have some type of protection from the cold this weekend."
Gusty north wind will also howl through the region on Friday meaning feels like temperatures will be in the 30's all day long on Friday.
The forecast also indicates rain in the forecast with the best chances being 50% Thursday and 50% this coming Sunday night and Monday, so cold and wet to welcome Spring.