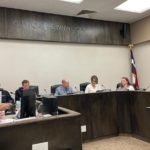 In session Tuesday morning, March 14, the Brownwood City Council ordered a Special Election to be held on Saturday, June 10, 2023 to elect a Councilmember for Ward 4. The special election was called due to the recent passing of Councilman Draco Miller.
Citizens who wish to file for the election must reside in Ward 4. The filing period begins today, March 14, and continues through April 6th. The dates for a write-in candidate are the same.
"In order to file you must live in the ward and we have the ward maps available on the Council website as well as in the packet. Interested people can find our packet on our website or we have stick drives which they can get from the City Secretary's Office and we also have paper copies as well," said City Manager Emily Crawford.
If more than one candidate files, the drawing for a place on the ballot will be conducted on April 10 at 9:00 am in the Council Chambers at Brownwood City Hall.
The city website is www.brownwoodtexas.gov.