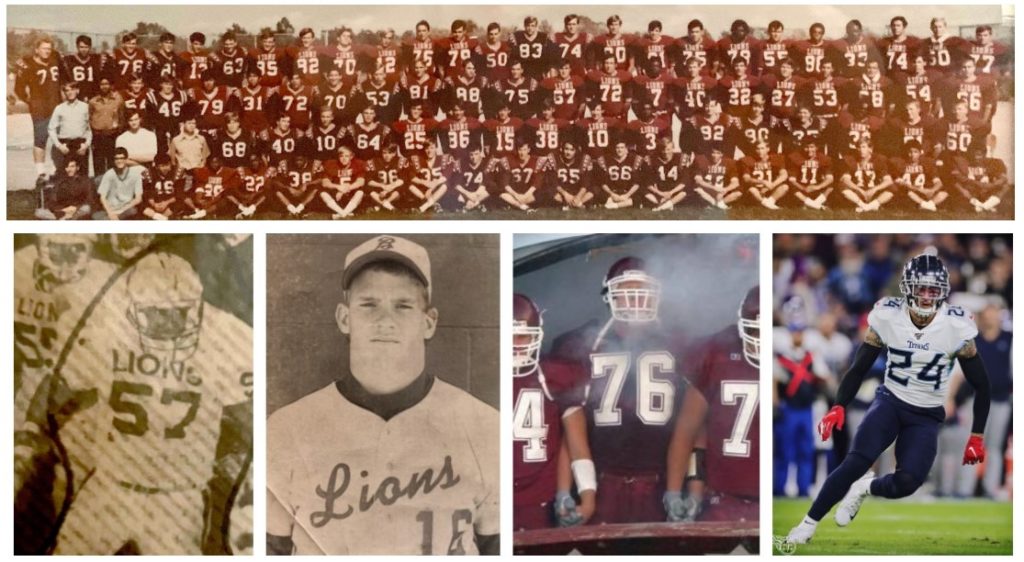 Four members of previous Brownwood Lions teams will be inducted this year into the Gordon Wood Hall of Champions. In addition, the 1970 State Championship football team will be honored. The Hall of Champions missed recognizing the 50th anniversary of this accomplishment in 2020 due to COVID-19.
Inductees this year are Benny Garza, 1992; Lee Grimes, 2004; Jes Rathke, 1989; and Kenny Vaccaro, 2008.
The induction ceremony will begin at 11:30 a.m. Friday, October 7, at the First Methodist Church Christian Life Center in Brownwood. Doors will open at 11 a.m.
The Hall of Champions was founded to recognize outstanding members of Gordon Wood's best high school teams, along with exceptional Brownwood players of all eras, who went on to successful careers in their fields as adults. The first induction was held in 2000, three years before Wood's death.
Tickets are on sale for $35 each, and tables for $280. They are available at Smith and Sharpe Agencies, 201 West Adams, and other locations in the city. The price includes a catered lunch and opportunity to hear about and from, and to visit with, this year's inductees and past inductees.
Profiles on the inductees are as follows:
1970 State Football Champions
After losing 20 seniors from the Brownwood Lions' 1969 state championship team, 1970 was supposed to be a rebuilding year. Someone forgot to tell the returning players, Coach Gordon Wood reflected years later. After dropping the opener to Abilene Cooper, Brownwood's annual tormentor, the young Lions went on a tear. That game against Abilene Cooper was the only loss Brownwood would suffer in a stretch that ended with a 14-0 victory over Cuero for the state championship, completing a 12-1-1 season. The Lions defeated Temple 14-6, Abilene High 22-20, South Grand Prairie 28-7, Wichita Falls Hirschi 37-0 on their first game ever on synthetic turf, Graham 42-0, Weatherford 28-0, Vernon 53-7, Stephenville 55-7, and then Burkburnett to close district play and capture the Lions' fourth consecutive District 4-AAA championship. Playoff wins included a 35-12 victory over former Lions coach Pete Murray and the Lubbock Estacado Matadors. Monahans was a familiar playoff opponent, and the two teams battled to a 10-10 tie. However, Brownwood advanced on penetrations, 5-3. Plano was up next, and the Lions prevailed 35-21 to advance to the finals. Cuero was a Cinderella team, winning its district zone on a coin-flip and then nudging favored Kerrville 7-6 to advance to the playoffs. They battled the heavily favored Lions to a scoreless first-half standoff, but Brownwood prevailed 14-0. Five players were named first-team All-State: Gary Barron, Gene Day, Tommy George, John Isom, and Garry Moore.
***
Jes Rathke
Jes Rathke, a 1991 graduate of Brownwood High School, was a 3 sport letterman for 3 years in football, baseball and track.
In football, Jes earned all-district defensive lineman honors his Junior and Senior years. 
In baseball, Jes earned numerous honors, including newcomer of the year as a sophomore as well as first team all-district catcher as a junior and first team all district pitcher as a senior. Jes also earned first team all-state catcher his junior year and first team all-state pitcher his senior year. He was selected to play in the 1991 Texas High School All-Star Game, the last one played in the Astrodome. Jes was drafted in the 19th Round of the 1991 Major League Draft by the Atlanta Braves. 
In track, Jes threw shot put and discus. He earned a trip to state in both his junior and senior years in the discus, placing sixth as a junior and winning first place as a senior on his last throw.
After high school, Jes got a baseball scholarship to play baseball at McLennan Community College. Plagued by injuries, he had to cut his baseball career short after his sophomore year.  
After college, Jes spent 24 years in the sporting goods business. Jes is married to his wife Jody, an elementary school principal, and has 2 children Tyler and Braidi. 
Jes' highlight of being a Brownwood Lion was being coached by his dad, best friend, and hero, Wayne Rathke. Jes said, "Coach Rathke has touched many lives, and I am honored and proud to be one of them."
***
Benny Garza
Benny Garza, a member of the Brownwood High School Class of 1993, played Defensive Lineman for the Lions from 1990-1993. Benny's dominance as a player on Defense during his Junior year earned him All-District honors as a Defensive Tackle. During the season, Garza averaged 10 tackles per game, recorded 9 sacks, forced 4 fumbles while recovering 3 fumbles, blocked 3 extra points, 3 field goals, and 4 punts.
Continuing into his Senior year, Benny was named Team Captain by his Teammates. Garza continued to display his talent on the field as he had a most impressive Senior year. As a result of his drive, determination and talent, Benny earned numerous honors which include All-District Selection, Academic All-District, All-Area & Region, The Abilene Super Team, and most importantly 4A All-State Honors. Garza was also named the Defensive MVP guiding the Lions to a District Championship with a 9-2 record. During Garza's Senior year, he produced 12 tackles per game, had 12 QB sacks, and forced 5 fumbles, recovering 4. But most impressively, Garza blocked 4 extra points, 5 field goals, and 7 punts to establish Brownwood Lion single season records in each category. Due to Benny's defensive prowess, along with the support of his teammates, the defense held their opponents to zero points scored against them during four of their District games and only allowed eight PPGs that season. As a Brownwood Lion, Garza never missed a game in four seasons.
After graduating High School, Benny attended Howard Payne University where he studied Business Management and Finance. Benny worked in the Finance and Management fields in Brownwood for the last 25 years before starting his own business. Benny applied his knowledge and experience to start his own business "Benito's Bread Company" where he services major retail stores in Brown, Comanche, and Mills counties. Benny married Rachel Garza in 1999. They have been blessed with 3 children: Dalainy, 22, an Angelo State University graduate; Isabella, 17, a Senior at Brownwood High School; and Ian, 14, a Freshman at Brownwood High School.
***
Lee Grimes
Lee Grimes, Brownwood High School Class of 2005, was a three-year letterman in both football and track and field. He wore No. 76. In 2005 he won the state championship in the shot-put. He was a two-year starter on the offensive line for the Lions, helping them reach an 11-1 record in 2003 finishing the season ranked 11th, according to Texas Football magazine. Grimes was a two-time All District selection, 1st team all-state selection and a Prep-All American selection as a high school player. For his efforts as a high school football player, Grimes was named to the UIL All-Century Offensive Team for the period of 1910-2010.
Grimes went on to play for Texas A&M University where he earned four varsity letters while being named 2nd team All Big 12 his senior season. He was also named to the All-Decade team for Texas A&M. He had a brief stint in the NFL with the Tampa Bay Buccaneers and San Diego Chargers in 2010. Following his playing career, Grimes decided to begin his coaching career.
Grimes got into coaching in 2010 at University of Arkansas at Monticello as the assistant offensive line coach. He also spent time at Southeastern Oklahoma State and Lubbock Estacado High School. In 2014 Grimes was hired at East Texas Baptist University as the Run Game Coordinator and Offensive Line coach. At East Texas Baptist, Grimes coached four all-conference linemen in 2015 and three in 2014. He helped the offense set 19 school records and average more than 40 points per game in 2015, while also finishing second in the nation in total yards per game. The Tigers also won the conference championship in 2015 for the first time in 12 years.
After his time at ETBU, Grimes took a job at the University of Minnesota where he served as a graduate assistant for the 2016 season. The Golden Gophers went 9-4 and notched a Holiday Bowl win over Washington State to conclude the season.
Grimes then returned home to Texas A&M University as a graduate assistant. Grimes coached Erik McCoy and Keaton Sutherland, who are both currently in the NFL. McCoy was a second-round pick of the New Orleans Saints in 2019, while Sutherland is currently with the 49ers. He was elevated after just one season to Lead Offensive Analyst under Jimbo Fisher. The Aggies went to a bowl game in each of Grimes' three seasons with the program, with wins at the Gator Bowl and Texas Bowl. Grimes also helped the Aggies recruit at a high level at offensive line, as the Aggies added two recruits in his final year who were ranked among the top 10 offensive guards in the country. Texas A&M landed a pair of top-10 recruiting classes while Grimes was on board, including the fourth-ranked class nationally in 2019. The Aggies also secured a top-20 class in Grimes' first season with the program. When Grimes left Texas A&M, the Aggies line featured a returning group for a 2020 season that included 52 career starts and a group loaded with talent. That group was named a finalist for the Joe Moore Award, which is given annually to the top offensive line unit in college football.
In 2020 Grimes took the Offensive Line job at UNC Charlotte. In a season shortened by COVID-19 cancellations, the Charlotte offense averaged 30.8 points per game in conference play, ranking 3rd in Conference USA, including a season high 49 points against North Texas on October 10, 2020.
Grimes was added to the Kansas football staff as offensive line coach in December 2020, and recently accepted the offensive line job at IMG Academy in Bradenton, Florida.
He and his wife, Kristen, have one son, Deacon, 5.
***
Kenny Vaccaro
Kenny Vaccaro was born in his hometown of Brownwood. He was raised by his parents Ken and Alesia Vaccaro. He loved playing sports, creative arts, and video games from an early age. Kenny enjoyed fishing and hunting with his dad as well. Ken always supported everything his children were involved in. In 2007, they lost their father to emphysema. His mother was left to raise him and his three siblings; Kevin, Lakeeta, and Ashley.
Alesia trained Kenny every day from the moment he was four years old until the time he left for college. She made sure he maintained straight A's in school in order to play sports. Alesia even drove him twice a week to Abilene for additional teaching lessons at Silvan's Learning Center. She sacrificed everything for her children to give them a better future. Their family struggled financially and had to work hard for all their success. That mentality shaped who they are today. Lakeeta graduated from the University of Miami; Ashley graduated from the University of Texas; and Kevin graduated from the University of Texas, where he also played football alongside Kenny.
By the age of 10, Kenny set records in track & field and won multiple state soccer championships. He won his first spelling bee in second grade, and remained in the Gifted and Talented Program as a young student. He always had a competitive spirit and strived to be the best in everything he did. Before his father passed away, Kenny told him one day he would get a scholarship to the University of Texas, drafted to the NFL, and be sponsored by Nike. He felt it was his responsibility to provide a better life for his family.
Kenny studied at Brownwood High School before transferring to Early for his senior year. This was a very controversial decision made by his mother. He has always been a Brownwood Lion at heart. He grew up admiring the varsity Brownwood Lion football team. Players such as Kirby Freeman, Deacon Burns, Freddie Stoglin, Bart Johnson, Brett Valdez, Kye Darden, Bronson Shaw, Dusty & TJ Green, Keith Howey, Lee Grimes, Jamal Organ, Kendrick Roberson, Jason Maldonado, Britton Maxwell, and Johnse Howard. Kenny is now married to his high school sweetheart, Kahli Vaccaro. They now live in Austin with their four children; KV III, Kendon, Khari, and Kamden. His two older boys, KV III and Kendon, are already star athletes, just like their dad. In 2021, they each won their respective flag football World Championships in Tampa, Florida.
For college, Kenny enrolled in the University of Texas at Austin and played for coach Mack Brown's Texas Longhorns football team from 2009 to 2012. In his freshman year, Kenny appeared in all of the 13 games of the season. He played safety and on special teams. In his Sophomore year, Vaccaro played in all 12 games of the season. He played his best yet in that season by scoring nine tackles, one tackle for loss, and two pass breakups in a single match. His Junior Year was an excellent showcase of his skills as he finished the season with a total of 82 tackles with 8 for loss, 2.0 sacks, eight pass breakups and 2 interceptions. In his Senior year of college, he was chosen as a first team All-American by Pro Football Weekly. He was also voted for the defensive captain with linebacker Alex Okafor.
The New Orleans Saints selected Kenny in the first round (15th overall) of the 2013 NFL Draft. Vaccaro was the first safety drafted from the University of Texas at Austin after Earl Thomas in 2010. Kenny became the starting strong safety week 1. His rookie season (2013) ended with a total of 79 combined tackles, 62 solos, 8 pass deflections, a sack, a forced fumble, and an interception in 14 games and 14 stars. Cris Colinsworth named him defensive rookie of the year. He was also chosen 1st team all rookie. For the 2015 season, he started as the starting safety in his second season. Vaccaro starred in all of the season's 16 games. He scored a career-high of 104 combined tackles, five pass deflections, three sacks, and a fumbled force. The Saints picked up his 5th year option for the 2016 season. He started in 12 games. He still managed to finish the 2016 season with a score of 68 tackles, 5 pass deflections, two forced fumbles, an interception, and a sack in 11 games and 11 starts. He started the 2017 season as the starting strong safety along with Vonn Bell. Kenny missed 2 games after an injury that required surgery. In that season, he still scored 60 combined tackles, seven pass deflections, 3.5 sacks, a fumble recovery, a touchdown in 14 games, and 14 starts.
On August 4, 2018, Kenny Vaccaro signed a one-year $1.5 million contract with the Tennessee Titans. The 2018 season finished with a score of 58 combined tackles, two sacks, four pass deflections, and one interception. In 2019, Vaccaro signed a four-year $26 million contract extension with the Titans, an additional $11.5 million was guaranteed. He alongside Kevin Byard led his team to the AFC Championship versus the Kansas City Chiefs. For the 2020 season, he was a key member in leading the Tennessee Titans to another consecutive playoff appearance.
On December 1, 2021, after eight seasons playing for the National Football League, Kenny Vaccaro decided to trade in his football helmet for a headset. With his retirement, Kenny launched an esports organization, Gamers First aka G1, with former Halo Pro, Hunter Swensson, and former Halo Coach, Cody Hendrix. Gamers First is an organization whose mission is to prove that talent is only a small portion of what we offer. G1 aims to prove that character, drive, passion and energy far outweigh the importance of talent alone.
"This isn't a reflex decision for me; it's something I've thought about for a long time," Vaccaro said in a statement. "I've been a gamer for even longer than I've played football, and I've always thought of myself as a gamer first. So this is the realization of a long-term dream for me. And while football has been how many have defined me, G1 is evidence for other athletes as well that life doesn't end just because you put down the helmet. You can reinvent yourself." Gamers First now competes in the Halo Championship Series as a top 5 roster and has signed 15 content creators. G1 has partnered with such brands as Evolve Pcs, Richards Rainwater, SharpeVision, Felix Gray, Gamer Supps, Promix, CTRL, Nimbus Health care and Battle Beaver. Gamers First has already begun implementing structure into the world of esports by breaking the on-going stigma in gaming. Kenny incorporates methods he has learned in the NFL to create an extraordinary culture that the esports space has never seen. He has partnered with many health & wellness companies to optimize the performance and well-being of his players.
In 2021, Kenny began a new project with business partners, Max Dittmer, Devon Low, and Jeremy Hills, to build the Kollective. The Kollective is a Social Performance Club in Austin. The goal is to reinvent the intersection of performance and community for the modern professional. The Kollective is breaking the norm of what a typical training facility is perceived as, creating a new name for themselves amongst business professionals, professional athletes, fitness enthusiasts, and the general population of Austin. In under a year, Kollective has reached over 450 members and is widely known as the top performance club in Texas.
Kenny's most recent project has been to start yet another business, the Konnect, with business partners Will Harper and Gino Silvas. The Konnect was founded in April 2022, with the purpose of providing customers a unique and special shopping experience. The Konnect is Austin's first high-end fashion boutique. In addition to designer apparel, they also carry a variety of sneaker brands as well. The Konnect will soon be opening a new storefront location on South Congress Avenue, next to Perla's Seafood, Hopdoddy, and By George. Adding value to the Austin culture is the heart of the inspiration for the Konnect.
Vaccaro is also an investor in Slim & Husky's, Mayfair Nightclub, Nimbus, Los Magos Sotol, Bare Performance Nutrition, Evolve PCs, Richards Rainwater, Unbarlievable, and Bull & Bowl. He also owns many NFT projects such as Bored Ape Yacht Club, Super Gucci, RTFKT x Nike, and CloneX. Additionally, he partnered with Galaxy Flight Club to design his own personal NFT.
Clark Field Collective provides assistance to The University of Texas college athletes by cultivating and facilitating NIL opportunities in conjunction with businesses, donors and fans to ensure college athlete success year after year. Kenny serves on the board for the football division. He was recently on the cover of the most prestigious magazine for the University of Texas, Alcalde Magazine. This magazine has represented Texas Exes since 1913. Being on the cover was one of Kenny's proudest moments.
Charity is also such an important aspect of Kenny's life. He strongly believes in giving back to society as he founded the Kenny Vaccaro Foundation in 2017 to provide economically disadvantaged students with educational resources to ensure their academic success. During the 2016 offseason, he and his former teammate, Alex Okafor, traveled to Kenya in a fundraising effort to construct a school in the Kibera region. In 2019, Kenny partnered with former professional rugby player, Michael Hobbs, to create the Blessed Home Project. As the first step in their journey to offering educational resources, The Blessed Home Primary School was built with the goal of changing the face of the Kibera slums through education.