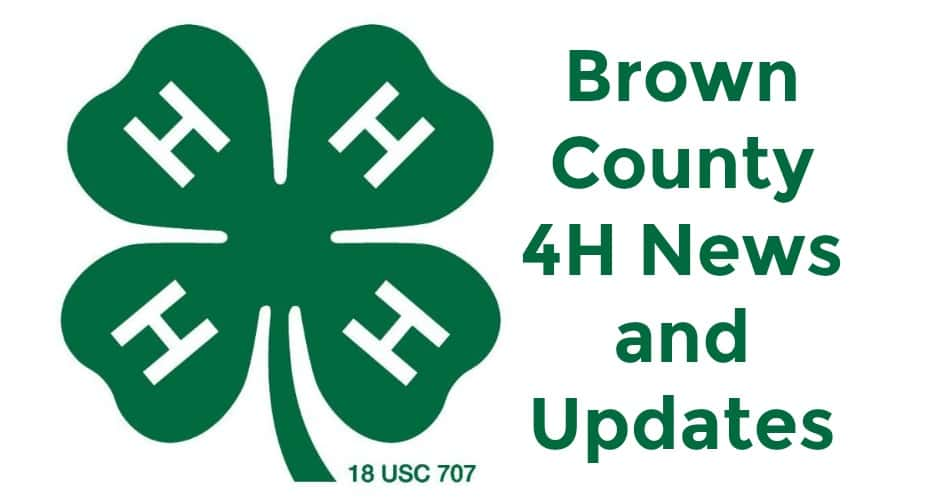 DATES TO REMEMBER
August 15 – Deadline to Submit Project Proficiency Award Form
22 – Deadline to Order State Lamb & Goat Tags
22 – Deadline to Order Heifer UINs for Fall Validation
27 – Brown County 4-H Awards and Kickoff Event at the Texas 4-H Center, Lake Brownwood
29 – 4-H Club Manager/Adult Leader Training 5:30pm at the Extension Office
BROWN COUNTY 4-H PROJECT PROFICIENCY AWARDS
Brown County 4-H members, every year at our Awards Day we give project awards. If you are interested in receiving an award for your projects that you completed during the 2021-2022
4-H year, please complete the online form by going to the following link https://agrilife.az1.qualtrics.com/jfe/form/SV_ehBOSNfuSIkejxc. The deadline to submit the form will be August 15th at 11:59pm.
BROWN COUNTY 4-H AWARDS AND KICKOFF
The Brown County 4-H Awards and Kickoff will be on Saturday August 27th at the Texas 4-H Conference Center at Lake Brownwood. Below is the schedule of events:
4-H Awards & Lunch: 12-2pm

4-H Kickoff Event (Swimming & Games): 2-4pm
If you plan on attending the awards and lunch, please RSVP by August 22nd. You must RSVP to receive an award. For more information contact the Extension Office.
STATE LAMB AND GOAT TAGS
  It is that time again!! If you are a 4-H member and planning on showing a market lamb, market goat, breeding sheep or breeding goat at any Major Stock Show such as Ft. Worth, San Antonio, Austin, San Angelo, or Houston you will need to purchase state tags. The costs of the tags are $17 per animal. The deadline to order tags is August 22nd.  If you are planning on purchasing a state lamb tag for San Angelo Stock Show you need to make sure that lamb is Texas Bred and has a Texas Lamb Breeders tag, which will come from the lamb breeder. Registration papers for breeding sheep or goats must be in the exhibitor's name on or before October 1st. You must bring the registration papers on the day of validation. You can order state tags by contacting the Extension Office. 
HEIFER VALIDATION
If you are showing a heifer at a major stock show that has not previously been state validated or has changed owners, they will need to be validated. Heifers that are only participating in the Brown County Youth Fair do not need to be validated.
The deadline to turn in your order for validation identification numbers is Monday, August 22nd. The cost will be $15/UIN, but families only must pay for the heifers they physically validate. Please make sure you have registration papers in hand at validation. Every heifer needs to have an ID, either a brand or tattoo. Please ensure that tattoos/brands are done and legible before validation.
For more information, contact the Extension Office at 325-646-0386.
BROWN COUNTY 4-H CLUB MANAGER/ADULT LEADER TRAINING
There will be a club manager/adult leader training on Monday, August 29th 5:30pm at the Extension Office. We highly recommend if you are a current or planning to be a club manager/adult leader to attend this training. Topics of discussions are below:
• Club meeting organization
• Money Management/Financial Organization
• How to run your meetings easily and successfully
• Engage youth within your club
Please RSVP by August 24th you plan to attend the training. If you have any questions, please contact the Extension Office.
4-H RABBIT FEED CONTAINERS
If you have bought rabbit feed from the Extension Office and have containers, PLEASE bring them back to the Extension Office. Feed cannot be distributed without containers and at this time Mrs. Becktold does not have containers. PLEASE RETURN RABBIT FEED CONTAINERS!
4-H DAYS AT MCCOY'S
McCoy's Building Supply is a long-time sponsor of Texas 4-H and its mission. McCoy's has been a CHAMPION for Texas 4-H for many years as they have supported 4-H. Texas 4-H has partnered with McCoy's this year to help raise money for our COUNTY. For 2 weeks starting August 1st – August 13th, McCoy's will be seeking donations for Texas 4-H. Everyone who enters their store will be encouraged to donate to Texas 4-H and all money will stay in our community!
24-H ENROLLMENT IS OPEN ON 4-H CONNECT!
The enrollment process for the 2022-2023 4-H year begins August 15, 2022. All 4-H families, new and returning, are encouraged to log in and enroll to become an official 4-H member.
As you begin your enrollment for the year, here are some tips in using 4-H CONNECT:
If you already have a profile DO NOT create another one!

If you lost your email and password, call the county office so we can reset, it for you.

An active membership will not be granted until the $25.00 participation fee is paid on 4-H Connect!

You cannot register or participate in an event until your profile is ACTIVE.

When you are doing your re-enrollment for the 2022-2023 4-H Year please make sure you update your address, phone number, and e-mail address.

For any youth who is joining 4-H in 2022-2023 for the first time as a 3rd grader we ask for you NOT TO ENROLL until September 1st.  September 1st is actual first day of the new 4-H year and what is used to calculate grade/age.  If a 2nd grader moving into 3rd grade enrolls before September 1st it will "tag" them as a Clover Kid, not charge an enrollment fee and lock them in as a Clover Kid for the year.
If you experience issues trying to enroll in 4-H currently, we recommend that you wait until September 1st. The system has been updated and currently has issues.