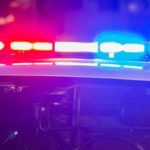 A man was arrested Tuesday evening following a shooting in Santa Anna.
Santa Anna Police, Coleman County Sheriff's Department and a Texas Parks and Wildlife Game Warden responded to the 800 block of South 8th Street shortly after 8:00 pm Tuesday.
According to Santa Anna Police, what started out as a visit between two men escalated into an argument over a money issue.  A man, said to have been shot in the stomach area, was taken to Coleman County Medical Center for treatment.  He was later transferred to a Fort Worth hospital by helicopter.  His condition was unknown.
Police took into custody the suspect, Charlie Anthony Lewis, 59.  According to online jail records through the Coleman County Sheriff's Department, Lewis has been charged with Aggravated Assault with a Deadly Weapon.  Bond was set at $25,000.
Police recovered a 9 mm weapon at the scene.