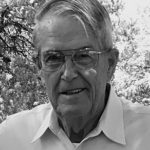 Robert L. "Bob" Turner, 87 of Voss, Texas, passed away in the Coleman hospital on Sunday, June 19.  Turner was elected to the Texas House of Representatives in 1991 and served in the House for 12 years, through 2003.  Turner represented Brown County and several other area counties.
While in the Texas House, Bob chaired the House Public Safety Committee and was a member of other committees such as the Military Affairs Committee, the Natural Resources Committee, and the Governor's Task Force for Homeland Security.  He had numerous friends and constituents in Brown County during and after his term in the Texas House.
After his time in the House, he created Bob Turner Rural Issues Consulting and would work hard to become "The Voice" of Rural Texas. He loved working with organizations such as the Texas Sheep and Goat Raisers Association, the Texas Poultry Foundation, the Earthmoving Contractors Association of Texas, the Independent Cattlemen's Association, and the Texas Forestry Association, to name a few.
The family will host a visitation from 5:00 p.m. to 7:00 p.m. Thursday, June 23, 2022, at Stevens Funeral Home Chapel, 400 W. Pecan Street, in Coleman.
The funeral service will be at 10:00 a.m. Friday, June 24, 2022, at the First United Methodist Church, 500 W. Liveoak Street, in Coleman.  Interment will follow in the Voss Cemetery.
Services are entrusted to Stevens Funeral Home in Coleman.