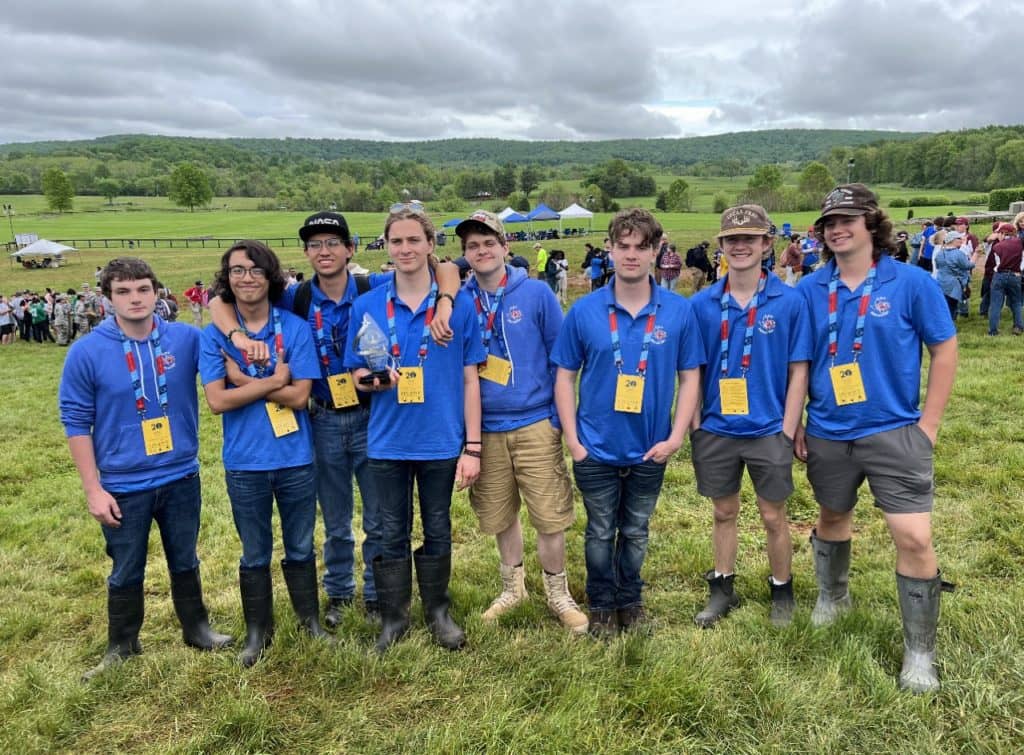 The Coleman High School rocketry team earned 5th place at the world's largest student rocketry competition – the American Rocketry Challenge. Coleman High School was one of 101 teams competing at the National Finals, which took place at Great Meadow in The Plains, VA. In total, 724 teams from 41 states competed in the 2022 American Rocketry Challenge. The students earned $7,500 in prize money. The school will receive an additional $1,000 to be used for the program. As a top-25 finisher, Coleman High School earned an invitation to participate in NASA's Student Launch Initiative.
Coleman High School participated in TARC for the first time in 2016 and earned a trip to the national competition. This year is the first time returning since then. This year's team is composed of senior members, Lukas Puryear, Wyatt Puryear, Chris Ely, Cristian Mares, Nick Tovar and Montana Holton. Junior members of the team are Bode Slayton and Gunner Gordon.
The team's accomplishment follows months of preparation designing, building, and testing a rocket capable of meeting rigorous mission parameters set by the contest's sponsors – the Aerospace Industries Association (AIA), National Association of Rocketry, and more than 20 industry partners. To qualify for the National Finals, teams were required to build and launch a rocket that safely carries a payload of two raw eggs with a target flight duration of 41-44 seconds and altitude of 835 feet. At the National Finals, competing teams had to launch the rockets to 810 feet with a flight duration of 40-43 seconds in the first round of competition. The top 42 teams conducted a second launch that was required to reach 860 feet with a flight duration of 42-45 seconds.
This year's team met many morning before school to run preflight simulations and prepare their rocket. They then went and flew as the sun was rising. They didn't let cold deter them, flying one morning when it was a brisk 11 degrees Fahrenheit.
Teams at the National Finals represented 27 states from Hawaii to Connecticut and competed for a total of $100,000 in prize money and scholarships. The top 25 finishers receive an invitation to participate in NASA's Student Launch initiative to continue their exploration of rocketry with high-powered rockets and challenging mission parameters. Winners of the Marketing Competition, Presentation Competition, and Best First Time Finalist were also honored at the National Finals.
2022 marks the 20th year of the American Rocketry Challenge, and the first time since 2019 the top teams competed in a National Finals launch. The National Finals were cancelled in 2020 due to COVID-19, and in 2021 teams competed in 10 Regional Finals located in sites across the country – also a precaution implemented as a result of the pandemic. To date, the American Rocketry Challenge has inspired more than 85,000 middle and high school students to explore education and careers in STEM fields. 
For more information and content, check out the official #RocketContest22 web, Facebook, Twitter, and Instagram pages. You can also learn more about many of the National Finalists in the "In the News" section of the American Rocketry Challenge's website.