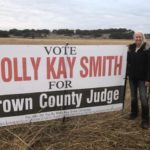 Molly Kay Smith, candidate for Brown County Judge, is hosting a meet and greet and fundraiser at Teddy's Brewhaus on Thursday, February 17th from 4:30pm to 6:30pm.The meet and greet is come and go and informal. 
"I would like to invite my supporters to come out to Teddy's on Thursday, February 17th. This is not a formal event, just a casual evening of fellowship. I look forward to seeing everyone there and thanking you all for your support", said Smith.
Smith will also be attending the May Brown County Election Candidate Forum at the May High School Auditorium on Thursday, February 10th. She will also be at the Brownwood Area Chamber of Commerce Candidate Forum at the Brownwood Country Club on February 18th.
Molly Kay Smith
Candidate for Brown County Judge
When:
Thursday, February, 17th, 2022
4:30pm – 6:30pm
Location:
Teddy's Brewhaus
102 Fisk Avenue
Brownwood, Texas 76801
Early Voting begins February, 14th, 2022
Election Day, March 1, 2022