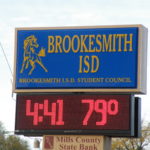 On Monday night, January 10, a committee of Brookesmith Independent School District taxpayers and stakeholders considered a detailed list of improvements to District facilities, if a bond issue is approved.
This was the third meeting on the subject.  The last meeting in December produced a general priority list of improvements which was: (1) Renovations and repairs to current facilities, (2) a new athletic facility with track, and (3) a remodeled and improved cafetorium. In this week's meeting the committee of approximately 30 persons drilled down into the details of the possible improvements and prioritized the list.
The meeting was led by Superintendent Steve Mickelson, John Blackburn of Live Oak Public Finance, and Robb Sidebottom of Gallagher Construction Service.  Blackburn's and Sidebottom's companies would help with the bond issue and construction, if approved by the voters.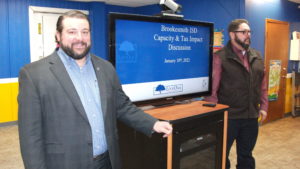 Mickelson reminded the audience that the IP Radian Solar complex currently under construction will provide approximately $2.1 million to the District in January 2023, plus $50,000 annually thereafter for 15 years.  Another solar project, known as Mustang Mountaineer, is under consideration, and could provide more revenue for the District if approved.
Blackburn explained that the tax abatement granted to IP Radian by the District applies only to Maintenance and Operation taxes, and not to I & S (Interest and Sinking) taxes.  The solar project will be taxed at full value on the I & S side, and those taxes can only be used for bond payments.  If the District wants to issue a bond for campus improvements, this is the best time to do it, as the I & S taxes on the solar project will pay about 38% of the bond cost.
Blackburn said that a bond at the current tax rate of 6.8-cents per $100 valuation would produce $1.3 million without the solar taxes, but $2.9 million with the solar taxes.  An increased tax rate of 11.8-cents would produce about $5.0 million, a rate of 16.8-cents would produce about $7.4 million, and a rate of 21.8-cents would produce about $9.6 million.  All agriculture exemptions would remain in place.
Sidebottom then led the group in deciding how much to spend, and prioritizing the needs of the District.  Items on the list that were considered:
New Athletic Complex  (new athletic track, grass football field, bleachers, lighting, concession stand, field house, etc.)           $5 – 6 million
New Cafetorium                                                                    $5.5 – 6 million
Enlarged Cafetorium                                                          $1.3-1.5 million
Lighted and Paved Parking Lots                                     $1.0 – 1.5 million
Asphalt track only (no football field)                                  $500,000
Renovate, Remodel, Update existing infrastructure and technology                                                                                  $3.75 million
HVAC for gymnasium                                                             $400,000
Renovate WPA gymnasium                                              $1.3 – 1.5 million
Renovate restrooms                                                         $700- to 825,000
Covered walkways                                                                  $720,000
New Vocational/Ag Shop                                                        $ 5 million
Renovate Ag Shop                                                             $500- to 700,000
New Windows in High School                                    $100 – 200,000
Replace current HVAC units                                                  $200,000
After much discussion, the committee voted to recommend two bond proposals.  One bond, for approximately $4 million, would include the general remodels, renovations, and updates to current facilities, Ag Shop renovations, and paved parking lots.  The second bond, for approximately $5.66 million, would be for a new athletic complex.  The voters could approve both bonds, one or the other, or neither.
The two bonds, if both are approved, would necessitate a tax rate of 21.8-cents per $100 valuation.  On an average property value in the Brookesmith ISD, that would increase taxes about $127 per year.
Superintendent Mickelson said he believed some of the items being considered could be paid for with District funds.  These items were:  new HVAC units ($200,000), parking lot lighting ($72,000), HVAC for the gymnasium ($400,000), technology and infrastructure upgrades ($250,000) and new buses ($450,000).  Those items total approximately $1.372 million.
The committee's recommendation will now go to the BISD Board of Trustees.  If approved there, the District will have to order a bond measure by February 18.  The bond proposals would then be up for approval, or disapproval, by the voters on May 7, 2022.