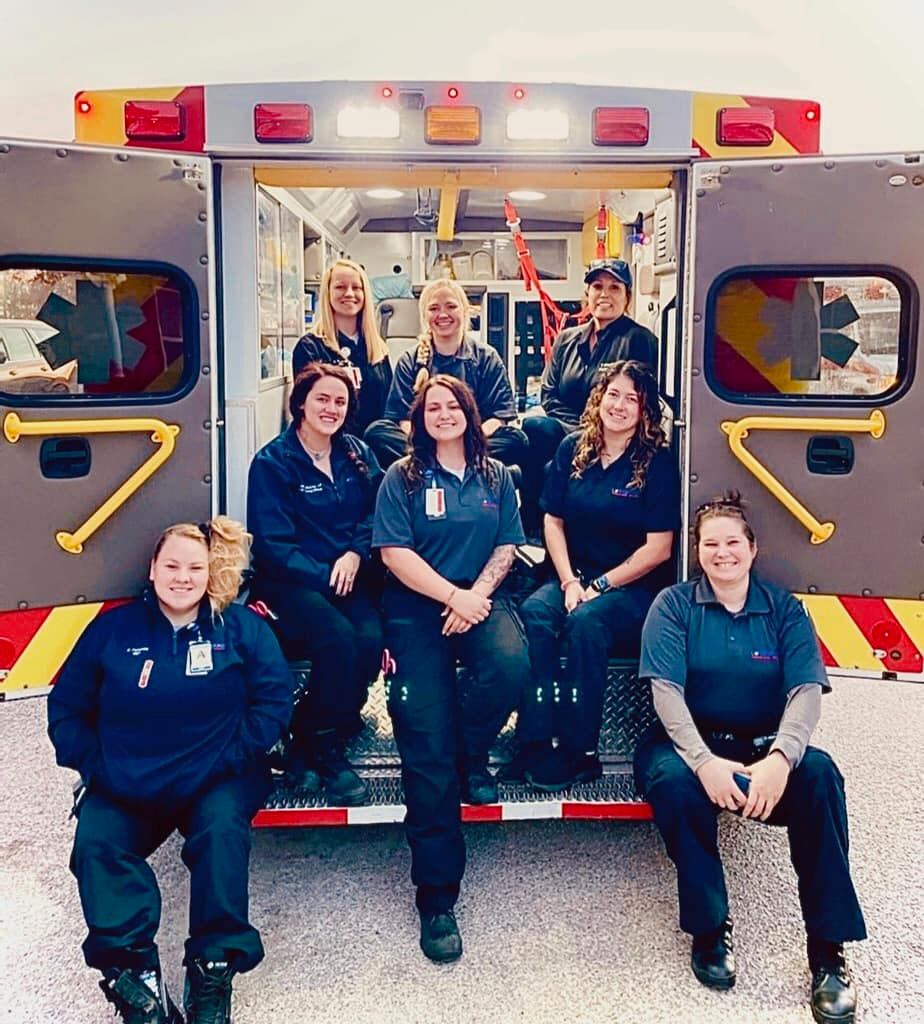 We see history being made in our nation every single day. However it is not every day you see history made right here in Brownwood, Texas.
They answer a call when no one else knows what to do. They interrupt their sleep, they stop eating mid-meal, and they'll drop whatever they're doing at the sound of the alarm. Nothing stops them from answering your call for help. They don't shy away from danger and they don't turn from pain and heartache. They see a need where others might be too afraid to step in. They are Brownwood's first all-female EMS shift.
This group of Emergency Medical Technicians has a vast array of EMT experience from tenured EMTs to ones who are awaiting test dates to take their state exam. Between the 8 of them they have anywhere from 2 to 22 years experience with several of them graduating from TSTC right here in Brownwood. But if you ask any of them they all have the same goal. Get to the emergency as fast and safe as possible and have a successful outcome.
Tara Newton is the longest tenured female in Brown County with an EMS career. She has 22 astonishing years under her belt serving the people of Brown and surrounding counties. I asked her what it's like to be a paramedic and she said, "Being a paramedic, a lot of people are quick to say they couldn't do what we do. In reality I think this profession picks us. Watching traumatic situations unfold right in front of you will keep up awake for days. Hearing the scream from a mother when she is informed her child has passed away probably will sting your soul and mind for days and years. We do a lot of things that are not taught in that paramedic book. There are a lot of good things that happen as well. We have several unique patients here in Brown County that we love it when we get called to their house. Some of them we have actually developed a relationship with and talk to them weekly sometimes. They will stop by the station and bring us cookies or just to stop in and say hi. And we have some that hug our necks every time they see us, thankful that we helped them in a situation that they did not think they were going to make it out of. But to us it's just our job just like your job is your job."
Today this group of women made history as Brownwood's first completely female shift of EMTs and Paramedics, working for Lifeguard EMS. When asked how this came about Tara called it an accident. She said they were short staffed so people signed up to fill in the spots and when they all came together they realized what they had done. They were all females and it dawned upon Tara that this had never happened before. Tara said there are many female paramedics in Brownwood today unlike when she first began her career. These women saw a need and filled the spot without hesitation. Although it was an accident that they all came together today it is surely not the first time they have supported one another.
Miranda Hicks, another Lifeguard EMS paramedic on the shift, commented about their group saying, "I couldn't imagine life without y'all. The absolute definition of women supporting women."
Tara proudly wrapped up by saying, "We did it ladies. We have seen each other's highest highs and lowest lows. Wiped each other's tears, prayed hard for each other, and given each other terrible advice. We have planned weddings and birthdays together. We have laughed way too hard at each other. When the tones drop and it's a bad call two trucks roll, not one. We don't do bad alone! We are in this together! These women make it happen no matter what! Here's to making history again soon. We welcome any female to what we call the red patch club ( the paramedic patch is red.) TSTC here in Brownwood is offering the EMS program which has a really helped to grow the profession locally which is nice."
[Story by Miranda Windham]