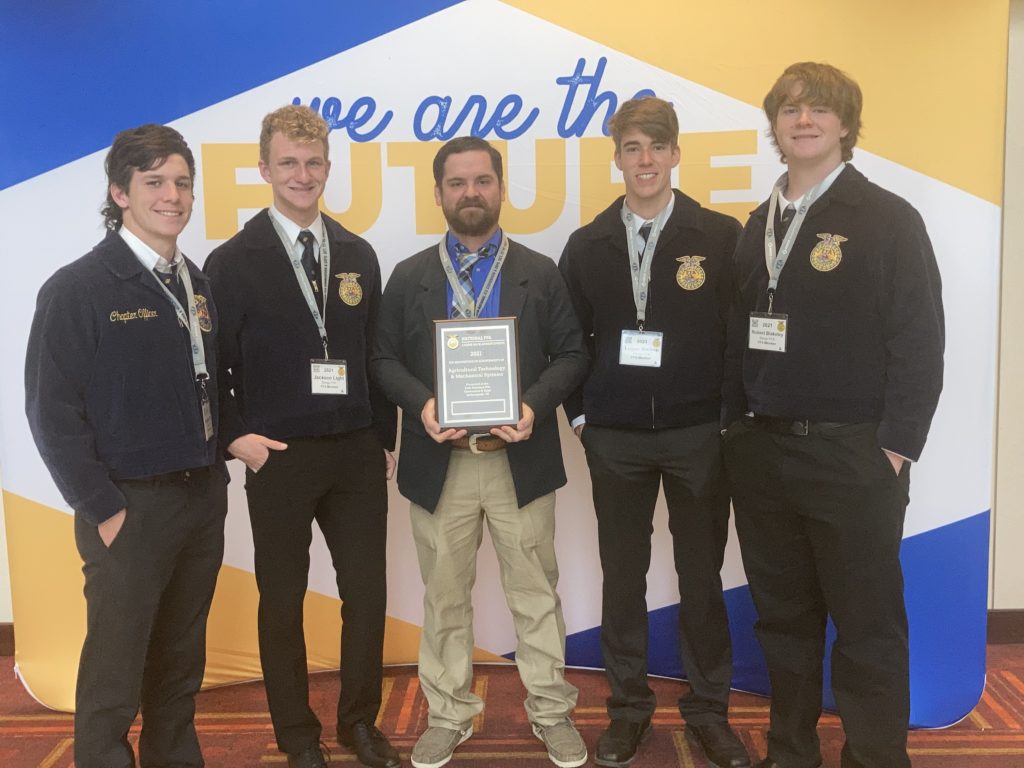 The Bangs FFA Ag Mechanics team competed at the National Agricultural Technology & Mechanical Systems contest at the National FFA Convention in Indianapolis, Indiana Oct. 26-28th. These students advanced to the National contest by winning state last April! There were 40 different states competing in this year's contest. Bangs finished 6th overall, with Logan Bishop finishing 8th high out of 160 in the Nation! Other team members included Jackson Light and Robert Blakeley, who were Gold individuals, and Keygan Pitts, who was a silver individual.
Students competed in the following skill areas,
– Machinery & Equipment Systems – Grain handling, augers, grain bins, electric motors, fans, calculations for these.
– Electricity Systems – 3-way switch wiring, wiring to the breaker box
– Compact Equipment Systems – Using Micrometer, caliper, plastigage to measure various engine components for specs, engine calculations and diagnostics
– Structural Systems – Construction of a pole barn, materials calculations, blueprint reading
– Environmental & Natural Resources Systems – Surveying, determining slope, distance and elevation
– Exam – a 25 question exam over Ag Math
– Team activity – Students worked together to complete 2 areas. In welding, they built a vise stand using flux core wire and completed math problems. In the hydraulics area, they rebuilt a piston motor, identified and described various parts of skid steer hydraulics, and answered basic hydraulic questions .