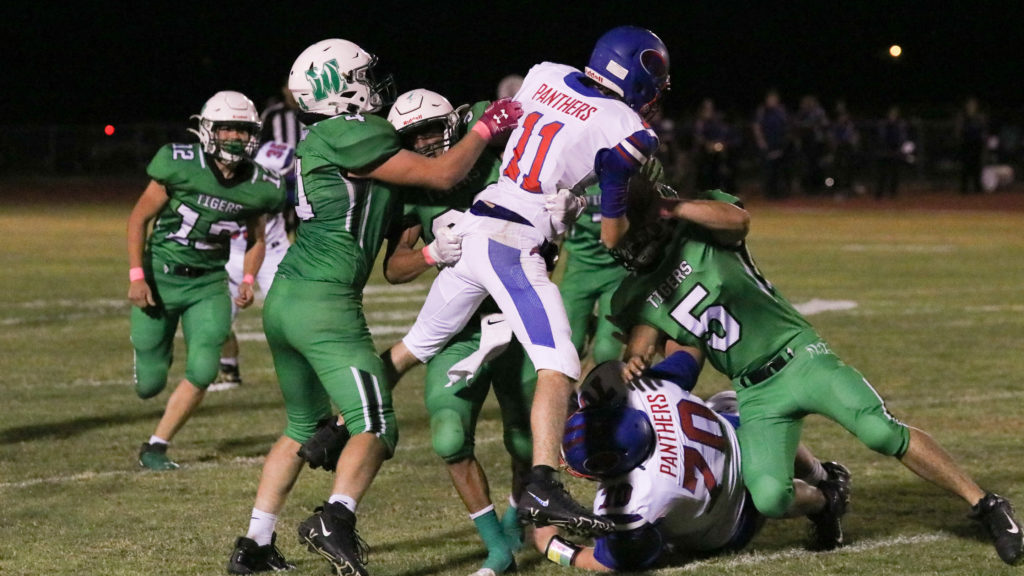 Four local teams attempt to keep their perfect district records intact as Week 8 of the high school football season arrives. The following are brief glimpses of the eight games in the BrownwoodNews.com coverage area:
May (7-0, 1-0) at Santa Anna (6-1, 0-1)
7:30 p.m. Friday
The Class A Division I No. 1 May Tigers hit the road for the first time since Sept. 17 as they visit the once-beaten Santa Anna Mountaineers in a District 13-A Division I showdown.
The Tigers (7-0, 1-0) have defeated Borden County (51-6), Sterling City (104-80), Knox City (65-16), Evant (63-6), Blum (77-14), Newcastle (55-0), and Gorman (54-0) to open the season.
The only loss for Santa Anna (6-1, 0-1) came in last week's district opener against Baird (72-24). The Mountaineers' victories were against Trent (56-0), Rising Star (60-8), Abilene Christian (84-46), Brookesmith (60-12), Medina (65-20), and Panther Creek (75-6).
For the season, the Tigers are averaging 67 points and 277 yards – 157 rushing and 120 passing per game – while giving up 17 points per contest.
Leading the way on the ground are Kaden Halk (403 yards, 9 TDs), Avery Williford (306 yards, 10 TDs), Blake Harrell (206 yards, 4 TDs), and Damian Salinas (98 yards, 5TDs).
Through the air, Harrell has completed 27 of 43 passes for 615 yards with 12 touchdowns, while Luke McKenzie has connected 12 of 16 attempts for 207 yards with 6 scoring tosses.
Top receiving threats include Halk (13-247, 6 TDs), Kaysen King (8-215, 4 TDs), and Williford (5-149, 3 TDs).
Defensively – where the Tigers have forced 24 turnovers and produced 10 touchdowns thus far – top tacklers are Williford (47 tackles, 17.5 for loss, 4 FRs), Harrell (47 tackles, 9.5 for loss, 1 FR), Salinas (46 tackles, 4.5 for loss, 1 INT, 3 FRs), Brian Kunkel (38 tackles, 5.5 for loss, 4 FRs), King (32 tackles, 5 for loss, 1 INT, 1 FR), and Halk (28 tackles, 3 for loss, 3 INTs, 2 FRs).
Santa Anna is generating 61 points per game while giving up 23.
According to sixmanfootball.com, May is a 45-point favorite.
***
Brookesmith (1-5, 0-0) at Panther Creek (2-4, 0-1)
7:30 p.m. Friday
The reigning District 15-A Division II champion Brookesmith Mustangs begin defense of their title Friday night as they visit the Panther Creek Panthers.
Brookesmith has gotten off to a rough start this season, winning just one of its first six games. The Mustangs toppled Abilene TLCA (30-26) but have fallen to Evant (56-6), Santa Anna (60-12), Blackwell (48-0), Veribest (41-12), and Bluffdale (66-0).
Season stats for the Mustangs were not available.
In Brookesmith's loss at Blackwell on Sept. 25, the Mustangs were limited to 29 yards of total offense – 43 passing and -14 rushing – with four turnovers.
Grant Featherston completed 3 of 13 passes for 39 yards with three interceptions while Conner Heard was 1 of 4 for 4 yards. Featherston rushed for 5 yards and Heard finished with -19. Heard led Brookesmith with three catches for 39 yards and Featherston grabbed a 4-yard pass.
Defensively, Brookesmith yielded 160 yards – 121 on the ground and 39 through the air – with one takeaway.
Heard and Featherston led the Mustangs with 3 tackles apiece while Blayzon Walker, Brenden Been, and Mathew Chambers were each credited with 1 tackle.
Panther Creek's season thus far has featured wins over Abilene TLCA (51-34) and Olfen (59-7), with losses at the hands of Bronte (44-8), Veribest (76-40), Santa Anna (75-6), and Sidney (52-6).
According to sixmanfootball.com, Brookesmith is a 44-point favorite.
***
Zephyr (0-7, 0-0) at Lometa (5-1, 0-0)
7:30 p.m. Friday
The Zephyr Bulldogs seek their first win and will attempt to hand the Lometa Hornets their second straight loss as the two teams square off in their District 15-A Division I openers.
Zephyr has been defeated by Sidney (21-18), Veribest (31-12), Stephenville Faith (65-19), Blanket (61-0), Paint Rock (35-14), Cherokee (54-6), and Ranger (52-16).
Stats for the Bulldogs were not available.
Lometa dropped a 58-12 decision to Abbott last week after starting the season with wins over Lingleville (76-40), Ranger (64-18), Cranfills Gap (60-26), Rochelle (69-20), and Rotan (48-44).
According to sixmanfootball.com, Zephyr is a 45-point underdog.
***
Richland Springs (4-1, 1-0) at Cherokee (4-1, 1-0)
7:30 p.m. Friday
The Richland Springs Coyotes began their pursuit of a 20th straight district championship with their 78th league win in a row last week, 79-30 over Rochelle. Next up is the Cherokee Indians, who rolled to a 92-42 victory over Mullin in their first District 16-A Division II game a week ago.
In the Coyotes' win over Rochelle, Richland Springs finished with 380 yards of total offense – 265 rushing and 115 passing – and did not commit a turnover, while allowing 224 yards – 203 through the air and 21 on the ground – with one takeaway.
Jadeyn Bryant rushed for 185 yards and four scores, passed for 115 yards and three more touchdowns, and returned a kickoff 42 yards for six points to spark the Coyotes. Keston Lusty chipped in 45 yards rushing and a touchdown and Zane Capps added 35 yards on the ground and reached the end zone once. Cohen Tharp caught two passes, both touchdowns, covering 70 yards, and Capps finished with two grabs for 45 yards with a score.
Defensively for the Coyotes, Capps amassed a team-best 11.5 tackles followed by Bryant with 8, Lusty with 5.5, Brandon Stewart with 4.5, Nick Nilson with 3.5, Kenny Triplett with 3 and Jayden Sutherland with one. Bryant chipped in four tackles for loss and two sacks, both team-highs.
Cherokee carries a four-game win streak into Friday's showdown as, along with the win over Mullin last week, the Indians have defeated Gustine (66-18), Cranfills Gap (60-35), and Zephyr (54-6).
Losses came in the first two games at the hands of Medina (72-40) and Burnet Smoking for Jesus Christian (89-54).
According to sixmanfootball.com, Richland Springs is a 45-point favorite.
***
Cross Plains (4-2, 0-1) at Santo (6-0, 0-0)
7 p.m. Friday
The Cross Plains Buffaloes will attempt to regroup from an opening week upset in District 8-2A Division II action, where they stumbled at home to Hico, 14-6. Next on the agenda is a trip to one of the two undefeated teams in the league, as the Santo Wildcats are opening their district slate at home after their league bye fell last Friday.
In last week's loss to Hico, the Buffaloes were plagued by four turnovers, including an interception return for a touchdown that provided the final points of the contest.
Cross Plains finished 231 yards of total offense, with 132 yards coming on the ground.
Dusty Wyatt rushed for a team-high 56 yards for Cross Plains, Ryan Hopkins added 40 yards and a touchdown and Noah Moses finished with 39 yards on the ground.
Kade Purvis passed for 119 yards, completing 14 of 24 attempts with four picks. Leading receivers were Hopkins with six for 71 yards and Moses with three grabs for 14 yards.
The Buffaloes lost the game despite yielding just 173 total yards – 87 rushing and 86 passing – with one takeaway.
Santo's perfect record includes wins over Rio Vista (14-12), Valley Mills (35-6), Itasca (46-6), Era (41-0), Millsap (36-33) and Bovina (43-6).
According to Harris Ratings Weekly, Cross Plains is a 22-point underdog.
***
Coleman (5-0, 1-0) at Goldthwaite (3-3, 1-0)
7 p.m. Friday
The Class A Division I No. 10 Coleman Bluecats and Goldthwaite Eagles will each attempt to remain atop the District 4-2A Division I standings as the two teams square off following league-opening victories last week. Coleman blanked De Leon, 47-0, to remain undefeated, while Goldthwaite snapped its losing streak to rival San Saba, 28-6.
In Coleman's win last week, the Bluecats generated 458 yards of total offense, with 415 coming on the ground, with no turnovers while giving up just 178 yards – including just 20 yards on the ground on 27 carries – with a pair of takeaways.
Ryland Gentry rushed for 166 yards and two touchdowns, Jadin Jackson chipped in 92 yards and a pair of scores, and Devinar Roberson finished with 84 yards and two trips to the end zone. R.J. Wright also contributed a 40-yard scoring sprint.
Jackson completed 4 of 13 passes for 42 yards with Braxton Smith grabbing a team-best two catches for 32 yards.
Defensively for the Bluecats, Gentry led the way with 9 tackles included 2 for loss followed by Robert Wright with seven tackles and a fumble recovery. Brent Bouldin added seven tackles including a pair for loss, David Navarro registered seven tackles with one for loss, and Dayden Hunter pounced on a fumble for Coleman.
Goldthwaite rushed for 324 of its 343 yards in the win over San Saba, while allowing 334 yards, with 240 coming through the air. The Eagles recovered an Armadillo fumble, the game's lone turnover.
Quarterback Jackson Patrick churned out 217 yards on the ground with a touchdown followed by Lane Evans with 63 yards and a trip to the end zone, and Seth Gardner with 24 yards and two scores. Cason Guthrie (16 yards) and Aaron Anzua (13 yards) caught Jackson's two completions in three pass attempts.
According to Harris Ratings Weekly, Coleman is a 23-point favorite.
***
Winters (1-4, 0-1) at San Saba (0-6, 0-1)
7 p.m. Friday
The San Saba Armadillos almost upended the rival Goldthwaite Eagles for their first win of the season in the District 4-2A Division I opener last week, falling by a 28-26 count. Now, the Armadillos will attempt to remain in the playoff hunt and secure their initial victory at home against Winters, which was hammered by Cisco, 54-6, last week.

For the season, the Armadillos generate 21 points and 323 yards – 245 passing and 78 rushing – per game, while allowing 39 points on average.
Quarterback Lance Taylor has thrown for 1,462 yards with 11 touchdowns and 11 interceptions, as leading receivers include Reagan Mejia (32-339, 2 TDs), Weston Lackey (27-383, 3 TDs), Tyler Johnson (27-280, 4 TDs), Drake Bryant (19-217,1 TD), and Franco Franco (14-126). The ground game is led by Lackey with 226 yards and a touchdown, while Tegan Saiz has rushed for four touchdowns and 82 yards.
Zuri Herrera leads San Saba with 91 tackles trailed by Saiz with 46, Mejia with 44, Lackey with 42 and a sack, Franco with 33 and two interceptions, and Dylan Ware with 32.
Winters' lone win this season is a 48-7 triumph over Hico in the Blizzards' pre-district finale. Along with Cisco, losses have come at the hands of Anson (24-6), Crane (27-13), and Hawley (49-0).
In the loss to Cisco last week, Winters allowed 510 yards of total offense.
Quarterback Chris Martinez rushed for 111 yards and chipped in 75 yards on the ground. The Blizzards' only points came on a 25-yard Aidan Leamon run midway through the third quarter.
According to Harris Ratings Weekly, San Saba is a 13-point favorite.
***
Comanche (0-6, 0-1) at Eastland (2-4, 1-0)
7:30 p.m. Friday
The Comanche Indians narrowly missed out on their first win of the season, and Jake Escobar era, as they dropped their District 5-3A Division II opener to Dublin, 26-21, last week. This week, the Indians continue their quest for the elusive first win of 2021 against an Eastland squad that rolled past Millsap, 48-27, in its league opener a week ago.
Coming into Friday's game, Comanche produces 18 points and 297 yards – 161 passing and 136 rushing – per game, while allowing 41 points on average.
Hudson Welch has thrown for 890 yards, while adding 97 yards rushing. Top receivers are Kyler Beaty (21-387), Miguel Martinez (18-296), and Layden Welch (6-109). On the ground, Luke Wilson leads the way with 503 yards, while Martinez has contributed 120 yards.
The Indians are coming off their best defensive outing, allowing just 26 points to Dublin. Standouts for the Comanche defense include Layden Welch with 37 tackles on the season trailed by Martinez with 33, Beaty with 30, Wilson with 28, Dom Rios with 24, and Hudson Welch and Ayden Fishback with 22 apiece.
Meanwhile, Eastland is manufacturing 30 points and 392 yards – 214 passing and 178 rushing – per game, while allowing 42 points on average.
The Mavericks have used two quarterbacks this season as Cooper Wright has passed for 738 yards and five touchdowns with one interception while Keaton Hicks has thrown for 547 yards with eight scoring tosses and six picks.
Leading receivers are Judson Beard (34-494, 6 TDs) and Jared Cruz (28-409, 3 TDs), while top rushers include Beard (318 yards, 5 TDs), Wright (290 yards, 2 TDs) and Hicks (247 yards, 2 TDs).
Tackle leaders for the Eastland defense are Beard with 39, Wright with 35, and Hicks with 22.
According to Harris Ratings Weekly, Comanche is a 14-point underdog.
***
Blanket (6-1, 1-0), OPEN