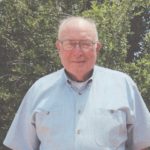 Bobby Gene Edgar, 84, of Blanket, passed away Saturday September 11, 2021. A visitation will be held at Heartland Funeral Home from 6:00 – 8:00 PM, Thursday, September 16, 2021. A graveside service at Antioch Cemetery will be held at 10:00 AM, Friday, September 17, 2021 officiated by Bill Slaymaker.
Bob was born March 14, 1937 in May, Texas to Alf and Dollie Edgar. He graduated from Mullin High School in 1955 and attended Howard Payne University receiving a bachelors in business. He married Agatha Wilson February 6, 1965 in Brownwood, Texas. They began a life together that blessed them with 4 children. Bob worked for 3M for over 30 years in Brownwood; Minneapolis, MN; Guin, AL; Brussels, Belgium. Bob retired from 3M in 1996 and moved to Blanket where he began ranching and raising Hereford cattle. He enjoyed pheasant hunting with his brothers and sons in Kansas from 1968 to 2000. He was an avid golfer and enjoyed playing golf wherever he lived. Bob was a member of the Bethel Baptist Church in Zephyr, Texas.
Bob is survived by his children Marilyn Lewis and husband Jeff of Stephenville, Stan Edgar of Stephenville, Amy Snyder and husband Glenn of Tuscaloosa, Alabama, and Scott Edgar of Ft. Worth; sister, Linda Deen and husband Jimmie of Blanket; brother, Wayne Edgar and wife Mary of Early; sister-in-law, Ann Edgar of Early; grandchildren, Cody Lewis and wife Brandie of Stephenville, Tyler Lewis of Stephenville, Reed Snyder and Jack Snyder both of Tuscaloosa, Alabama; 2 great grandchildren; and many cousins, nieces, nephews, neighbors, church family and friends.
Bob was preceded in death by his wife, Agatha; his parents, Alf and Dollie Edgar; brothers, Fred Edgar and Jim Edgar.
The family would like to express a sincere appreciation for the nursing staff on 4 East at Hendrick Medical Center in Brownwood.
Pallbearers: Glenn Snyder, Reed Snyder, Jack Snyder, Jeff Lewis, Cody Lewis, Tyler Lewis and Honorary Pallbearers, Jason Edgar, Casey Edgar and Terry Edgar.
In lieu of flowers, the family has requested donations be made to the Bethel Baptist Church, 1800 CR 286 N, Zephyr, TX 76890.
Online condolences, tributes and memorials can be shared with family at www.heartlandfuneralhome.net.