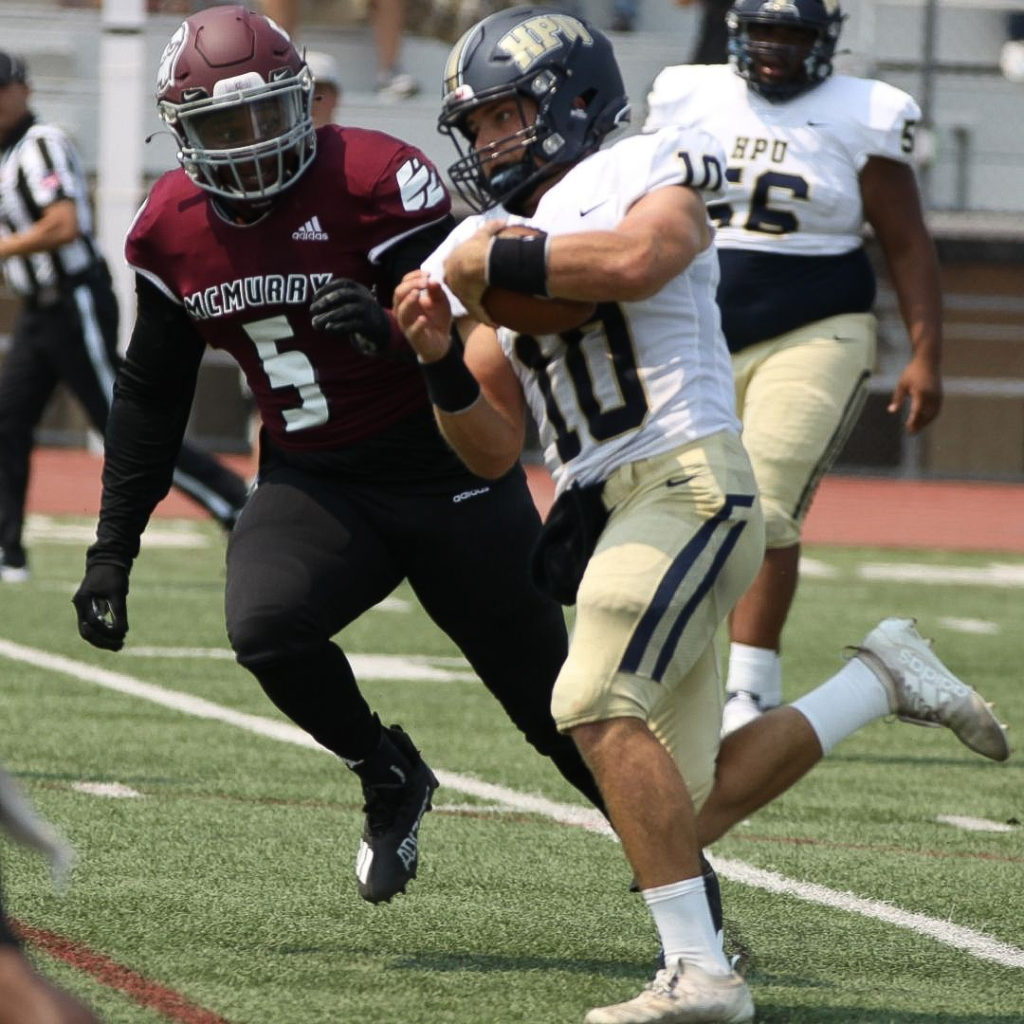 ABILENE – For the first time since the 2004 campaign, the Howard Payne Yellow Jackets have started American Southwest Conference football action with consecutive victories.
Following a 43-17 season-opening victory over Texas Lutheran, the Yellow Jackets hit the road for the first time and emerged with a 42-36 triumph over the McMurry War Hawks Saturday afternoon.
Though the Yellow Jackets were outgained in total yards 542-519, Howard Payne (2-0, 2-0) never trailed and kept a pesky McMurry (0-1, 0-1) squad at arm's length throughout the duration of the contest. The Yellow Jackets forced three crucial turnovers, which allowed HPU to remain in front from start to finish.
ASC Offensive Player of the Week Landon McKinney, the HPU quarterback, completed 12 of 24 passes for 249 yards with four touchdowns and one interception, while adding 21 yards on the ground. Nick Infante added a 41-yard touchdown pass on his lone attempt of the contest.
Five different Yellow Jackets caught scoring tosses – All-American Jake Parker, who finished with five grabs for 135 yards; Selah Smith, who tallied two receptions for 18 yards; Casey Dufner from 41 yards out; Otis Lanier from 38 yards; and Hunter Cheek for 20 yards.
Tauren Bradley rushed for 133 of HPU's 229 yards on the ground, while Stephen Wills tacked on 64 yards. Infante also rushed for 12 yards with a score.
Defensively, ASC Defensive Player of the Week Peyton Lowe again led HPU with seven tackles, including one for loss. Dai'Shawn Fisher added five tackles and recovered a fumble, while Mark Taplette, James Jakubowski, Kyle Bell, and Dylan Zeno – who also pounced on a fumble – tallied four tackles apiece. Lanier secured the interception for the HPU defense.
McMurry was sparked by Ricardo Luna's 415-yard, three-touchdown passing effort. Jermond Lovely led the War Hawks with seven catches for 146 yards, Kristopher Martin added four for 76 with a touchdown, Nicholas Kuykendall caught three for 54 and scored once, and Zachary Wood scored on both of his receptions that totaled 88 yards.
On the ground, Dee Robinson rushed for 54 yards and a touchdown for McMurry.
The Yellow Jackets needed just two plays to travel 31 yards on their first possession of the game, scoring on a 29-yard pass from McKinney to Parker for a 7-0 lead just 41 seconds into the contest.
McMurry answered with a 42-yard Jared Mendoza field goal, then the War Hawks forced the first interception of McKinney's career. But the Yellow Jackets responded with a fumble recovery by Fisher at the Howard Payne 12.
HPU then drove 88 yards in 15 plays as McKinney connected with Smith on a 4-yard touchdown toss to stake the Yellow Jackets to a 14-3 edge with 2:01 left in the first quarter.
The two teams then exchanged scores the rest of the contest as a Wood 19-yard catch from Luna brought McMurry within 14-10. HPU answered with a 20-yard scoring toss from McKinney to Cheek to boost the lead to 21-10. Wood caught another 69-yard toss from Luna as the War Hawks trailed 21-16 at halftime.
The Yellow Jackets opened the second-half scoring with a 38-yard touchdown pass from McKinney to Lanier to extend the advantage to 28-16 at the 7:24 mark of the third period.
McMurry crept within 28-22 on a 1-yard run by Robinson with 2:20 left in the third, but Infante's 3-yard touchdown carry with 13 seconds left boosted HPU's lead to 35-22 heading into the fourth quarter.
The War Hawks refused to go away, scoring on a 30-yard pass from Luna to Martin to reduce the deficit to 35-29. Later, having marched to the HPU 31 looking to take the lead, the War Hawks' threat ended with an interception by Lanier at the 4:33 mark.
Howard Payne then marched 71 yards in six plays as Infante's 41-yard touchdown toss to Dufner secured the win with 1:20 left in the contest, padding the cushion to 42-29.
McMurry tacked on its final touchdown on the last snap of the game – another 30-yard catch by Kuykendall from Carlos Garibay.
The Yellow Jackets are back in action at 6 p.m. Saturday, Sept. 18 in Prosper in a non-conference tilt against Hendrix (0-1), which lost its opener Saturday to Wisconsin-River Falls, 49-33.
***
AMERICAN SOUTHWEST CONFERENCE
Conference Overall
Howard Payne 2 0 2 0
Hardin-Simmons 1 0 2 0
Mary Hardin-Baylor 1 0 2 0
Southwestern 1 0 1 1
Texas Lutheran 1 1 1 1
Belhaven 0 1 1 1
East Texas Baptist 0 1 1 1
Austin College 0 1 0 1
McMurry 0 1 0 1
Sul Ross 0 1 0 1
—
Week 2 Games
Howard Payne 42, McMurry 36
Texas Lutheran 41, Austin College 7
Hardin-Simmons 27, Sul Ross 0
Mary Hardin-Baylor 34, East Texas Baptist 14
Southwestern 34, Belhaven 27
—
Week 3 Games
Howard Payne vs. Hendrix (at Prosper)
Trinity at Texas Lutheran
Belhaven at Hardin-Simmons
Sul Ross at Austin College
McMurry at East Texas Baptist
Mary Hardin-Baylor at Southwestern