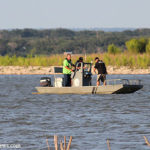 The victim of the drowning accident in Lake Brownwood last Friday night/Saturday morning has been identified and next of kin notified.  The name is being withheld, at the family's request.
The victim was a white male, approximately 40 years old, from Tennessee.  He has a son in this area, and was living here temporarily while working in construction.
He waded into the lake in the Tamarack Mountain area at night to work a trot line, and became entangled in the line.  He was not wearing a life jacket.
Lake Patrol Chief Mark Davis noted that a person can drown in as little as six-inches of water, and emphasized that you should always wear a PFD (Positive Flotation Device — or, life jacket) anytime  you are in or on the water, or near the shoreline of a body of water.