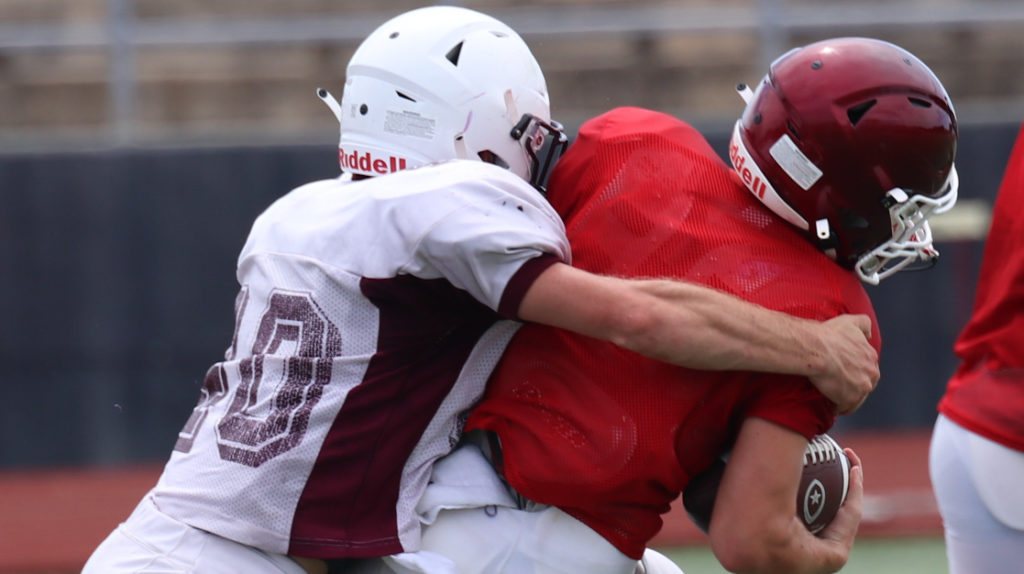 Just over 14 months ago, a catastrophic accident featured a silver lining as Brownwood Lion junior-to-be Uriah King miraculously survived a 200-plus foot fall from a cell phone tower.
After missing the 2020 football campaign while recovering from multiple injuries and surgeries, King has made the improbable return to the gridiron for his senior season. King was cleared to resume football related activities two months ago.
"It's a testament to the young man and the courage he has and the will he has to do what he can to be successful and become great," said Brownwood Lions head coach Sammy Burnett. "To be at the spot he is right now is truly amazing. If we were sitting here at this time last year after what he went through and you told me he'd be where he is now or even be able to put on a uniform and be able to compete with his teammates I would have told you that you're sadly mistaken."
But King has proved any doubters wrong.
On Monday, King took time to chronicle his journey from the accident to his return to the Lions roster.
On June 1,2020 while working as a tower tech in Alabama and helping disassemble an AT&T antenna mount, the rigging failed and dropped the mount on a guy wire which collapsed the 359-foot tower. King, who was 225 feet up the tower, fell but survived, though he suffered multiple pelvic fractures and broke his right leg and left ankle.
"I was working on a cell phone tower, it was a guy tower, and it was about 350 foot tall," King said of his memories of the day of the accident. "I was about 220 feet up working on the AT&T segment of it. Something failed, the whole load fell on the guy wire and the tower collapsed. I remember I woke up on the ground, I was scared, I was nervous, I was worried I wouldn't be able to walk again."
As for what went through his mind while the fall was taking place, King said, "I wasn't expecting it. I knew something was going to happen, I had a really bad feeling and then it hit the guy and the whole tower dropped for a second. My mind really just shut down then."
King stated he remained attached to the tower by ropes as it fell, but he passed out before the tower reached the ground. Initially waking up after the fall, King's next memory was an Atlanta, Georgia hospital, where he had been air lifted.
"They didn't tell me anything for about a week," said King, who added he was heavily medicated for pain at the time.
King then discussed the injuries he suffered from the fall
"I went through six surgeries," King said. "My left ankle, I have a plate in there. My right tibia was a compound fracture and I have a rod in there. I had five pelvic fractures and have plates covering those. But now it's pretty much healed."
King was able to return to Brownwood but missed the entire 2020 football season as he continued to heal. He did, however, accompany the varsity Lions on the sidelines.
"It was really tough," King said of sitting out his junior season. "That was my team, that's who I'd been playing with since eighth grade when I moved here. I remember the first time coming out of the tunnel it was hard. I'd been through everything with those guys and I couldn't share that with them."
After missing the previous season, King was even more determined to be back on the field for his senior year.
"I knew I was going to play. But whether I could or not, I would still be here," King said. "It feels so good. It's hot out here, but it feels good."
The biggest hurdle in returning to the field was, "the mental aspect of it, trusting everything again" according to King, who added, "my knee is still weak but I know it's there. It's hard to cut and put all my weight on it."
Burnett added, "He's still has a long way to go, he's still trying to get some flexibility in his leg, but I think it's amazing what he's gone through and the hard work and the effort that he's put into it to get where he is right now. To see where he's at and the struggles he's gone through and continues to go through, but he fights every day, he's here everyday and continues to go through and he goes out and gives his best effort every day."
Once King returned to the fold, he – and his friends – were initially concerned about contact.
"I was nervous, everyone else was nervous, too," King said. "They said they didn't want to hit me yet. I finally told them to just hit me, I need to get back into it, and they did. I got through it."
King played in the Lions' scrimmage against Salado this past Friday and had a hand in a few tackles. With the season opener against Lampasas a little over a week away, King has set up goals for his senior campaign.
"I just want to start," King said. "I'm going to play with no regrets and give it one last shot."
Once King graduates from high school he intends to either attend a trade school or join the military, though he hasn't mind up his mind.
As for what he would tell anyone that suffered similar injuries to his, King said. "Just stay positive and don't overthink anything. Don't let your mind wander into what ifs or where I would be now if that didn't happen."
Burnett stated King's story is inspirational to men, women, boys and girls in all aspects of life.
"Life isn't guaranteed," Burnett said. "I don't know what the percentages are for someone to fall as far as he fell and to survive. I told him the Lord has a plan for him and to find that plan. For him to come back and do something we sometimes take for granted, that's something others could look at and see what real grit is all about."