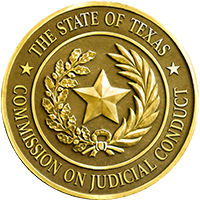 During a Monday afternoon press conference at the Brown County Courthouse, Brown County Judge Dr. Paul Lilly announced he was appealing to the Texas Supreme Court two recent decisions rendered by the State Commission of Judicial Conduct.
One was a public admonition for setting "no bond" on a misdemeanor motion to revoke probation without addressing the statutory factors for setting bail, and engaging in impermissible ex parte communications with a criminal defendant and others concerning the merits of a pending or impending judicial proceeding, according to documentation on the State Commission of Judicial Conduct official website.
The second was a private sanction concerning his status as a reserve law enforcement officer in Hood and San Saba counties while serving as a judge, Lilly said in the press conference.
The public admonition came following a complaint of a call from Lilly directly to an inmate in the Runnels County Jail, who also had charges in Brown County.
Lilly explained the situation as follows:
"We had a gentleman who was in jail on multiple charges and he was in Runnels County with no bond, he couldn't get out. He had already been charged in our county as well so I didn't set bond, there was no need, he couldn't get out. If he was going to be released from Runnels County they were going to call us and ask if we wanted to put a bond on him or come get him.
"That gentleman wrote me a letter in 2019 that said he wanted to come to Brown County and plead guilty. He was his own attorney, he was not represented by anyone. For two weeks I tried to contact our county attorney's office and I know the man's very busy and at that time the county attorney didn't return my calls. At that time he didn't have an assistant county attorney. I tried to reach him every way I could because it would have been his job to contact that man and ask him if he was sure he wanted to enter this plea. Unable to locate the county attorney and being he didn't have an attorney himself, there was no one else for me to call. So I picked up the phone and on a recorded line I called the jail desk at the Runnels County Jail and asked him before I 'bring you back do you still want to enter this plea of guilty,' and he said yes. I sent a deputy to go get him, we brought him back without a glitch, he entered a plea of guilty and got time served for his crime here in Brown County and it was done.
"I wasn't going to let that man sit in jail one day longer than he had to. I like to believe I'm a firm but fair judge. One of the reasons I ran for judge was just that, to be fair and impartial – that includes someone who may be guilty as day which he was and he admitted."
Along with the public admonition, Lilly was ordered two hours of instruction with a mentor and two hours of additional training, which the judge stated he had already completed.
"I received an order by the State Commission of Judicial Conduct to complete some additional training and I want to report to you that that training was completed before it was ever even asked for," Lilly said. "It's already done, I completed it this past spring before I was even aware they were going to tell me that. I did it anyway."
Regarding the sanction for serving as a reserve law enforcement officer in Hood and San Saba counties, Lilly said, "I serve as a reserve police officer in jurisdictions where I have no authority whatsoever. The two paths would never cross. I help out two departments that desperately need it. The commission implied that I could not be impartial when sitting on the bench and hearing criminal matters because I was an active reserve police office elsewhere. That is absolutely, unquestionably absurd. The Texas Association of Counties, who represent all 254 counties, they couldn't believe the commission issued that order either. So now the Texas Association of Counties has provided me free of charge a legal defense team and we have appealed this to the Texas Supreme Court."
Lilly stated there is no policy that permits a judge from serving as a reserve law enforcement officer.
"They don't have a policy, they issued a letter in 2000, just a simple letter that they recommended judges not volunteer to serve as policeman," Lilly said. "It was not an order, you'll find it nowhere in the local government code, nowhere in state law, they issued an advisory bulletin 20 years ago saying we don't recommend it, they didn't say you couldn't. What I'm saying is you pass a statue that I can't do that, an adopted law signed by the governor and all the judges in the state who are volunteers will stop. But we're not there, it doesn't exist. … We take exception to it, we're going to try and get it overturned and try and get a set policy in writing from now on so there's nothing ever in question.
Lilly stated he is currently being denied by the State Commission of Judicial Conduct from serving as a reserve officer and that will remain so until the appeal has been heard.