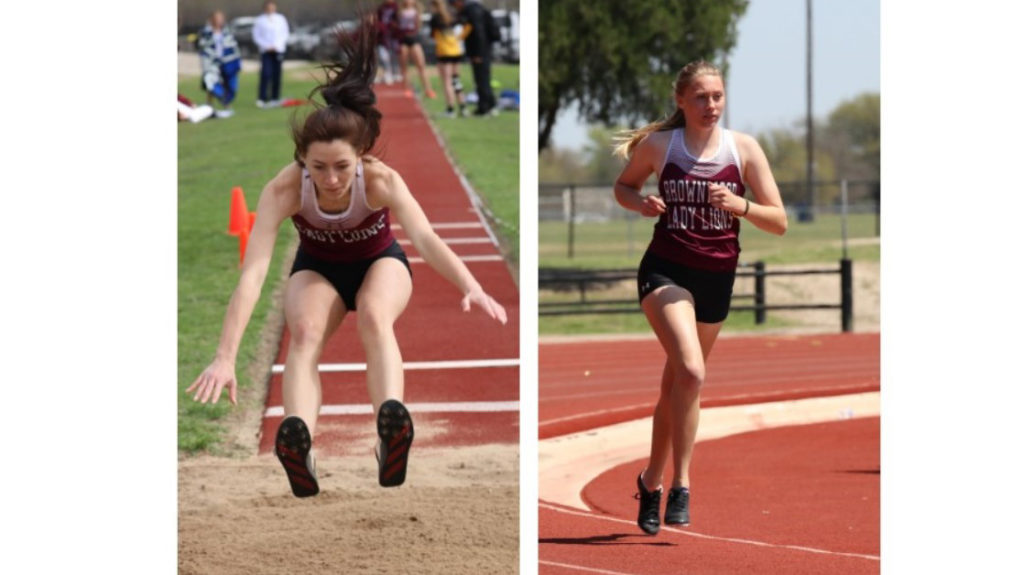 Brown County student-athletes will compete in nine events at the UIL Track and Field State Championships on Thursday and Saturday at the University of Texas' Mike A. Myers Stadium in Austin.
Thursday's action features Class 3A and 4A schools, as Brownwood's Kylie Morris will take part in the 4A girls triple jump at 2:45 p.m., Lady Lion Emma Stegemoller will run in the 4A girls 800 meters at 5:20 p.m., and Early's Grecia Yebra will compete in the 3A girls 200 meters at 7:30 p.m.
Morris, the Region I-4A runner-up in the triple jump, owns the 7th best regional performance. The state field will be comprised of Leah Anderson of Midlothian Heritage (37-9.25), Jackesha Nichols of El Campo (37-8), Layloni Watson of Lake Belton (37-4.5), Jacqueline Garcia of Hidalgo (37-3.75), Allie Estrada of Beeville Jones (37-1), Kylie Frush of Glen Rose (37-0.5), Morris (36-11.25), Brianna Brand of Kennedale (36-4.5), and Kiyleyah Parr of La Vega (36-3.5).
Stegemoller, who qualified as the wild card (best third place time for all four regions across the state) posted the 6th best regional time among state qualifiers. The field consists of Adele Clark of Celina (2:15.75), Abree Winfrey of Canyon (2:17.82), Taylor Grona of Fredericksburg (2:19.5), Elle Galan of Kaufman (2:20.69), Sarai Chavez of Dumas (2:21.86), Stegemoller (2:22.33), Jasmine Benavidez of Jarrell (2:22.72), Zerah Martinez of Sinton (2:23.47), and Lexi Schwartz of Robinson (2:25.54).
Yebra, the Region I-3A champion in the 200 meters, ran the 6th fastest regional time among state qualifiers, but was just two hundredths of a second from owning the fourth-best time. Competitors in the event include Jayla Franklin of Newton (24.75), Kamryn Flood of Gladewater (25.17), Jaysa Coney of Palestine Westwood (25.18), Brandi Drake of Cameron Yoe (25.38), Tashia Bell of Dallas Madison (25.38), Yebra (25.39), Jordan Lyssy of Poth (25.51), Saydie Kassell of Lago Vista (25.55), and Makki Hart of Shallowater (25.67).
Taking part in Class A state action on Saturday will be Brookesmith's Avery Williamson in the boys triple jump at 1 p.m., the Brookesmith boys 4×100 relay team of Clayton Adame, Randall Williams, Avery Williford, Johnathan Willoughby and alternate Trey Toft at 5 p.m., May's Reese Chambers in the girls 100 meters at 6:05 p.m., the Brookesmith boys 4×200 relay team of Adame, Williams, Williford, Willoughby and alternate Toft at 6:25 p.m., Blanket's Tyler Simpson in the boys 400 meters at 6:45 p.m., and Williford in the boys 100 meters at 7:30 p.m.
Brookesmith's 4×100 relay team carries the fourth-best regional time into the state meet. The field is made up of Paducah (43.34), Spur (43.87), Cross Plains (44.08), the Mustangs (44.64), White Deer (44.65), Sterling City (45.04), Richland Springs (45.07), Milford (45.12), and Calvert (45.4).
Brookesmith's 4×200 relay, meanwhile, posted the sixth-best regional time. The state field features Paducah (1:30.68), Spur (1:31.7), Rankin (1:32.01), Sterling City (1:32.96), Cross Plains (1:32.11), the Mustangs (1:34.16), Union Hill (1:34.97), Runge (1:35.5), and Abbott (1:36.05).
Chambers, the wild card from Region II-A in the girls 100 meters, ran the 6th fastest regional time. The state field is made up of Anna Hudson of Miami (12.63), Kiley Cummings of Blackwell (12.76), Audrey Tillman of Irion County (12.81), Brittany Morris of Laneville (12.85), Brooklyn Jaeger of Fayetteville (12.96), Chambers (12.88), Brynn Yanez of Jayton (12.99), Raelyn West of Cherokee (13.59), and Sky Embry of Bellevue (13.71).
Simpson, the Region II-A champion in the boys 400 meters, was clocked with the 7th best time among state qualifiers. Competitors in Austin will include Christian Rattler of Knippa (49.97), Trace Goodman of Springlake Earth (50.41), Blake Beard of Turkey Valley (50.63), Riley Webb of Ackerly Sands (51.07), Jordan Williamson of Milford (51.53), Chance Ferguson of Sterling City (52.87), Simpson (53.0), Dustin Matthews of Graford (53.51), and Jailen Dixon of Electra (53.63).
Williford enters the boys 200 meters with the 8th best regional time. The field will consist of Kaige Covington of Roby (22.82), Kevondra Corona of Calvert (22.86), De'shon Goodley of Rankin (22.86), Jonah Perez of D'Hanis (22.97), Darius Flemons of Paducah (22.98), Bo Morrow of Irion County (23.0), Kaydon Johnson of White Deer (23.11), Williford (23.36), and Marc Matthews of Graford (23.9).
Williford also owns the ninth-best regional distance in the triple jump headed into state. Vying for the championship will be Christian Coker of Henrietta Midway (44-6), Dustin Bryant of Wildorado (43-7.75), Troy Allen of Tilden McMullen County (43.0-5), Hunter Warminski of White Deer (42.4), Colter Smith of Hermleigh (42.1-75), Ben Rios of Rankin (42-1.5), Riley Gryder of Irion County (42-0.5), Anthony Cottrill of McDade (41.7.25), and Williford (40-8.5).
***
Brown County UIL Track and Field State Entries
2:45 p.m. Thursday, May 6 – Brownwood's Kylie Morris 4A girls triple jump
5:20 p.m. Thursday, May 6 – Brownwood's Emma Stegemoller 4A girls 800 meters
7:30 p.m. Thursday, May 6 – Early's Grecia Yebra 3A girls 200 meters
1 p.m. Saturday, May 8 – Brookesmith's Avery Williford 1A boys triple jump
5 p.m. Saturday, May 8 – Brookesmith Mustangs 1A boys 4×100 relay
6:05 p.m. Saturday, May 8 – May's Reese Chambers 1A girls 100 meters
6:25 p.m. Saturday, May 8 – Brookesmith Mustangs 1A boys 4×200 relay
6:45 p.m. Saturday, May 8 – Blanket's Tyler Simpson 1A boys 400 meters
7:30 p.m. Saturday, May 8 – Brookesmith's Avery Williford 1A boys 200 meters