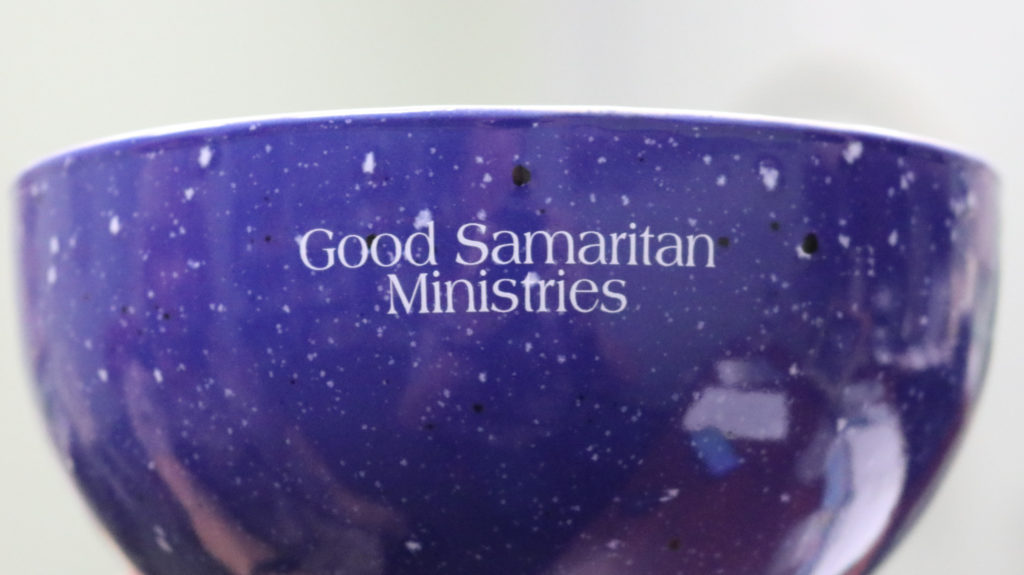 Good Samaritan Ministries' Empty Bowls Project returns for its 12th year on Thursday, April 29, and like last year the event will follow a drive-through format. Bowls will be available from 11 a.m. to 5 p.m. at the GSM Food Warehouse, located at 305 Clark Street.
"Back in early January when we had to make a lot of decisions we were still in the middle of a virus surge," said GSM Executive Director Leesa Stephens. "So our board felt that going ahead and doing another drive-by type event would be the easiest to manage. We usually start getting calls in December, people wanting to book a bowl painting party, but we only had two calls – one in December and one January. We felt that was a signal from the community that they recognized things weren't really the same."
Due to the ongoing coronavirus, the traditional community bowl painting did not take place this year. Instead, GSM purchased a limited number of ceramic campfire style bowls with the Empty Bowls Project logo to share with those who attend the event.
"We were able to find these and they have the Good Samaritan logo on one side and the words Empty Bowl Project on the other," Stephens said. "For every attendee who makes a minimum $10 donation, you're going to be able to take home a bowl and you get to choose from some of the area restaurants that have donated coupons for items – Humphrey Pete's, McAlister's, Cotton Patch, Runaway Train, Section Hand, Common Grounds, Chick-fil-A – who are being very gracious."
The Empty Bowls Project serves as GSM's largest fundraiser of the year and 90% of the proceeds stay in Brown County and benefit local hunger ministries such as the Food Pantry, Food for Thought, Homebound Program, Homeless Boxes, the Deer Project, the Pig Project and the Mobile Food Pantry. The remaining 10% is donated to an international hunger relief organization and this year GSM has selected Food for the Hungry because of their child hunger program.
"The whole concept of the Empty Bowls Project is you take home an empty bowl which reminds you that there are people with empty stomachs," Stephens said. "The bowl is a reminder to fight hunger and food insecurity all year round. From a financial standpoint, 2020 was our most successful Empty Bowls Project ever. People had seen on the news the food banks line around the country and I think they recognized there was a need and people just came out. We didn't know what to expect and it was amazing. We want to extend our sincere thanks to the community."
GSM's goal this year is to raise $50,000.
Also, from 10 a.m. to noon on Saturday, May 1 GSM will be holding a special Empty Bowls Project sale in the Resale Store.
"In the past when we were in the coliseum we would take those things that we collected all year, collectible items like Maui Jim designer sunglasses, Dooney and Bourke handbags, art, things that are more high end type items," Stephens said. "We save them all year and that day all the proceeds from that sale will also go back into our Empty Bowls Project. And if you drive through and come to the event, you're going to get a special invitation for a pre-sale. But the only way you get it is to come to Empty Bowls."
For more information on the event, visit www.goodsambwd.org.