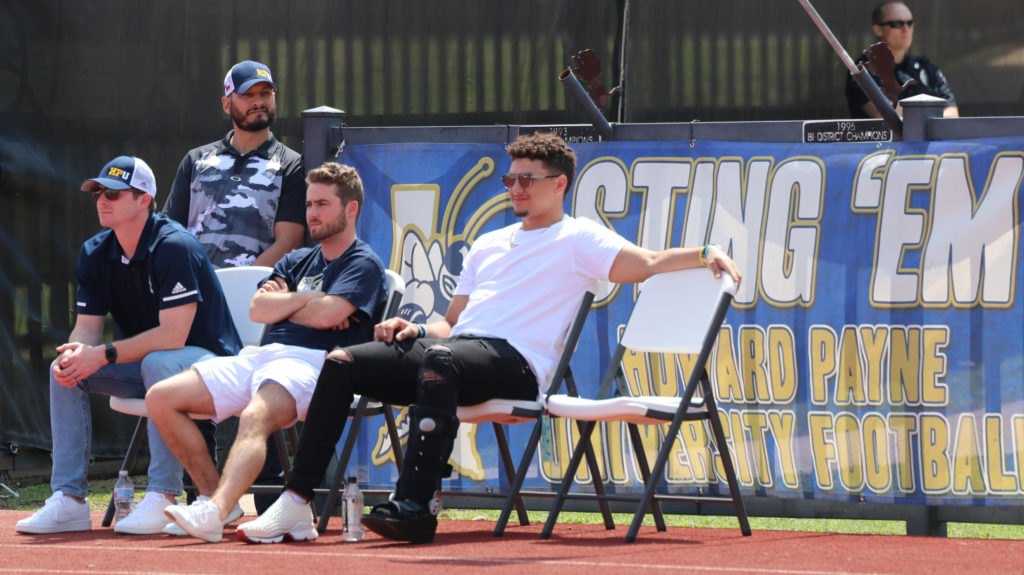 The Howard Payne-Belhaven American Southwest Conference football game was witnessed in person by one of the best playing the game today, as Kansas City Chiefs All-Pro quarterback Patrick Mahomes was at Gordon Wood Stadium Saturday to take in the action.
Mahomes and Howard Payne senior Jake Parker – the leading receiver for both the Yellow Jackets and the American Southwestern Conference – are best friends from their days together at Whitehouse High School in East Texas. Parker is also set to serve as the best man in Mahomes' upcoming wedding, and with Saturday's action possibly being Parker's last on a football field, Mahomes chose to attend.
Due to COVID guidelines issued by the NCAA this year, Parker – a senior – has the option to return and play football again next season if he so chooses, but that decision had not yet been made.
Mahomes was on hand strictly as a spectator and interviews were not permitted, but Howard Payne Athletic Director Hunter Sims spoke about the relationship between Parker and Mahomes and Mahomes' decision to come to Brownwood.
"They've stayed friends throughout the years from playing high school ball together," Sims said. "Those of us who played high school ball know that's where some of our best friendships are formed, as well as the college level. It's nice to see them support each other."
Sims stated around the middle of the week the athletic department learned of the possibility that Mahomes might attend the game, but plans were not finalized until Friday.
"When you go through situations like this you want to be respectful of everybody's time and experiences they have," Sims said. "We were able to take a couple of extra precautions today and we're just really thankful it's a good day out here."
As for the opportunity to have Mahomes witness the Yellow Jackets play, Sims said, "It's a great day to be a Yellow Jacket. We're really excited for the program and with Patrick being here today it brings another level of excitement. With him and Jake being as close as they are, and Jake having such a great year and maybe this being his last game, it's just a testament to their friendship."
The Yellow Jackets concluded their abbreviated spring season with a 38-17 loss to Belhaven. Parker caught six passes for 121 yards, including a 72-yard touchdown pass. Parker finished the five-game season with 39 receptions for 754 yards and six touchdowns – all conference highs.
(Story by Derrick Stuckly)