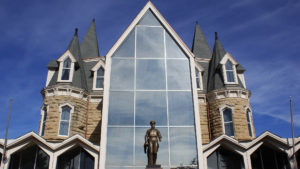 Though work has just recently started on the Newbury Family Welcome Center on the Howard Payne University campus, plans for the next project are already in full swing.
The impending renovation of HPU's historic Douglas MacArthur Academy of Freedom will benefit from a $600,000 challenge grant recently received from the J.E. & L.E. Mabee Foundation.
"Since that time we've had significant support among our graduates and of that $2 million project we only have about $350,000 left to raise on that building," said HPU President Dr. Cory Hines. "We're excited about where we are and feel like this is a great opportunity for some of our local folks who maybe have walked through the building and toured it as students to be a part of this project that will really transform that corner there at Austin and Coggin."
"We're really excited about that project and there's a lot of alumni support on that project. We're looking forward to getting it completed," said HPU Vice President for Finance and Administration. "The architect on that is PBK and they're a national firm."
The Douglas MacArthur Academy of Freedom houses the Guy D. Newman Honors Academy, the university's multidisciplinary honors program. The Academy building is an important landmark in Brown County, incorporating the original building of Daniel Baker College, dating back to 1890, and housing a collection of General MacArthur's artifacts and other historical displays. The $2 million renovation project will focus on the building's main hall and wings, dating back to the 1960s, which will bring the facility up to date and provide new life for its use by students, visitors and university personnel.
"Back in the 1960s when that building was first created it was an extension of the Daniel Baker campus and the hope was to design a facility where men and women who really felt a call to serve in civil service through either public policy or law professions or a variety of vocational choices, that would be their home," said Hines, also a 1997 graduate of HPU. "The Douglas MacArthur Academy of Freedom, named after a general that really lived the life of a high calling, put country first and sought to lead his fellow man to do great things. For us, whenever we think about that facility we see it as a great opportunity to take a facility that's been around since the 60s and bring it up to current standards and the current dreams of what that facility would look like to try to attract the kind of students that really have a desire to use their vocational calling as a way to make a difference in the world today."
There are still opportunities to support the project monetarily. All gifts can be made with a three-year pledge. Gifts can be made by check, credit card or pledge card. Checks can be sent to the Office of Institutional Advancement, Howard Payne University, P.O. Box 2369, Brownwood, TX 76804. Credit card gifts can be given online at www.hputx.edu/give. For pledge cards, contact the Development Office at 325-649-8806 or [email protected].
"What we hope is when Waldrop is done with this facility (Newbury Family Welcome Center) that they take that job trailer and drive it on down the street and set it up and get started next January or February," Hines said. "That would be the best case scenario."