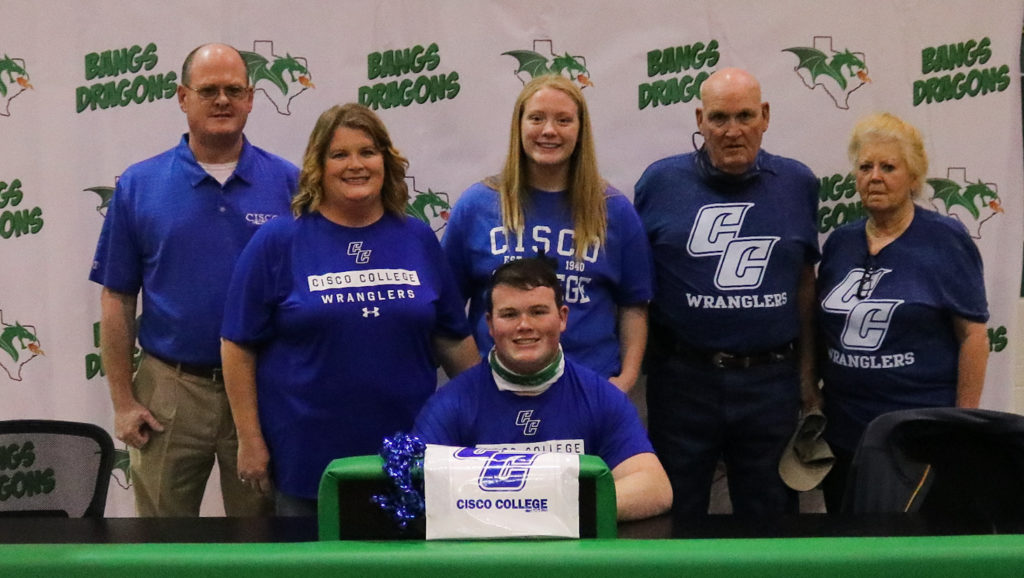 BANGS – On Wednesday morning, Bangs Dragon senior Trey Ivey signed a national letter of intent to continue his football and academic career at Cisco College.
Ivey was selected the District 2-3A Division II Lineman of the Year after helping guide the Dragons to a 10-2 overall record, second-place finish in the league, and first postseason victory since 2013. The Bangs offense averaged 41 points and 448 yards per outing in 2020.
"Trey was a sophomore my first year and he's probably come as far or further than any kid we've had in our program the last three years," said Bangs head coach Kyle Maxfield. "He really was a leader on both sides of the ball and worked his way to where he's at now to have this opportunity."
Ivey, who will also play on the offensive line at Cisco, said of the opportunity to play college football, "This means the world to me, I've always wanted to do it."
Reflecting on his time at Bangs, Ivey said. "When I was a freshmen we didn't win any games on the varsity level. As soon as I got to be a sophomore we won three when Coach Maxfield came in. The next year we had a winning record, 6-5, and this year we went 10-2. Everybody was working together, that piled up and made me look better than maybe what I actually am."
As for what he will remember most of his playing time at Bangs, Ivey said, "Just the bonds I've made with everybody else. We just had a good time the whole time we were on the field."
Looking ahead to his Cisco career, Ivey said, "The most important goal for myself is to be able to play somewhere else after Cisco, but I'd like to win games there, too. I've been part of a program that hasn't won much and then started winning after we worked our way through it."
As for his career plans, Ivey said most likely he will pursue being a coach, but has finalized a major at this time.