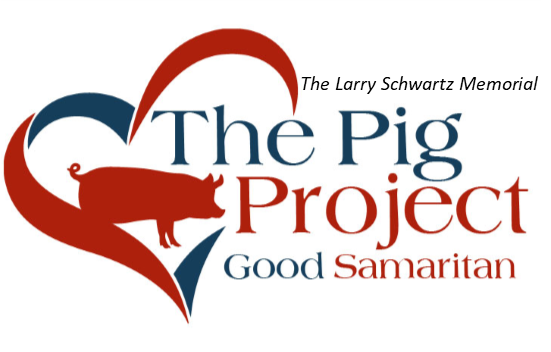 The 2019 passing of Larry Schwartz – who along with Kirby Cabler in 2014 initially began the Pig Project associated with the Brown County Youth Fair – has not deterred the family from carrying on his legacy.
Now known as the Good Samaritan Ministries Larry Schwartz Memorial Pig Project, the Schwartz family – with the assistance of monetary contributions and donations from community members – are making certain their patriarch's passion endures.
"It was created as a way to help the kids for the youth fair but also to help the community," said Shannon Adams, Larry Schwartz's daughter. "Basically they started it as a way to benefit the kids at the youth fair that do not make the sale for whatever reason, whether their pig didn't place or it was sifted because it weighed too much or whatever the case may be. We pay the kids for their pigs. Then it also helps the community because the meat is provided to Good Sam who in turn gives it to the people who come into their food bank that need food for their families."
Adams said that in 2018, before her father's passing, the project purchased 35 pigs. After taking a year off due to Schwartz's passing, the Pig Project returned in 2020 and bought 15 pigs.
"This year we hope to go anywhere from 20 to 30 pigs," Adams said. "What we do is we look at the market price as far as what pigs are selling for if you took it to an auction barn. We usually offer a little bit more than what market price is. We write them a check that day, then we take the pigs to my parents' residence and feed them out for about 60 days, then we take them to Santa Anna Processing and have them processed. Then all the meat goes back to Good Samaritan for them to put in their food bank to give to the community as they see necessary."
While many events over the past nine months have been postponed, rescheduled or cancelled – including the 2020 Brown County Rodeo – Adams is thankful the Youth Fair will go on as planned.
"It's an opportunity to give these kids some sense of normalcy," Adams said. "Kids put a lot into these programs and I know because my son shows goats. To allow them to still be able to have the youth fair will allow them to see that their hard work can still pay off. Even as crazy as the world is right now, there is still some semblance of normalcy for them. They can experience it and be able to relax and have fun and do what they love to do, which is to put those projects in the ring in front of the judges and to show."
Leesa Stephens, Executive Director of GSM, is thankful the program has been continued by the Schwartz family.
"We're just so excited the Pig Project is still honoring the legacy of Larry and Ruth Schwartz," Stephens said. "It's a great program that benefits not only the students of Brown County but the Brown County families who will benefit from this quality protein as it shared through our Food Pantry."
Adams stated there was no question the Pig Project would continue following her father's passing.
"It's his legacy,"" Adams said. "The project meant so much to him because he's always given to the youth fair his time and effort. Even when we showed and after we graduated and stopped showing, he was still very heavily involved in the youth fair. It was another way that he liked to give back to the youth of the community and the community itself. To carry on that legacy is probably more important to me and my family than anything else at this point. It takes my sister and her family and my husband and our family, it takes all of us to complete this project and make it come to fruition every year."
Adams added that without the community support, the Pig Project would not have been possible in the past or continuing into the future.
"The contributions and the donations from the community are what make this program possible,"Adams said. "That's just as important as what we do. Without the community contributing, there isn't a program. Their help, as far as the monetary contributions, are what help fund this Good Sam Pig Project, and this program is needed in this community, very much so. I was a former probation officer and I actually had defendants that would come in and tell me they got their groceries that month from Good Sam and they had the ground pork sausage that they were so grateful for."
Anyone who would like to donate to help cover processing and feed costs can do so online at www.goodsambwd.org or by mail – Good Samaritan Ministries, P.O. Box 1136, Brownwood, TX, 76804.