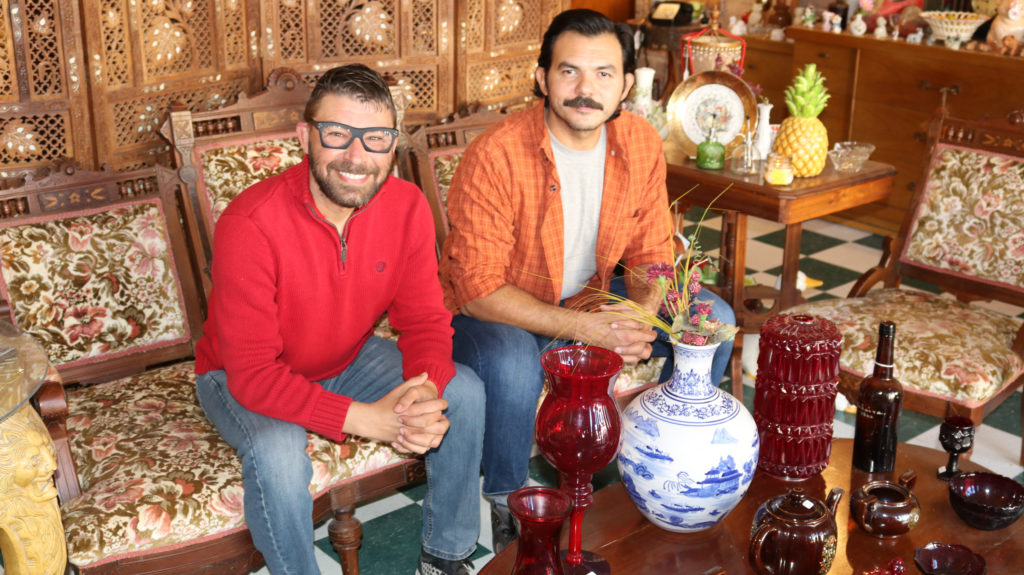 The business of antiques is one of the most competitive in the retail market, with particular establishments attempting to carve out their own unique identity. One of Brownwood's newest business – Saturdays – has honed in on its niche.
According to its Facebook page, Saturdays is described as "an oldies and oddities shop specially curated for the designer, collector, and treasure hunter."
Saturdays owner Levi Packer further elaborated on the concept, stating, "The best way I can describe my business to someone who has never been in here is we are an antique store, but I view it more as a creative business. Instead of walking into this and having to pick through a bunch of stuff and try and piece something together or just get it because it's cheap, we try to actually show people how you can incorporate antiques and vintage and even modern into your particular style of décor, and that's what makes us different from other stores."
Saturdays came into existence just prior to the shutdowns caused by the COVID-19 pandemic, but the business has found its footing as 2021 arrives.
"We opened pretty much when COVID hit, then we were shut down for a while, then we were only open on Saturdays and now we're full time," Packer said. "It's just been touch and go with the pandemic. The long-term plan is for this to continue to grow in more of a creative direction and not just be labeled antiques and vintage, and for people to come to us with their design questions with photos of their place and show us what they're trying to do. We're also trying to get into custom work with the painting."
As for the name Saturdays, Packer said, "I thought that was the day when people went out and did this sort of thing. Families go out and antique together, it's the most fun day of the week, and I wanted everyday to be that for somebody. Not everyone has the same schedule, so if you're off on a Tuesday or a Wednesday why can't it be Saturday for you?"
Packer has deep roots in Brown County and returned to area about a year ago after living in Los Angeles, California the previous two decades.
"I was born and raised here," Packer said. "I graduated from Early, went to Texas State and got my degree in acting. Then I went to Los Angeles for 20 years to pursue that. About this time last year my grandfather passed, who was the preacher at Victory Baptist Church, Ruben Packer. When I came back for the funeral my dad said 'Granny is 83, we've got a farm and ranch, do you think you could come back and lend a hand?' I thought it was probably time because I'd been spinning my wheels for a long time, so when we moved back I was helping my family out."
Soon after his return to Brown County, the idea for Saturdays quickly materialized.
"Two different sources unbeknownst to each other, offered me their collections they were just trying to get off their hands," Packer said. "I got them at a very reasonable price and that set this light bulb off in my head about why this was happening all at once. I didn't understand what was happening, but I knew this is what I am supposed to be doing. With a background in theater, drama and art, I was able to bring that into this and make it something different and unique."
Along with antiques, Saturdays is also a premier retailer of Dixie Belle paint products, which have been used to refurbish some of the items on sale.
"If it's a nice antique I will never touch it, but we have a navy blue china cabinet here and a lady used it for years to put her iron for her clothes on, so it had those burn marks all over it," Packer said. "There was no way to restore it, it had burn downed into the wood, so we painted it and made it beautiful again."
Further elaborating on Dixie Belle paint, Packer said, "We're the only ones in Brown County who carry it and it's the best paint on earth, top of the line chalk paint. It's not just for furniture, you can paint on ceramics, glass, fabric, so any sort of crafting you're doing. It's durable for indoors or outdoors, a lot of people make signs with it, and we also use it to up-cycle pieces that we don't think would sell in the current state they're in.
"It gives people an opportunity to be creative in their own spaces with what they have. A lot people buy my paint because they say 'this buffet has been in my family for generations, it looks horrible, but I can't get rid of it for sentimental reasons, so I'm going to update it so I can still have grandma with me but it looks better for my home.'"
Saturdays will be adding a new version of Dixie Belle paint to its lineup later this month.
"Dixie Belle is releasing a new product at end of the January making us an elite retailer, not just a premier, and it's called their silk line," Packer said. "It's a different animal than this, it's an all-in-one paint and it's a primer, the paint, the top coat, which is satin sheen, all in one, no prepping required, and it's for one color. People that don't want to fool with blending and all that, it's a one and done paint, and we'll start carrying that at the end of January. We're also gearing up to offer classes and workshops for our paint this year."
Saturdays also offers its customers a layaway plan.
"We offer a very competitive layaway program," Packer said. "It's a $100 minimum if you want to put something on layaway. It's 10 percent down and we give three months to pay it off, where standard is 30 days. We're really proud of that. We also have a loyalty program, it's a punch card and each item you buy no matter if it's $1 or $100 gets a punch. When you fill that card up, you get 30 percent off anything in the store."
Regarding the long-range outlook, Packer wants Saturdays to become a fixture within the community – not only as a popular business, but one that gives back to the community.
"Ultimately we want to be a staple in the community," Packer said. "We've only been open a short while but we went out and helped at Greenleaf Cemetery and helped them wrap the trees for their fundraiser. My aunt started Good Samaritan Ministries, Angelia Bostick, and we hope to work with them, maybe painting a piece and donating it for them to auction off, something in that capacity. We're a member of a chamber, I just got cast in the Lyric, so we hope to be known for being involved, and not just come buy our stuff."
Saturdays is located at 410 Center Avenue in downtown Brownwood at the former Frames and Things location, and can be found online on Facebook at Saturdays Brownwood.
[Story by Derrick Stuckly]
Pictured below are some of the times available at Saturdays.