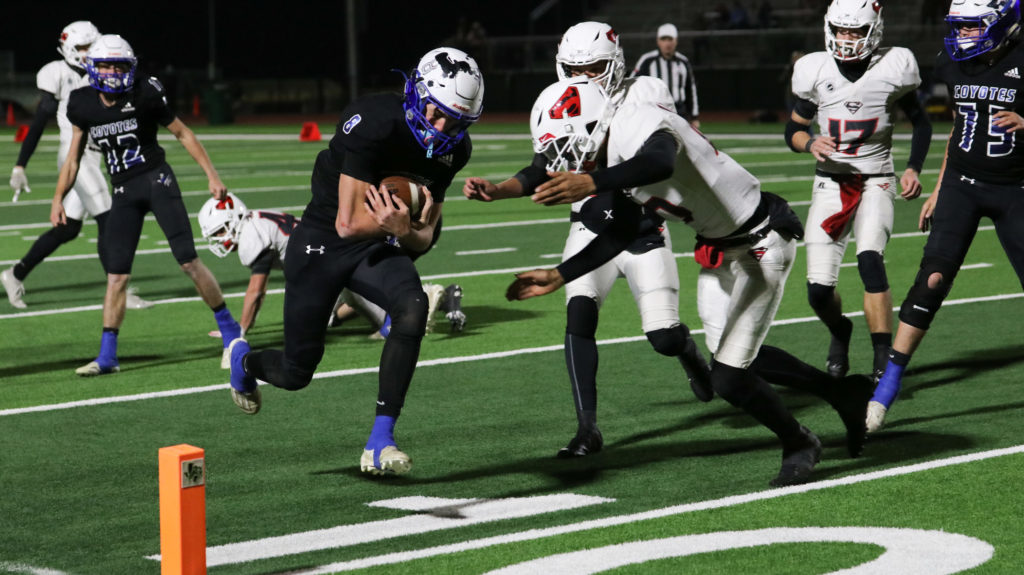 A 12-day wait between the state semifinals and state championship game turned into a 32-delay due to COVID-19, but the the No. 3 Richland Springs Coyotes and No. 1 Balmorhea Bears will finally square off for the Class A Division II state title at 6 p.m. Tuesday at San Angelo ISD Stadium.
"Our first inclination was 'golly, here we go,' and 'man we want to play now,' but we have to look at it as a blessing that we're getting to play because there's a lot of things going on with this COVID stuff," said Richland Springs head coach Jerry Burkhart. "We're glad Balmorhea is OK and healthy, but our kids' attitudes have been awesome and they have come to work, This gave us some extra days to prepare and hopefully we didn't second guess ourselves and change things too much. I really feel like our kids are prepared and ready to go but we have to show up because we're playing a really good football team."
Richland Springs (12-0) is looking to extend its record of six-man state championships to 10 – all since 2004 – while Balmorhea (11-1) is seeking its first title in its third state appearance. Tuesday's contest is a rematch of the 2016 state championship game, won by Richland Springs, 96-50, at AT&T Stadium.
"I've already been blessed so much, I'm so blessed to be a part of this community, administration and the people around us," Burkhart said of the possibility of winning a 10th state title. "We put them through a grinder, we work them hard, but to me the biggest satisfaction of winning a state championship is looking at those kids' faces and the hard work they put in and then they understand in life hard work brings success and that's what I want them to do after they graduate, and to keep God in their lives. If it wasn't for God we wouldn't be here, we wouldn't have this opportunity and for me to see the smiles on their faces, I know we're not all perfect but these kids have been trying to do thing the right way and I'm just so proud of them."
Balmorhea opened the season with a 38-36 loss to Rankin and never looked back, compiling 11 wins in a row. The Bears average 52 points and allow 18 per contest.
Tomas Contreras anchors the Balmorhea offense with 1,420 rushing yards and 35 touchdowns, while Angel Iniguez and Dylan Aguirre are also weapons.
Defensively, standouts include Lauro Matta (85 tackles), Sean Orozco (57 tackles), Contreras (22 tackles, 2 INTs), and Armando Mendoza.
The Bears reached the state final by knocking off Groom, 44-38, also on Dec. 4. In fact, Balmorhea's last two playoff wins were both by six points as the Bears also eliminated Motley County, 36-30. Against Groom, Balmorhea trailed 22-8 but tied the game at 22 at halftime and took its first lead late in third, 36-30. Versus Motley County, the Bears were down 24-8 but scored 28 points in a row.
"Vance Jones does a good job of taking what kids he has and they will expose the weaknesses of the opponent," said Burkhart, who owns a 219-10 record with the Coyotes. "He's a very good offensive-minded coach and a very good -defensive minded coach. He's just well-rounded. His teams are going to be ready to play. I know they want it just as bad as we do. They've been there two times, they played us and Strawn, and they're wanting to win a state championship, but the Coyotes are wanting to win it again, also. It's going to be a tough battle, we're facing a great coach with kids that have bought into his program and our kids have bought into ours, and we want to come out and represent ourselves well."
Richland Springs' last action also occurred Dec. 4, a 59-56 victory over Strawn in the state semifinals in Dublin. The Coyotes stopped Strawn on the final play at the game at the Coyote 7 to advance.
The Coyotes – who have reeled off 26 straight victories since Burkhart returned to the program – enter the championship game averaging 59 points and 337 yards – 214 rushing and 123 passing – per game, with 10 turnovers.
Richland Springs' ground game is led by Landon Burkhart (1,270 yards, 24 TDs), Jadeyn Bryant (576 yards, 16 TDs), and Zane Capps (430 yards, 11 TDs).
Through the air, Burkhart has passed for 1,154 yards with 23 touchdowns and four interceptions, and Bryant has thrown for 190 yards with two scoring tosses.
Leading receivers include Bryant (20-033, 8 TDs), Capps (20-317, 7 TDs), Chase Gossett (19-310, 5 TDs), T.J. Grant (8-243, 4 TDs), Kelton Lusty (5-71, TD), and Lane Garcia (3-60).
Defensively, the Coyotes yield 26 points and 210 yards – 118 passing and 92 rushing – per outing with 27 takeaways, including 14 in four playoff games.
Standouts include Bryant (70.5 tackles, 20 for loss, 8.5 sacks, 12 fumble recoveries), Burkhart (50.5 tackles, 13 for loss, 1 sack, 4 fumble recoveries, 2 interceptions), Capps (49.5 tackles, 7.5 for loss, 1.5 sacks, 2 interceptions, 1 fumble recovery), Gossett (39.5 tackles, 7 for loss, 1 sack, 4 fumble recoveries, 2 interceptions), Grant (28.5 tackles, 9 for loss, 2 interceptions), Lusty (26 tackles, 9 for loss, 1 interception), Brandon Stewart (19 tackles, 2 interceptions), Nick Nilson (18 tackles, 1.5 for loss, 1 fumble recovery, 1 interception), and Jeremiah Usery (11.5 tackles, 2 for loss).
"Our kids have a lot of heart, they know what it takes," Burkhart said of his team's path to state this season. "We had 27 kids last year this year we have 14. We lost a big senior class, and a lot of people were saying this is a down year for Richland. Our kids don't look at it as a down year, we look at it as a reloading year. A lot of kids have been coming up through the ranks and have been going through the process. I'm just so proud of our kids for taking advantage of the opportunity God has given us. What I love about it is you can't coach heart and that's what these kids have. They have a lot of heart and determination and that's what makes it fun to coach these kids."
According to sixmanfootball.com, Richland Springs is a 36-point underdog.
As for what it will take for the Coyotes to come out on top, Burkhart said, "We've got to be able to move the ball offensively and get some stops on defense, that's going to be a huge key. They score a lot of points, and can score pretty quick. Offensively we have to execute well and defensively we have to be physical. Special teams always comes into play, so we need to make our extra points and block some of theirs, or try and make them miss. It's going to be a tough game, but this is why you play the game."
(Story by Derrick Stuckly)