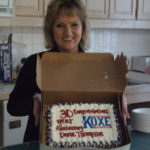 Brownwood News –  Dana Thompson completed 30 years with Brown County Broadcasting this year.  Thompson was hired in August of 1990 by the company that has the KOXE-FM and KBWD-AM radio stations.
Thompson grew up in May, and after graduating from May High School she spent a year studying business at Cisco Junior College.  There she met her husband Tony, from Burkburnett.  They married and moved to Wichita Falls, where she spent time working for a radio station and then a bank.  After having her second baby, she convinced Tony to move back to Brown County.
When the younger child started school in May, Dana worked at the May Elementary School for one year, then applied for a job at KOXE.  With the radio experience in Wichita Falls under her belt, she was hired by Don and Bonnie Dillard, owners of KOXE/KBWD.
"When Dana walked into my office, I knew she was just what we needed," Bonnie Dillard said. "Young and intelligent; she had radio experience and was eager to get to work and do whatever we asked of her.  She has been a model employee and we are proud she is still part of the KOXE/KBWD family."
Thompson spent the first five years in Traffic, which in the radio industry means getting advertisements produced, scheduled, and invoiced.  Then she was given a chance to move into Advertising Sales, and has been there ever since.
She said she was very nervous at first, going into sales.  But as her proudest accomplishment, she cites her first day, calling a potential client in Santa Anna, and making the sale.  Thompson said you must build a relationship with your client first and earn their trust.  Along the way, she has become good friends with many of her clients.
"Don and Bonnie have been so good to me through the years.  I am thankful for them and all that they have done for me, giving me the chance.  When I first came here it had been five years since I had been in the radio business, and it was so different from what I had done in Wichita Falls.  So it was pretty stressful to begin with."
But thirty years later, Thompson handles her job with professionalism and confidence.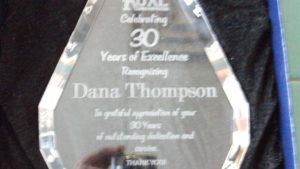 Dana and her husband Tony have been married 41 years now, have two grown sons, C.R. and Colt, two daughters-in-law, three grandchildren, and a great-grandchild on the way.
When asked what her future holds, Thompson simply said "hopefully a few more years here."   Thirty years in one job is a rarity in today's world, and something worth applauding.
"We are so proud of Dana." said Don Dillard. " 30 years at the same business is rare but we have two more employees right behind her.  One will have 30 years next year and then another in a couple of years.  Dallas Huston has been with us on and off since the 60's!  35 or 40 years is very achievable for a quality person like Dana."