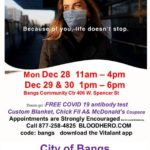 The City of Bangs will hold blood drives on Monday, December 28 from 11:00 am to 4:00 pm, on December 29 from 1:00 pm to 6:00 pm and on December 30 from 1:00 pm to 6:00 pm.
The location is the Bangs Community Center at 406 W. Spencer Street.
Donors get a Free COVID-19 antibody test, custom blanket, Chick-fil-A and McDonald's coupons.
Appointments are strongly encouraged. Call 877-258-4825 or register online at bloodhero.com. Code: bangs  Or download the Vitalant app.