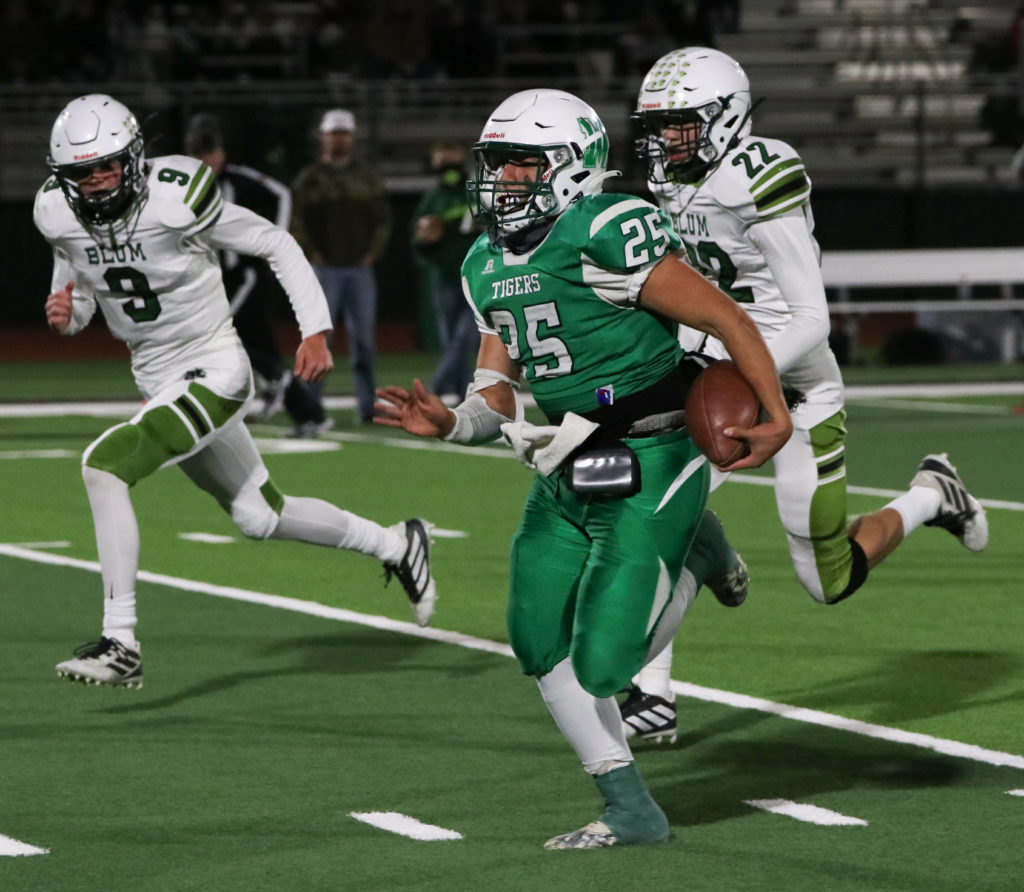 MAY – For the second game in a row, the No. 3 May Tigers will face an opponent they've already crossed paths with once this season. This time, the Tigers will attempt to reverse the outcome as they clash with the No. 1 Sterling City Eagles at 2 p.m. Wednesday at AT&T Stadium in Arlington for the Class A Division I state championship.
Sterling City (14-0) emerged with a 44-40 win at May (13-1) on Sept. 4, a game in which the Tigers let a few opportunities slip through their fingers.
"We had some plays we didn't cash in," said May 17th-year head coach Craig Steele, who has guided the Tigers to their third state championship game during his tenure. "We were up six going into halftime and got it down to the 2 and didn't score going into the half. We missed some opportunities and had some turnovers, didn't make our extra points, there were a lot of things in that game that we didn't do well enough to win. We have to do better at those this week."
Sterling City has displayed a propensity for surviving close calls as the Eagles have won six games by 12 points or less and four by single digits – including last week's 48-40 overtime triumph over Borden County, which owned a 32-16 lead heading into the fourth quarter.
"They're just really confident, that's what it looks like to me," Steele said of Sterling City's ability to rally to secure victories. "They're confident in their coaching staff, they don't seem to panic, and I think they believe in their process. You can tell watching them play that they're a confident group of kids. They feel comfortable that even when they are down they're going to be OK, so that's a scary group to have to play."
Each team has played a dozen games since their initial meeting, and while Steele acknowledged both teams have improved, they also remain the same in their overall approach.
"Our teams are still pretty similar," Steele said. "Sterling City has gotten a little better every week. They are more and more fundamentally sound and disciplined. They really know what they want to do offensively and defensively, and they've been coached well.
"I feel like certain aspects of our offense and defense have gotten better as well. Our spread rush has gotten better, Hayden King was still adjusting to six-man football back then, and Kaden Halk had never played safety until this year so that was his second game at safety. There's some things we've done better since that game. We learned a lot from that game, we had some penalties we haven't repeated. Hopefully those lessons stick this week."
May is coming off a 92-86 overtime shootout win over 2019 state champion Blum in the state semifinals in its last outing. Meanwhile the Tigers and Eagles combined for just 84 points in their first meeting.
As far as what type of offensive fireworks Steele expects Wednesday, he said, "Probably something in the middle of that, probably not the Blum shootout but maybe not in the mid 40s either. I think now that we've seen each other once, and we know what each other is capable of defensively and what we're trying to accomplish, I think both offenses will probably fare a little better than they did the first time around, but you never know."
The Tigers enter the state championship game averaging 61 points and 347 yards per game – 259 rushing and 88 passing.
The ground attack is led by Halk (1,149 rushing yards, 26 TDs) – with 639 yards and 13 touchdowns coming in the last two outings – Rory Bustamante (947 rushing yards, 17 TDs), Isidro Salinas (545 rushing yards, 12 TDs), Aaron McGinn (304 yards, 5 TDs), Damian Salinas (298 rushing yards, 6 TDs), and Korbin Bass (214 yards, 6 TDs).
Through the air, Bustamante has thrown for 675 yards with 13 touchdowns and one interception while Blake Harrell has added 541 yards with 10 scoring tosses and one pick.
Leading receivers include Chris Flenniken (15-314, 6 TDs), Halk (14-327, 6 TDs), King (8-252, 5 TDs), Isidro Salinas (6-125, 2 TDs), and Keith Cross (6-112, 3 TDs).
Defensively, the Tigers allow 22 points per game with 37 takeaways – 19 fumble recoveries and 18 interceptions – including eight returned for touchdowns.
Standouts include King (143 tackles, 33.5 for loss, 3 FRs), Isidro Salinas (100 tackles, 17 for loss, 1 INT), Flenniken (79 tackles, 17.5 for loss, 2 FRs, 2 INTs), Brian Kunkel (62 tackles, 10 for loss, 3 FRs), Halk (60 tackles, 1 for loss, 7 INTs, 1 FR), Bustamante (57 tackles, 4 for loss, 5 INTs, 2 FRs), Harrell (56 tackles, 2 for loss, 1 FR), Damian Salinas (44 tackles, 23.5 for loss, 1 FR, 1 INT), and McGinn (42 tackles, 1 for loss, 2 INTs, 2 FRs).
Sterling City heads into the season finale averaging 61 points while allowing 28 per outing.
The Eagles offense is sparked by Cross Knittel, who has rushed for 1,786 yards and 33 touchdowns, while passing for 602 yards and 13 more scores. Francisco Gonzales has chipped in 580 yards and 17 scores on the ground, while Hudson Cox has passed for 719 yards with a dozen scoring strikes.
Defensively, Sterling City is led by Chance Ferguson with 159 tackles, Jarett Justiss with 109 tackles and Cox with 94 take downs. Damien Calderon has picked off nine passes from the opposition.
Regarding the keys to victory for May, Steele said, "We have to do a good job containing when they go tailback option. It'd be nice to get some takeaways, then on our side not turn the ball over. It's going to be super important to take care of the football. We need to limit our penalties and make them work the ball down the field and not give up big plays."
May is seeking its second state championship and first since 1977, while Sterling City is eyeing its initial state crown. The only other state trip for the Eagles was in 2010 – a 46-0 loss to Richland Springs, while the Tigers are making their sixth state appearance overall and most recently competed in 2013 and 2014 were they fell to Crowell each time.
According to sixmanfootball.com, May is a 19-point underdog.