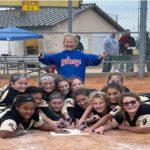 Brownwood News – The Brownwood based 10u Glory Sheffield softball team finished out the year in a big way, winning the Turkey Bash Tournament held last weekend at the Massey Sports Complex.  Glory posted five wins at the tournament versus only one loss, and outscored their opponents by a combined score of 43 – 8.
Offensively the team was led by Amarrea Thomas with a batting average of .800 for the tournament.  Not far behind were Gabrelle Volz and Corinne Sheffield with batting averages over .600.
In the pitching circle Corinne Sheffield, Brenda Allen, and Raegan Fletcher combined for 21 innings pitched, allowing only 6 hits, 8 runs (only 1 earned), 54 strike outs, 2 no-hitters, and a combined earned run average of 0.286.
This fall the 10u Glory Sheffield team won 33 games and lost only 3 while winning four tournaments and coming in second place in one other.  The team scored 269 runs and three girls batted over .500 for the fall season.  The pitching staff of Sheffield, Allen, and Fletcher combined for 199 innings pitched, 310 strike outs, and an earned run average of only 0.503 in 36 games.
Watch out for 10u Glory Sheffield in the spring, as only three girls on the team will move up to 12u, the rest will be back.