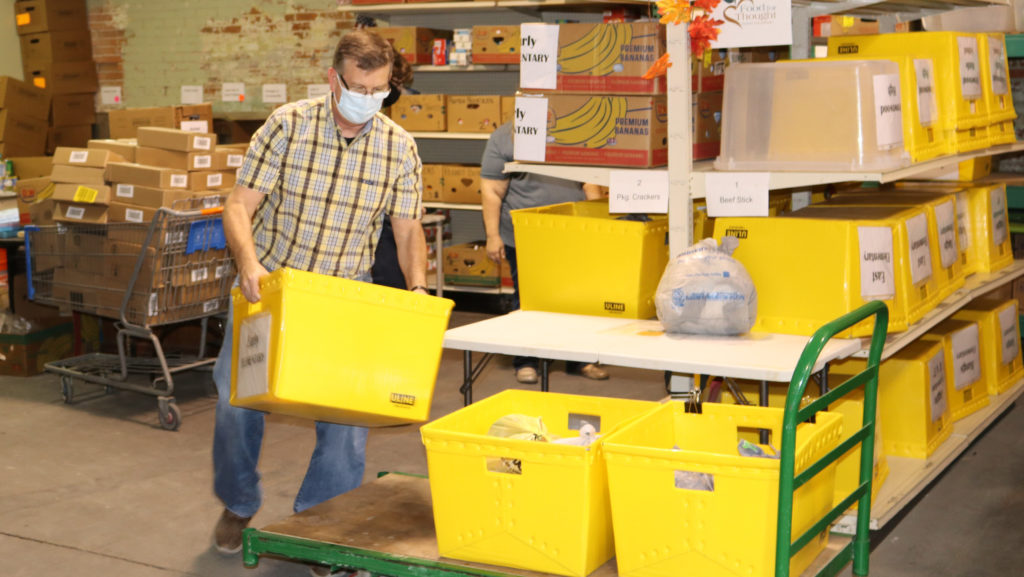 With holiday season preparation in full swing, Good Samaritan Ministries is in the midst of one of its busiest times of the year. Behind the scenes, GSM Food Resources Manager Terry Chumbley is in charge of the nonprofit's food-related ministries, including the Christmas boxes which will be distributed to families in need Dec. 1-23.
Chumbley's journey to GSM might be considered unlikely by some, as he is living in Brown County for the third time – most recently residing in Prague, capital of the Czech Republic for more than a decade.
"I was born in Brownwood, my parents were students at Howard Payne," Chumbley said. "We moved north of Dallas to Allen which is where I grew up. Then I came back to go to school at Howard Payne in 1987. I met my wife (Robin) while we were here."
During his time at Howard Payne, Chumbley first began to feel "the call to missions and serving the Lord somewhere, it didn't really matter. My wife had the same call."
Chumbley, whose first job out of college was as an accountant, then opted to pursue teaching and coaching as a profession.
"That was my passion, so I went back to school and got a degree in education and taught and coached in Prosper, Olney and Sweetwater," Chumbley said. "Then I got a job teaching at the Texas Youth Commission outside of Mart, which is kind of like Ron Jackson here. I worked at the Mart facility for a couple of years."
While working in Mart and living in Waco, Chumbley's desire to help others overseas grew.
"We found an opportunity to serve at Christian International School in Prague," Chumbley said. "We loaded up, sold our house in Waco and took our five boys – the oldest was 9 and the youngest was 1 – and we flew to Prague to work at this new school."
The stay in Prague – which began in January 2007 – was short-lived, unfortunately, due a family health crisis.
"After about three months there, our fourth son, Payton, started complaining about heart pains," Chumbley said. "It was only at night and maybe once a week or every two weeks, but then it got more routine. We took him to a local doctor but we didn't really have any language skills or cultural skills at the time, we were way out of element. They took x-rays and said they would let us know, then the next morning I went back to school to work and my wife called and said the nurse just called and said they are sending a taxi and an English-speaking nurse to come pick us up, which was an immediate red flag. They took him to Motol Hospital there in Prague and they told his he had cancer, bone tumors. They thought it was on his back and spine, but once they did the MRI they realized it was on his top rib. That's a helpless feeling in a lot of ways. But we had a great community that rallied around us and helped with the other kids while this was going on."
While dealing with the shock of Payton's illness, the Chumbleys also discovered they were expecting their sixth child. The combination of the two events led the Chumbleys to return to the United States after just six months abroad.
"We needed family support," Chumbley said. "Payton went through 14 rounds of chemo, countless surgeries, they took a couple of top ribs out, it was just a miracle. He was given chemo and we were told by both the physicians in Prague and in the U.S. that chemo just stunts the growth of the cancer, it's not there to eradicate the cancer. You'd have to have radiation treatments to eradicate the cancer. After the seventh round of chemo they went it and did surgery and the tumor was absolutely, completely gone. When they took the two ribs out for margins they said they felt like they'd gotten it. We stayed and finished the last seven rounds of chemo and did our Make-A-Wish trip. If there's a situation where you have to go through a situation like that, ours was the best case scenario. I don't want to say we enjoyed our time at Cook Children's Hospital, but we had great nurses and a great opportunity for us to minister to people on our floor."
With a clean bill of health for Payton, the Chumbleys decided to return to Prague where the family remained until this past summer.
"Payton was given cancer free status in June 2008 and we got our paperwork together to move back to Prague," Chumbley said. "We kept our house, which was kind of strange, and moved right back in. We served as ministers, and I became director of the Christian International School of Prague and served there until this summer."
As for Payton's health, Chumbley said. "Payton is doing great. He's 16 now and really a blessing. He's a very proficient musician and had he had radiation treatment he probably would not have use of his left arm because it would have stunted his growth on that side."
Chumbley is in the midst of transitioning to a new role in his profession, which allowed the time off and a return to the United States. But another family emergency occurred prior to the move.
"Before we left Prague our fifth son, Marek, was diagnosed with Type 1 Diabetes a week before we left, " Chumbley said. "Marek is doing well with adjusting to being diabetic."
Once the family decided to leave Prague, Brown County was not the initial destination.
"We were living in Waco before we lived overseas and our sending church is in Waco and that's where we thought we would stay," Chumbley said. "We started looking at rental property in Waco and there's this huge desire to live there now and we couldn't afford it. We started looking on the computer one day and looked up missionary housing in Texas and the first thing that popped us was the mission house in Early. We spoke to them, told them we were going to be back in the States and would love to live in the mission house if possible, and the Heart of Texas Baptist Network wrote and said they'd love to have us live there."
Seeking part-time work, Chumbley reached out to several churches in the area and eventually found a home at GSM.
"My primary jobs are to make sure the seven ministries back here function," Chumbley said. "We have the food pantry that distributes food to the people of Brown County on a daily basis. We have our homeless transition ministry that deals with those not knowing where they are sleeping each night. Our Food for Thought ministry helps provide food with high nutrition to students around Brown County. We have our home-bound ministry for people who can't come, and our mobile food pantry is happening right now, along with the Deer Project and the Pig Project. My job is to make sure those things have the resources they need and they're functioning and working properly each and every day. It's very, very busy but it's a place that provides a great benefit to the county and it's an honor to be a part of it."
Among the most rewarding aspects of his current job, Chumbley said, " Getting to know the people that volunteer to serve here and the people that are on staff here. They have such servant hearts and getting to know them and getting to hear their stories and find connections, it's just been a huge blessing. Plus seeing the smiles on faces, it's a little bit harder now with the masks, but we can see the smiles in the eyes of the families that come in."
The role isn't permanent, however, as the Chumbleys will be heading back to Europe in June 2021 for the next phases of their life.
"I'll be transitioning to a bigger role, but I don't know where we're going to live in Europe yet," Chumbley said. "We're with Share Education Services which is a ministry that works with missionary families around the world dealing with their kids and their educational needs going forward. Because they minister all over the world, their headquarters are in Europe, but they're looking into possibly relocating."
Chumbley didn't rule out a fourth stay in Brown County, however.
"We talked about that the other day," Chumbley said. "When we retire we're both Howard Payne grads, we really love to be on the campus, and we love to be around students. I think if I was ever to retire or step away I would love to get involved with Howard Payne in some capacity."