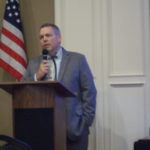 Brownwood News – Howard Payne University President Dr. Cory Hines addressed the Brownwood Area Chamber of Commerce monthly luncheon on Friday, November 20.  His presentation covered the past, the present, and the future of Howard Payne University.
Howard Payne was founded in 1889, making it one of the oldest private universities in Texas, and over its 130-year history has produced more than 17,000 graduates.  HPU offers over 100 academic programs for undergraduates and four graduate programs.  Other fun facts about Howard Payne:
***  Currently over 1,000 undergraduate students enrolled
***  More than 25 student organizations active on campus
***  Twelve athletic programs in NCAA Division III, six for men (baseball, basketball, football, golf, soccer, and tennis) and six for women (Softball, basketball, golf, soccer, tennis, and volleyball)
***  Average class size:  14
***  Percentage of graduates from Newman Honors Academy who apply to law school and are accepted:  100%
***  HPU faculty who are HPU alumni:  32%
Dr. Hines talked about the progress the university was making earlier this year, then in March when the COVID pandemic hit, they had to "pull the emergency brake."  After consulting with his administration and faculty, he set four COVID goals for the university:
(1)  Protect the HPU Family
(2)  Protect Brown County
(3)  Provide the Student Experience
(4)  Provide Job Security
Hines was proud to say that they met all goals.  COVID infections among students and staff have been very low.  Howard Payne recorded its highest enrollment in four years this fall, and has had its best financial year in six years, according to financial auditors.  And Howard Payne has had no employee layoffs.
Looking to the future, Dr. Hines said Howard Payne must "Reaffirm, Enhance, and Commit."  To expand:
Reaffirm:  Howard Payne must reaffirm its dedication to the Christian mission upon which it was founded
Enhance:  Howard Payne must enhance the student experience in exciting and innovative ways
Commit:  Howard Payne must invest in the community and commit to the city of Brownwood in order to build mutually beneficial relationships.
Dr. Hines said the University is making major investments in campus improvements.  They have built an "Esports" lounge on campus, where students can enjoy high-tech video games.  They have completely renovated and modernized Veda Hodge Hall, a women's residence hall.  And they will soon begin construction on the Newbury Family Welcome Center.
The Welcome Center will be built on the current green space at the corner of Austin Avenue and Center Avenue, a highly visible location.  The Welcome Center will be the University's "front door," the first thing people will see when arriving on campus.  Construction on the $3 million project will begin in the next few weeks, and is expected to be complete in approximately one year.
Howard Payne also plans a $2 million renovation to the MacArthur Academy of Freedom building at the corner of Austin and Coggin Avenues.  That project is planned to begin in the fall/winter of 2021, and take about one year to complete.
Other fun facts about Howard Payne University:
***  Total economic impact of HPU in Brown County is over $38 million.  Of that, $28 million is direct spending by the university, plus another $10 million of "induced spending" in the community
*** Percentage of students who receive some sort of financial aid:  92%
***  Total dollar amount awarded through scholarships and other aid to students in the 2018-2019 school year:  over $11 million
***  Amount awarded per Heart of Texas Scholarship, Central Texas Scholarship, and Legacy Scholarship (over four years):  $60,000.