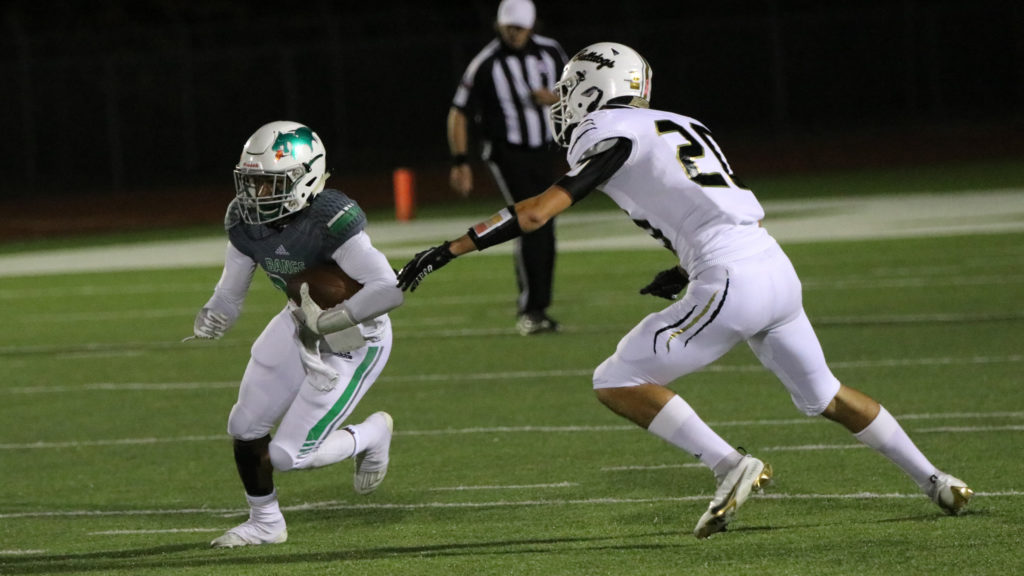 BANGS – The Bangs Dragons are all too familiar with how talented the Canadian football program is, having had their 2019 football season ended by the Wildcats in the bi-district round of the playoffs. Fast forward 12 months and Bangs has another opportunity to test its mettle against No. 1 Canadian, this time in Region I-3A Division II area playoff action.
Kickoff between the Dragons (9-1) and Wildcats (10-1) is slated for 7 p.m. Friday at Vernon's Lions Stadium.
Bangs advanced to the second round with a COVID-related forfeit by Tornillo, giving the Dragons their first postseason victory since 2013.
Meanwhile, Canadian took care of business on the field last week, hammering Coahoma, 62-14.
"We got to see them up close and personal last year in the first round and we were able to watch their game against Coahoma," said Bangs third-year head coach Kyle Maxfield. "They're everything they're advertised to be and there's a reason why they're No. 1. There's no weaknesses to their team.
"But our kids have a lot more confidence than they did this time last year. You're not going to intimidate a team like Canadian, they've played a lot of games over the years. Coach (Chris) Koetting and his staff are one of, if not the top staff in the state in any classification with their winning percentage and state championships."
In last year's 66-21 loss to Canadian, Bangs trailed 21-0 after one quarter and 56-7 at the half en route to surrendering 529 yards to the Wildcats' uptempo offensive attack.
"Seeing that offense on film and seeing it in person is two different things," Maxfield said. "If we hadn't been playing as well we have this year I think maybe it would be easy to get intimated by what they bring to the table, but our kids are looking forward to the opportunity. They saw it first hand last year and they know what to expect. It doesn't mean you're going to be successful against it, but at least you go in knowing what to expect."
Canadian's only loss this season came at the hands of Class 4A Division II Iowa Park – which is still in the playoffs – by a 28-21 count in Week 2. The Wildcats have since won nine in row, scoring at least 70 points in five of those outings, including a stretch of four consecutive contests.
For the season, Canadian averages 57 points and 451 yards – 259 passing and 192 receiving – per game.
Quarterback Josh Cuwell has passed for 2,398 yards with 32 touchdowns and four interceptions, while Hayze Hufstedler leads the ground game with 1,011 rushing yards and 20 scores. Top receivers include Twister Kelton (36-706, 7 TDs), Reagan Cochran (30-539, 8 TDs), Hufstedler (17-284, 3 TDs), Gary Anderson (15-311, 6 TDs) and Jake Krehbiel (14-188, 4 TDs).
"Their offense is very well balanced, probably more balanced than last year," Maxfield said. "They have more of a true passer at quarterback and the Hufstedler kid is back at running back. They've got plenty of weapons. We feel like we spread the wealth pretty good, but they have a little more wealth to spread."
Bangs counters with a defense that allows just 12 points and 225 yards – 135 rushing and 90 passing – per contest, and forced four more turnovers against Brady two weeks ago.
Spearheading the defense are Ethan Sanchez (100 tackles, 2 for loss, 1 sack, 2 INTs, 2 FRs), Damien Santillanes (79 tackles, 5 for loss, 2 sacks, 1 FR, 1 INT), Charlie Smith (59.5 tackles, 5 for loss), Brayton Wedeman (55 tackles, 3 INTs), Wyatt Lykins (40 tackles, 2 for loss, 4 FRs, 1 INT), Trey Ivey (31.5 tackles, 3 for loss), Logan Bishop (27.5 tackles, 1 for loss), Evan Belez (25 tackles, 1 for loss, 2 INTs), Jesse Sterling (20 tackles), Trevor Bowers (18.5 tackles, 2 for loss), Ethan Cortez (18 tackles, 2 INTs), and Guy Powell (15 tackles, 1 INT).
On the flip side of the ball, the Bangs offense – which averages 44 points and 465 yards, including 305 rushing, per outing – is led by Sanchez, last week's Mr. Texas Football who is coming off 440-yard, seven-touchdown performance.
Sanchez anchors the Dragons ground game with 1,798 rushing yards and 28 touchdowns for the season. Cortez has contributed 682 yards and 10 scores on the ground while also completing 73 of 105 passes for 1,436 yards with 17 touchdowns and two interceptions. Leading receivers include Wedeman (24-534, 7 TDs), Powell (14-245, 3 TDs), Santillanes (14-107, TD), Bowers (9-230, 3 TDs), Sanchez (7-223, 3 TDs) and Logan Massey (4-60). Up front, Bishop, Ivey, Smith, Warren Theriaque, and Samuel Packer pave the way.
Maxfield expects after Sanchez's most recent performance that Canadian will put additional emphasis on slowing down the senior running back.
"They're definitely going to be keying on Sanchez," Maxfield said. "The dimension we didn't have last year that we do this year is being able to get the ball down the field. We could do our screens last year, but you have to be able to stretch the field on them because they'll smother you to death if you don't try and back them up a little bit."
The Canadian defense also surrenders just 12 points per game with 50 sacks and 23 takeaways – 11 interceptions, 12 fumble recoveries.
Standouts include Ethan Jackson (91 tackles, 24 for loss, 6 sacks), Colton Cooper (72 tackles, 25 for loss, 11 sacks), Cochran (65 tackles, 11 for loss), Hufstedler (63 tackles, 12 for loss), and Jorge Dominguez (63 tackles, 18 for loss, 8 sacks).
"People don't realize how good they are on defense," Maxfield said. "They are a very swarming, tenacious, quick defense that gets everybody to the ball. They don't have any one guy we can't block, but when you put all 11 of them out there swarming to the ball it's really hard to get anything going."
The clearest route to a potential victory for Bangs Friday night will likely involve preventing Canadian's offense from taking the field as much as possible.
"The big key is keeping the ball away because they're going to score points," Maxfield said. "One reason they score so many points is they get so many three and outs on defense. If we can move the chains and eat some clock up and get a break or two and score a few touchdowns, then we have a chance. If you're not moving the chains, then their offense starts rolling and the faster they play the hotter they get."
Friday's winner will face either District 4 champion Idalou (9-0) or District 1 runner-up Alpine (7-4).
According to Harris Ratings Weekly, Bangs is a 38-point underdog.
"We're excited about the opportunity and the challenge, especially after playing them last year," Maxfield said. "We know what they bring to the table, but that's why they play the game. Somebody's going to get upset this week, so why not it happen in our game?"
Bangs Dragons 2020 Football Stats
Through 10 Games (9-1, 4-1)
TEAM OFFENSE
44.1 points per game (397)
465.1 yards per game (4,186)
305.5 rushing yards per game (2,750)
159.6 passing yards per game (1,436)
PASSING
‒ Ethan Cortez
73 of 105 for 1,436 yards, 17 TDs. 2 INTs
RUSHING
‒ Ethan Sanchez
1,798 yards on 128 carries, 28 TDs
‒ Ethan Cortez
682 yards on 73 carries, 10 TDs
‒ Damien Santillanes
210 yards on 20 carries, 1 TD
‒ Guy Powell
139 yards on 28 carries, 1 TD
‒ Harley Keely
31 yards on 7 carries
‒ Jesse Sterling
10 yards on 3 carries
‒ Trevor Lorah
6 yards on 3 carries, 1 TD
‒ Trevor Bowers
6 yards on 4 carries
‒ Tait Bowers
5 yards on 1 carry
‒ Brayton Wedeman
–9 yards on 5 carries
‒ Team
–28 yards on 3 carries
RECEIVING
‒ Brayton Wedeman
24 catches for 534 yards, 7 TDs
‒ Guy Powell
14 catches for 245 yards, 3 TDs
‒ Damien Santillanes
14 catches for 107 yards, TD
‒ Trevor Bowers
9 catches for 230 yards, 3 TDs
‒ Ethan Sanchez
7 catches for 223 yards, 3 TDs
‒ Logan Massey
4 catches for 60 yards
‒ Wyatt Lykins
1 catch for 34 yards
TEAM DEFENSE
12.3 points per game (111)
225.4 yards per game (2,029)
135.5 rushing yards per game (1,220)
89.9 passing yards per game (809)
TACKLES
‒ Ethan Sanchez
100 tackles, 2 for loss, 1 sack, 2 INTs, 2 FRs
‒ Damian Santillanes
79 tackles, 5 for loss, 2 sacks, 1 FR, 1 INT
‒ Charlie Smith
59.5 tackles, 5 for loss
‒ Brayton Wedeman
55 tackles, 3 INTs
‒ Wyatt Lykins
40 tackles, 2 for loss, 4 FRs, 1 INT
‒ Trey Ivey
31.5 tackles, 3 for loss
‒ Logan Bishop
27.5 tackles, 1 for loss
‒ Evan Belez
25 tackles, 1 for loss, 2 INTs
‒ Jesse Sterling
20 tackles
‒ Trevor Bowers
18.5 tackles, 2 for loss
‒ Ethan Cortez
18 tackles, 1 INT
‒ Guy Powell
15 tackles, 1 INT
‒ Donovan Ruiz
14.5 tackles, 1 for loss
‒ Logan Massey
13 tackles, 1 FR
‒ Braden Montgomery
9 tackles, 1 for loss
‒ Trevor Lorah
7.5 tackles, 1 for loss
‒ Hunter Bernal
7 tackles, 1 INT
‒ Jackson Light
4.5 tackles
‒ Jackson Light
4 tackles
‒ Harley Keely
4 tackles
‒ Tait Bowers
4 tackles
‒ Luke Duncan
3 tackles
‒ Austin Tilley
3 tackles, 1 FR
‒ Harley Keely
2 tackles
‒ Jesse Sterling
2 tackles
‒ Dakota Baker
1.5 tackles
‒ Braxton Melling
1 tackle, 1 FR