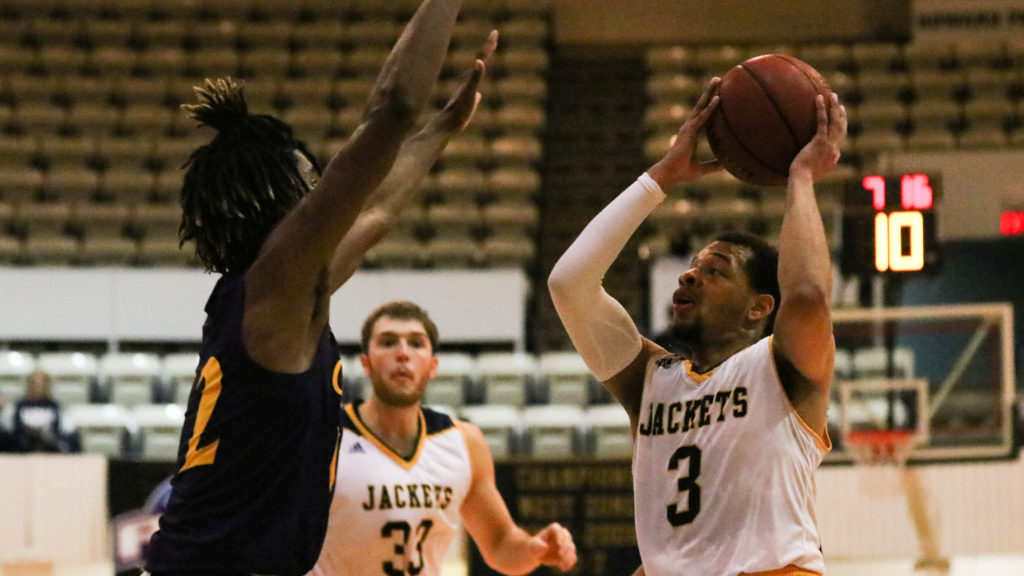 MARSHALL – Facing their second American Southwest Conference rival in non-conference action in as many games, the Howard Payne Yellow Jackets slipped to 0-2 on the young season with an 87-68 road loss Monday night.
Howard Payne was outscored 43-24 in the first half, but played ETBU even in the second half as both teams tallied 44 points.
The Yellow Jackets shot 40 percent (25 of 62), including 26 percent (8 of 31) from three-point land, and 67 percent (10 of 15) at the free throw line. However, HPU was outrebounded 49-35 and committed 23 turnovers which led to 22 ETBU points.
Tyrell Thompson paced the Yellow Jackets with 19 points and nine rebounds trailed by 13 points from Jaylan Ballou, nine from Michael House, seven from James Helzer, six from Reese Ridder, four from Jacob Smith, three each from Luke Cox, Evan Adkins and Jayden Modrall and one point from Kevion Collins.
ETBU – which led by as many as 27 points – knocked down 41 percent (27 of 66) of its field goal attempts, including 31 percent (9 of 29) of its treys, while hitting 83 percent (24 of 29) of its free throws.
East Texas Baptist received 19 points from Jayden Williams, 17 from Aaron Gregg, 15 from Chris Haynes, 12 from Charlie Cochran and 10 points from Logan Blow.
The Yellow Jackets are back in action at 4 p.m. Saturday, Nov. 28 at Division I Tarleton.
Tuesday's HPU Lady Jackets basketball game against Southwestern Assemblies of God has been cancelled.