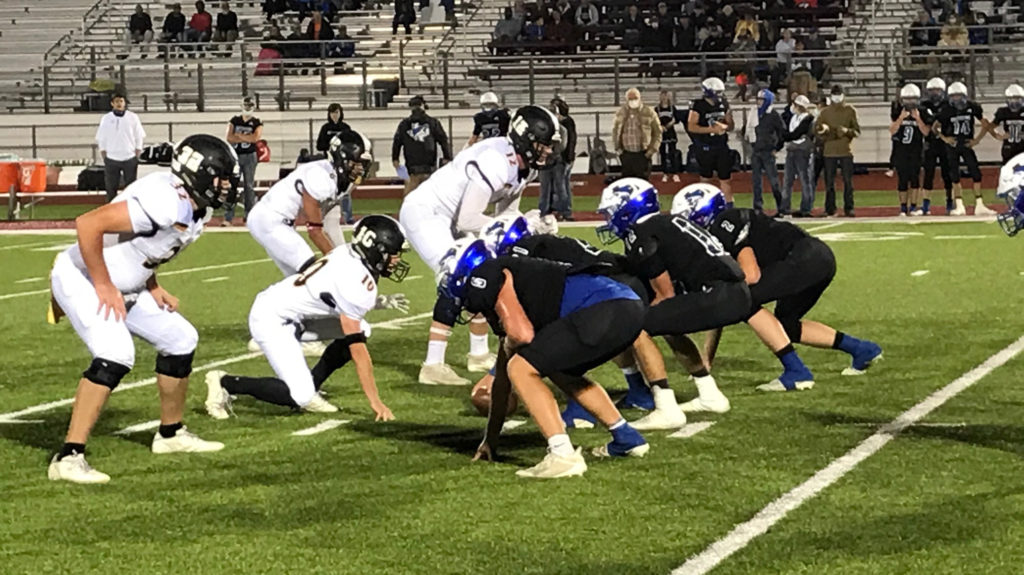 ZEPHYR – Trailing 30-26 with 8:54 left in the third period, the reigning Class A Division II state champion Richland Springs Coyotes reeled off the final 30 points to eliminate the Blanket Tigers from the playoffs, 56-30, Friday night in Region IV bi-district action.
Fifth-ranked Richland Springs – seeking a 10th state champion – took the lead for good, 34-30, on a 1-yard run by Zane Capps, coupled with Chase Gossett's two-point kick, with 8:17 left in the third period.
The Coyotes tacked on three more touchdowns before the period in which they scored 30 points ended as Landon Burkhart hurled scoring tosses of 34 yards to Jadeyn Bryant and 42 yards to Capps. Burkhart later added a 1-yard run with 4:46 to cap the scoring.
After a scoreless first period, Blanket (7-4) twice opened a 10-point lead, 16-6 and 22-12,in the second period following touchdown runs of 55 and 54 yards by Brayden Day. Burkhart threw a 19-yard touchdown pass to Gossett with 59 seconds left in the first half to close the gap to 22-18 at halftime, and Richland Springs grabbed its first lead, 26-22, on a 50-yard gallop by Burkhart 10 seconds into the second half.
The Coyotes finished with 405 yards of total offense – 221 rushing and 184 passing – as Burkhart passed for 178 yards and three touchdowns and rushed for 164 yards and four more scores. Bryant caught a team-high five passes for 97 yards, and Gossett added three receptions for 32 yards.
Day rushed for 219 of Blanket's 342 total yards and scored all four Tiger touchdowns, while leading rusher Hector Castaneda was held to 25 yards. Carlos Morales passed for 98 yards as Tyler Simpson hauled in five catches for 71 yards.
Next up for Richland Springs (9-0) is Oglesby (10-1) – a 62-52 winner over Oakwood – at 7 p.m. Friday in Hico in the Class A Division II Region IV semifinals.
May 46, Irion County 0
ROBERT LEE – The Class A Division I No. 4 May Tigers, fresh off their fifth consecutive district championship, made quick work of the District 14 runner-up Irion County Hornets with a 46-0 Region IV bi-district championship victory Friday night.
Defensively, District 13 champion May recorded its fifth shutout of the season as the Tigers limited Irion County (9-2) to just 42 total yards on 33 snaps with two takeaways as Rory Bustamante and Hayden King both recovered Hornet fumbles.
Offensively, May finished with 276 total yards – 225 on the ground and 51 yards through the air – with no turnovers.
Isidro Salinas rushed for 69 yards and a 26-yard touchdown, Bustamante added 39 yards and a 2-yard touchdown, Aaron McGinn contributed 35 yards and a 2-yard touchdown, Damian Salinas tallied 28 yards, Kaden Halk logged 27 yards with a 9-yard scoring run, Korbin Bass registered 17 yards with a 4-yard touchdown, and both Cade Lindley and Hagan Hester rushed for 5 yards apiece.
Through the air, Bustamante connected on both his pass attempts for 51 yards and a touchdown – 24 yards to Keith Cross. Chris Flenniken hauled in a 27-yard reception.
Standouts defensively included Isidro Salinas (7 tackles, 1 pass defended, 3 tackles for loss), Flenniken (4 tackles, 2 tackles for loss), Brian Kunkel (4 tackles, 1 fumble caused, 1 tackle for loss), Bustamante (3 tackles and a fumble recovered), Harrell (2 tackles and a fumble caused), Hayden King (2 tackles, a fumble recovered, 1 tackle for loss), and Damian Salinas, Korbin Bass, and Kaysen King (1 tackle each).
Next up for May (10-1) is Jonesboro (10-1) – a 54-8 winner over Nueces Canyon – at 6:30 p.m. Friday in Dublin in the Class A Division I Region IV semifinals.
San Saba 31, Forsan 17
WALL – The District 4-2A Division I runner-up San Saba Armadillos bounced from the last week's stunning loss to Cisco by outscoring the Forsan Buffaloes 21-7 in the second half to earn a 31-17 Region I-2A bi-district championship victory Friday night.
Knotted at 17 midway through the third period, a 5-yard touchdown run by Stone Sears put San Saba ahead for good, 24-17, at the 6:11 mark. Then, with 9:31 remaining, Sears scored again from 6 yards out for the final 14-point margin.
The Armadillos tallied a 28-yard field goal from Justin Yarbrough in the first period, then fell behind 7-3 before grabbing a 10-7 advantage on a 6-yard touchdown pass from Risien Shahan to Logan Glover with 21 seconds left in the first quarter.
The only points in the second period belonged to Forsan (5-5) on a 21-yard field with 2:38 left.
San Saba finished with
Next up for San Saba (8-2) is Panhandle (8-2) – a 55-7 winner over Hale Center – at ??? in the Class 2A Division I Region I area round.
Petrolia 28, Cross Plains 27
BRECKENRIDGE – A fourth-quarter go-ahead two-point conversion attempt for the District 8-2A Division II runner-up Cross Plains Buffaloes was denied, and the District 7 third-seed Petrolia Pirates held on for a 28-27 Region II bi-district win Friday night.
Justin Gresham's 10-yard touchdown pass to Ryan Reed with 33 seconds left in a regulation capped a 13-play, 96-yard drive that brought Cross Plains within a point. Cason Allen's two-point conversion bid, however, was turned away inches shy of the goal line, ending the Buffaloes' season.
The Buffaloes fell behind 14-0 early, then crept within seven on an 82-yard kick return by Ryan Hopkins. Later, down 21-7, Gresham connected with Spade Koenig on a 7-yard scoring toss. Facing a 28-14 deficit, Gresham hurled an 18-yard touchdown pass to Allen, which sent the game into the fourth quarter with Cross Plains trailing 28-21.
Cross Plains finished with 317 yards of total offense – 219 rushing and 98 passing – but committed three turnovers. Petrolia compiled 370 yards – 258 through the air and 112 on the ground – and gave the ball away twice en route to its first playoff win since 2002.
Allen rushed for 155 yards, passed for 17 and caught two passes for 41 yards for the Buffaloes. Gresham threw for 81 yards, while Reed caught a team-best three passes for 31 yards. Meanwhile, leading rusher Cody McWilliams was held to 48 yards on the ground.
Cross Plains finishes the season with an 8-3 record. Petroila (8-3) moves on to face Hamlin (10-0) – a 44-6 winner over Olney – in the area round of the playoffs.
Wichita Falls City View 34, Comanche 21
JOSHUA – For the second year in a row, the Comanche Indians' season was ended at the hands of the Wichita Falls City View Mustangs.
After a one-point defeat last year, District 5-3A Division II third seed Comanche was unable to keep pace with District 6 runner up City View in Friday night's 34-21 loss in Region II bi-district action.
The Indians began the game in a 13-0 hole early in the first quarter and couldn't catch up to the Mustangs.
City View finished with 383 total yards – 203 rushing and 180 passing – with the game's only turnover. Comanche produced 228 yards -190 on the ground and 38 through the air.
Comanche finished the season with an 8-3 record. City View (7-4) moves on to face Leonard (6-4) – a 26-20 winner over Palmer – in the area round of the playoffs.