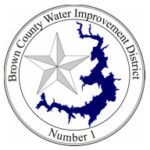 Brownwood News – The Board of Directors of the Brown County Water Improvement District #1 met on Tuesday, November 10.  One new Board member was seated, one departed, and new officers were elected.
In the general election on November 3, Jimmy Jones  was re-elected to the Board.  James McMillian, who was appointed to the Board in 2019, was elected in his own right for the first time.  Two-term Board member, and most recent President of the Board, Dennis Graham failed in his bid for re-election, finishing fourth in a field of six candidates for three seats on the Board.
Dr. Johnny Hays, who served on the Board until 2019, was elected again, and seated on the Board.
New officers elected were:  Bert Massey, President; James McMillian, Vice-President; Jimmy Jones, Secretary.
In other business, the Board approved the annual financial audit, and approved the District's insurance plans.