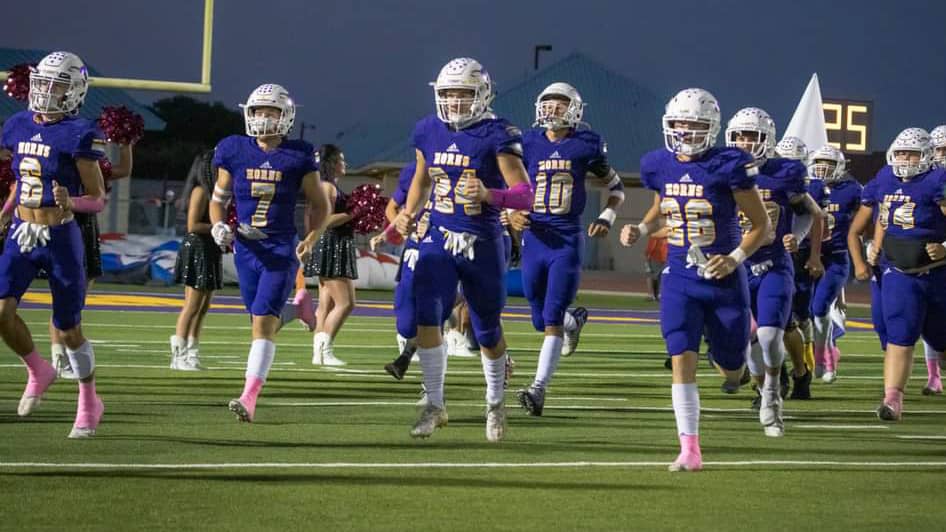 EARLY – Cloth face masks couldn't hide the smiles of a few Early Longhorn seniors Monday afternoon when the topic of the playoffs was mentioned – and for good reason.
For the first time in 12 years, the Longhorns (5-5) are preparing for a postseason football game as first-year head coach Daniel Price's squad will tangle with the undefeated Brock Eagles (10-0) – ranked No. 1 in most Class 3A Division I polls – at 7 p.m. Thursday in Stephenville.
"It feels amazing to do what the people in front of us tried to do but weren't quite successful, and it feels good to do it with these teammates," said Marcus Morelan, who ranks second on the team in tackles (83) and tackles for loss (14), with a pair of sacks. "It's really unbelievable because no one thought we were going to do anything, and we did what everybody said we weren't going to do."
For some seniors, they could feel a different vibe surrounding the program from the start of preseason workouts.
"From the very beginning there's been more teamwork than any other team I'd been a part of," said Alex Jacobs, who leads the team with 894 rushing yards and seven touchdowns and ranks second with 10 catches for 186 yards and two more scores. "I've been here since eighth grade and this year there's just a stronger connection between all of us."
Another senior, Cole Miller – who has amassed 26 tackles with one for loss along the defensive line – is in his first year at Early, but felt this group of Longhorns could be special from the get-go.
"I noticed the compassion and connections these guys had and I knew this was a team that could definitely reach the playoffs and we put in the work to do it," Miller said. "With this being my first year here it's a great feeling knowing I helped my team make the playoffs. There's no other feeling like it."
Following a season-opening loss to Bangs, Early bounced back with a 41-25 home win over Tolar. For Jacobs, that's when he knew this Longhorn squad had a chance to be the school's first team to reach the playoffs since 2008.
"Last year we only beat Tolar, 19-18, but after the loss to Bangs we really improved," said Jacobs, who went on to talk about an offense that is averaging 23 points and 288 yards per game this season. "We've fired off the ball more, fixed some problems we've had and we're more aggressive overall. Communication has been the key."
For others, the district-opening 21-0 win over Breckenridge – which blanked the Longhorns 33-0 a year ago – was the moment the playoffs became a realistic possibility.
"The Breckenridge game, last year we lost, and going in this year nobody thought we were going to win the game and we beat them 21-0," Morelan said. "That was just amazing."
That shutout was one of two this year for Early, which has allowed just 21 points and 260 yards – 144 rushing and 116 passing –per outing on average, a remarkable feat in an era of high octane offenses.
"We've played very well on defense, I think that's what we're mostly known for," Miller said. "We're a very aggressive, very powerful defense."
Morelan added, "We all really communicate well with each other. We talk about what we're going to do before we go into the action so we all truly know what we're doing. We all focus on our positions and then help each other out if needed."
Early faces a monumental task in slowing down perennial powerhouse Brock in the playoffs, but the Longhorns feel facing teams such as Wall and Jim Ned in district have helped prepare them for the challenge.
"We're mentally prepared, we know what they're going to do, so we'll just see what happens," Jacobs said.
"We won't freeze up because we've played some tougher teams," Morelan said. "They may be the No. 1 team in the state but Wall and Jim Ned are also pretty tough."
A Longhorn victory Thursday night would be the first in postseason play since Early's 2007 run to the state semifinals. And what would that mean to this year's seniors?
"Beating a team of Brock's caliber would sure mean the world to all of us," Miller said. "It would make a statement for Early that we're not whipping boys anymore and we're ready to show our stuff."