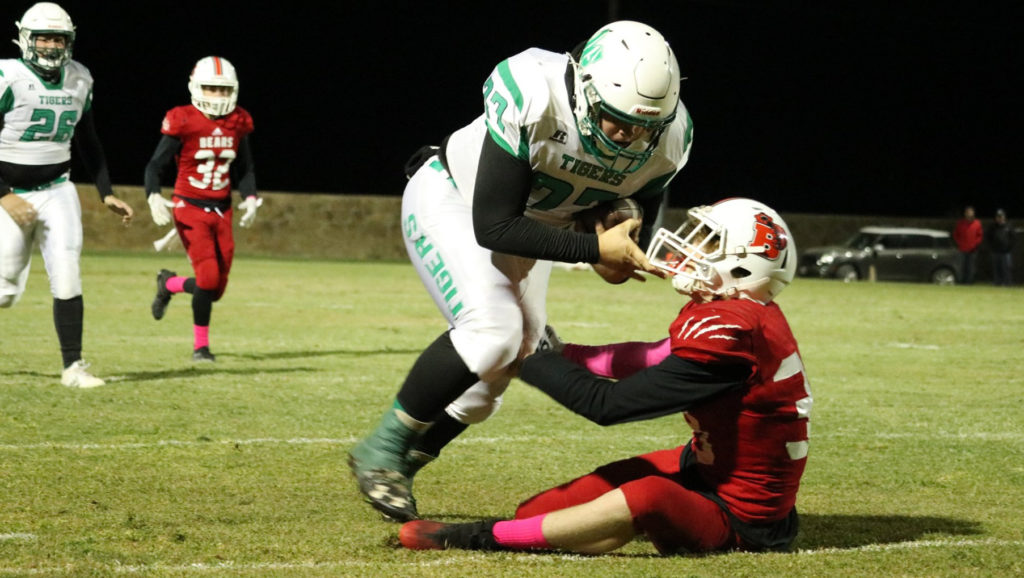 BAIRD – The Class A Division I No. 5 May Tigers secured no worse than a share of their fifth straight district championship with a 66-16 victory over the Baird Bears Friday in District 13 action.
May (8-1, 3-0), who will be the district's top playoff seed, produced 347 yards of total offense – 256 rushing and 91 passing – against the Baird (3-5, 1-1) defense.
Isidro Salinas rushed for 80 yards and two touchdowns, Kaden Halk scored on his lone carry of 57 yards, Rory Bustamante chipped in 53 yards and two scores, Damian Salinas sprinted for a 42-yard touchdown on his only carry, Hayden King contributed 12 yards and a trip to the end zone, Aaron McGinn added 10 yards and Kobin Bass finished with 2 yards.
Through the air, Blake Harrell completed all three of his pass attempts for 71 yards and two touchdowns while Bustamante was 2 for 3 for 20 yards. King caught a 35-yard touchdown, Isidro Salinas grabbed a 19-yard touchdown catch, Harrell and Keith Cross both hauled in 17-yard receptions and Halk added a 3-yard catch.
Defensive standouts for the Tigers included Isidro Salinas (8 tackles), Brian Kunkel (7 tackles, a fumble recovered, and a tackle for loss), Halk (5 tackles and an interception), Chris Flenniken (4 tackles, a fumble caused, and a tackle for loss), McGinn (4 tackles), Bustamante (3 tackles), King (2 tackles and 2 tackles for loss), Harrell (2 tackles), and Damian Salinas (2 tackles).
May's district bye falls next week, then the Tigers wrap up the regular season at home against Lingleville (1-7, 0-2) – which fell to Santa Anna, 108-63, Friday night – on Nov. 6.
Blanket 52, Sidney 28
SIDNEY – The Blanket Tigers held on to their share of the District 15-A Division II lead with a 52-28 road victory over the Sidney Eagles Friday.
Blanket (6-2, 2-0) racked up 358 yards of total offense – 332 rushing and 26 passing – while committing two turnovers. Sidney (5-3, 2-1) finished with 299 yards – 154 on the ground and 145 through the air – and also coughed up the ball twice.
Trailing 12-8 after one quarter, Blanket reeled off the next 30 points.
Hector Castaneda paced the Tiger offense with 217 rushing yards and three touchdowns, while Brayden Day chipped in 85 yards on the ground with three scores. Carlos Morales hurled a 26-yard touchdown pass to Tyler Simpson.
Defensively for the Tigers, Castaneda logged 15 tackles trailed by Day with 13, Simpson with 11 and Brady Furry with 10.
Next week, Blanket visits Brookesmith (5-2, 2-0) – a 60-8 winner over Rising Star Friday night – in a game that will likely determine the district champion.
Brookesmith 60, Rising Star 8
RISING STAR – The Brookesmith Mustangs did their part to set up a showdown with Blanket for the District 15-A Division II lead, thanks to a 60-8 road win over the Rising Star Wildcats Friday night.
Brookesmith (5-2, 2-0) generated 272 total yards – all on the ground – with no turnovers, while holding Rising Star (3-6, 0-3) to 111 yards and forcing three turnovers.
Mustang Avery Williford gained 162 yards and scored three touchdowns while Johnathan Willoughby amassed 110 yards with four trips to the end zone.
Defensively, Willoughby recorded a team-high 14 tackles trailed by Tristen Slayton with eight, Williford with six and Randall Williams with four.
Next week, Brookesmith hosts Blanket (6-2, 2-0) – a 52-28 winner over Sidney Friday night – in a game that will likely determine the district champion.
Richland Springs 46, Mullin 0
MULLIN – The Class A Division II No. 2 Richland Springs Coyotes earned their 76th district win in a row Friday night with a 46-0 shutout of the Mullin Bulldogs.
Richland Springs (7-0, 3-0), which clinched its 19th consecutive district championship last week, limited Mullin (6-2, 0-2) to 11 yards of total offense – 6 passing and 5 rushing – with one turnover.
The Coyote offense finished with 265 yards – 162 on the ground and 103 through the air – and overcame two turnovers.
Landon Burkhart rushed for 85 yards and two touchdowns and passed for 81 yards and another score. Jadeyn Bryant threw a 22-yard touchdown pass to T.J. Grant and added 50 yards on the ground, while Kelton Lusty chipped in a 27-yard touchdown run. Zane Capps hauled in a 62-yard touchdown pass and Brandon Stewart finished with a 19-yard reception.
Capps led the Coyote defense with seven tackles and a sack, Lusty added 5.5 tackles with 1.5 for loss, and Chase Gossett finished with five tackles and 1.5 for loss.
Next week, Richland Springs – in pursuit of its 10th state title – is scheduled to visit Prairie Lea (0-6) in non-district action. Prairie Lea forfeited a district game to Nueces Canyon Friday night.
San Saba 47, De Leon 0
SAN SABA – The Class 2A Division I No. 3 San Saba Armadillos remained in a share of the District 4 lead with Friday's 47-0 victory over the De Leon Bearcats.
San Saba (6-1, 3-0) finished with 608 yards of total offense – 423 rushing and 185 passing – while holding De Leon (1-7, 0-3) to 209 total yards.
Quarterback Risien Shahan completed just three passes for 185 yards with two touchdowns – 98 yards to Logan Glover and 86 yards to Justin Yarbrough. Shahan also rushed for 185 yards and three more scores.
Stone Sears chipped in 104 yards on the ground while Tegan Saiz scored on two short runs and finished with 5 yards on three carries.
Defensively for San Saba, Landon Yarbrough tallied 27 tackles trailed by Justin Yarbrough with 17, Dylan Ware with 16, Shahan with 15 and Bryan Reza with 13.
Next week, San Saba visits Coleman (6-2, 2-1), which is coming off a 27-0 loss to Cisco.
Comanche 26, Millsap 15
MILLSAP – The Comanche Indians rebounded from their first loss of the season as they knocked off the Millsap Bulldogs, 26-15, Friday night in District 5-3A Division II action.
After a scoreless first quarter, the two teams were tied at 7 at halftime. Comanche (7-1, 2-1) grabbed a 13-7 lead in the third period and outscored Millsap (5-3, 1-2) by a 13-8 count in the fourth quarter.
The Indians manufactured 389 yards of total offense – 309 on the ground and 80 through the air.
Comanche's Luke Wilson rushed for 137 yards and a touchdown, Oscar Rios chipped in 91 yards, and Logan Wilkerson finished with 74 yards and a touchdown.
Hudson Welch completed 4 of 8 passes for 80 yards and a touchdown, and also rushed for a score. Cash Cook caught a 38-yard touchdown while Taelon Sorrells pulled down a 25-yard reception.
Defensively, Cook amassed 12 tackles with four for loss, Wilkerson finished with nine tackles with two for loss, and Sorrells added six tackles with four for loss.
Next week, Comanche visits Jacksboro (5-3, 2-1), which is coming off a 55-20 loss to Eastland.
Jonesboro 48, Zephyr 0
ZEPHYR – The Zephyr Bulldogs fell to 1-7 overall and 0-2 in District 15-A Division I action with a 48-0 loss to Jonesboro Friday night.
Jonesboro (8-1, 2-0) finished with 194 yards of total offense while limiting Zephyr to 48. The Bulldogs also committed three turnovers.
Next week, the Bulldogs visit Evant (4-2, 0-2), which is coming off a 52-40 loss to Lometa.
Cisco 27, Coleman 0
CISCO – The Coleman Bluecats' five-game win streak was snapped with their first loss in District 4-2A Division I action, 27-0 at the hands of the Cisco Loboes Friday night.
Coleman (6-2, 2-1) managed just 80 yards of total offense – 62 rushing and 18 passing – against Cisco (5-3, 3-0) while committing two turnovers. Defensively, the Bluecats gave up 368 yards, with 310 coming on the ground.
Bluecat quarterback Corbin Rosales rushed for 26 yards, Ryland Gentry added 21 and Devinar Robinson finished with 20. Rosales also passed for 18 yards as Dylan Mickler grabbed a 16-yard reception and Ezequiel Valdez made a catch for 2 yards.
Next week, Coleman looks to bounce back against No. 3 San Saba (6-1, 3-0), which pummeled De Leon, 47-0, Friday.
Winters 28, Goldthwaite 13
WINTERS – The Goldthwaite Eagles' chances of reaching the playoffs out of District 4-2A Division I were dealt a major blow by the Winters Blizzards, who notched a 28-13 victory Friday.
Goldthwaite (2-6, 0-3) outgained Winters (2-6, 1-2) in total yardage, 262-242, and both teams committed two turnovers – though the Blizzards returned an interception 61 yards for their final touchdown. Winters grabbed a 14-7 lead in the first quarter, then outscored Goldthwaite 14-6 in third.
Goldthwaite's Angel Morales rushed for a team-high 94 yards, Jackson Patrick added 73 yards and a touchdown, and Aaron Anzua chipped in 32 yards. Patrick completed 4 of 16 passes for 46 yards with a touchdown and two interceptions. Anzua caught three passes for 35 yards and scored once and Cason Guthrie hauled in an 11-yard reception.
Next week, Goldthwaite heads to Cisco (5-3, 3-0), which blanked Coleman, 27-0, Friday night.
Cross Plains over Ranger – (COVID forfeit)
The Cross Plains Buffaloes picked up a COVID forfeit District 8-2A Division II victory over Ranger this week.
Cross Plains (7-1, 3-0), which last took the field Oct. 9, visits Albany (7-1, 4-0) – a 34-14 winner over Santo Friday – next week in a game to determine the district champion.